Upperclassmen rewarded in first round
Originally Published:
June 29, 2007
By
Andy Katz
| ESPN.com
NEW YORK -- Guess what? It's now cool to stay in school.
In a reversal of recent NBA drafts, the league went heavy on upperclassmen. Fourteen of the 30 first-round picks were juniors or seniors. Take out the five foreign players, and the percentage of college players taken was even higher.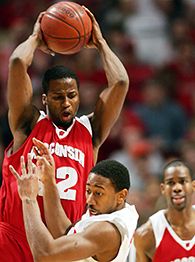 Jerry Lai/US PresswireAlando Tucker has the maturity and the game to be able to help Phoenix right away.
Everyone knew this would be a deep draft. It was the first one in which players who might have gone to the NBA directly out of high school had to go to college for at least one year under the new draft rule. That's why we saw freshmen
Greg Oden
,
Kevin Durant
,
Mike Conley
Jr.
Daequan Cook
,
Spencer Hawes
,
Thaddeus Young
and
Javaris Crittenton
in the first round.
Even if the old rules still applied, Conley probably wouldn't have been picked in this draft straight out of high school, so it certainly paid off for him to go to Ohio State, where he enjoyed an MVP-like season in leading the Buckeyes to the title game. It's also unlikely Cook would've been picked straight out of high school, while Crittenton may have found some success testing the draft waters out of high school.
And next season, the same type of characters -- players like USC-bound O.J. Mayo, UCLA signee Kevin Love and Kansas State newcomer Michael Beasley -- will likely join this group.
Still, the word is out. Staying in school is no longer verboten.
"The new rule forces teams to look at juniors and seniors," said Georgetown junior Jeff Green, who was selected by Boston at No. 5 but shipped to Seattle as part of the Ray Allen deal. "A lot of [upperclassmen] didn't have the opportunity to go high the past few years because of all those high school seniors. This new rule gave juniors and seniors a chance to get their stock high up in the first round."
Just look at where some upperclassmen, who were projected in the second round, ended up: Boston College senior Jared Dudley went No. 22 to Charlotte; Rice senior Morris Almond went No. 25 to Utah; Houston selected Oregon senior Aaron Brooks at No. 26; UCLA junior Arron Afflalo went to Detroit at No. 27; and Phoenix picked Wisconsin senior Alando Tucker at No. 29.
Remember, first-round picks get a guaranteed contract for the first two years, so taking upperclassmen is showing a good-faith effort that these players have the talent to stick in the NBA.
"I just felt like GMs and scouts aren't seeing seniors as a risk; they're seeing them as a sure thing," said USC junior Nick Young, who went to Washington at No. 16.
Dudley was the ACC Player of the Year and was determined to work his way into the first round. He ended up going to Charlotte at No. 22, higher than anyone projected.
"It shows that these teams late in the first round want to have players who can play right now and help them win a championship," Dudley said by phone from his San Diego home. "These aren't projects. These are players who are ready to win."
They're also more mature. Green pointed to Oden's one-year growth to show how much maturing a player can do in college. Durant said the same thing throughout the week.
"It has to do with the maturity level, not just [in] basketball, but in life," Afflalo said. "We understand how to play the game, and we've dealt with different pressures. I can come in and be mentally and physically ready to defend, compete and to win."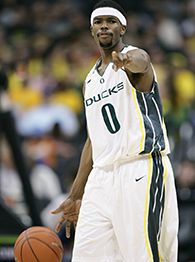 AP Photo/Matt SaylesOregon's Aaron Brooks earned a reputation as a tough-nosed guard in the Pac-10.
The safety in these selections is evident. Dudley may be a rookie, but he goes to the Bobcats as an experienced player. After playing so many minutes for the Eagles in four years, there are hardly any situations he hasn't seen.
The Jazz told ESPN.com Thursday night that they coveted a veteran college scoring guard. They didn't want a younger player who had to learn. They wanted one who wouldn't hesitate to step in and contribute. They felt they got just that with Almond.
Houston and Detroit, two teams with oodles of experience, added Brooks and Afflalo, respectively. Both are tough, Pac-10 guards who never shied away from a rough situation.
And the Suns' pick of Tucker, who had logged tons of time for the Badgers in his four-year career, showed that Phoenix wasn't going to waste time with a developing talent. The Suns needed a player who can easily transition onto a squad ready to contend for a championship.
The bottom line with the majority of these upperclassmen -- including the Florida trio of Al Horford, Joakim Noah and Corey Brewer, along with Green, Young, Dudley, Brooks, Afflalo and Tucker -- is that they are all winners.
That isn't debatable, and it proves the older, well-schooled college player is suddenly the hip choice again.
Andy Katz is a senior writer at ESPN.com.
NBA DRAFT


Check out our full coverage of the 2007 NBA Draft.
DRAFT NIGHT
• Ford: Pick-by-pick analysis


• Ford: Team-by-team draft grades
• Sheridan: Night belongs to Oden, Durant
• Blazers make Oden the No. 1 pick
• TrueHoop's draft coverage
• Katz: Upperclassmen the hip pick this year
• Dickie V's draft thoughts
• Updated list: Draft day trades
• Fantasy: Draft night advice
• SportsNation: Draft night poll
• Zoom Gallery: Draft night fashion

CHAD FORD
• Mock Draft, Version 6.2 -- Picks: 1-14 | 15-30


• Ford: Is Yi worth the risk? ... The tier system



MORE DRAFT COVERAGE
• Hollinger: Rating pro potential of college players
• Official list: Who's in/out
• Ford's Top 100 prospects
• Sports Guy's lottery picks
• Ford: 10 int'l players to watch


• Ford: Oden No. 1? … Or Durant?


• 2007 NBA Draft Index
EUROCAMP

•
Ford: Prospects to watch in '08
•
Ford: Five who could be drafted in '07
FORD'S BLOG

•
Durant workout impresses Blazers
•
Odom so-so in Portland session
•
Oden's wrist, and other red flags
•
Draft notes and rumors
•
Is Durant's stock slipping?
•
Combine results: Who's the best athlete?
PREDRAFT CAMP

•
Ford: Draft rumors
•
Ford: Day 1
|
Day 2
|
Wrap-up
DRAFT LOTTERY
•
Podcast: Kevin Pritchard, Dominique Wilkins

•
Poll: Who should Blazers pick?
•
TrueHoop: Secaucus heaven
Blazer bliss
•
Katz: Oden wowed
Unhappy C's scene
•
Broussard: Nice Trail mix

•
Ford's blog: Lottery aftermath

•
Conversation:
Blazers
|
Sonics
|
C's
|
NBA
WORKOUT WATCH

•
Greg Oden -- is he Mr. Upside?
•
Mike Conley, Daequan Cook, Carl Landry
•
Julian Wright, Thaddeus Young, Alando Tucker
•
China's Yi Jianlian
|
No. 3 pick?
|
Rock star
•
Florida's Corey Brewer and Joakim Noah
•
Nick Young, Jason Smith, Bobby Brown
PODCASTS


• Greg Oden and Mike Conley
• Tim Grover and Thaddeus Young
• Florida's Noah and Brewer
• USC's Nick Young
• Colorado State's Jason Smith
MORE MEN'S COLLEGE BASKETBALL HEADLINES


MOST SENT STORIES ON ESPN.COM