Commentary
AIS preps Aussies, keeps them eligible for U.S. college life
Originally Published:
December 13, 2007
By
Andy Katz
| ESPN.com
Men At Work
Division I Australian players
• Ben Allen, Jr., St. Mary's
• Ryan Bathie, Jr., Nicholls State
• Aron Baynes, Jr., Washington State
• Anatoly Bose, Fr., Nicholls State
• Mitch Boyce, Soph., Nicholls State
• Aaron Bruce, Sr., Baylor
• Michael Czepil, Jr., Nicholls State
• Marko Deric, Jr., Loyola Marymount
• Daniel Dillon, Sr., Arizona
• Ben Dowdell, Fr., Santa Clara
• Zarryon Fereti, Sr., St. Bonaventure
• Matt French, Soph., Gardner-Webb
• Dominic Friend, Fr., Nicholls State
• Alex Gynes, Fr., Radford
• Sam Harris, Sr., Old Dominion
• Carlin Hughes, Jr., St. Mary's
• Martin Iti, Sr., New Mexico State
• Tom Jervis, Jr., Troy
• Daniel Johnson, Fr., Pepperdine
• Tim Lang, Jr., Stetson
• Ben Louis, Fr., James Madison
• Auryn MacMillan, Soph., Gardner-Webb
• Matt Maden, Fr., Gardner-Webb
• Aleks Maric, Sr., Nebraska
• Patrick Mills, Fr., St. Mary's
• Luke Nevill, Jr., Utah
• A.J. Ogilvy, Fr., Vanderbilt
• Alex Opacic, Jr., Furman
• Graeme Radford, Fr., Stetson
• Adam Tanner, Sr., Denver
• Dave Vanderjagt, Soph., Montana
• Lucas Walker, Jr., St. Mary's
• Stephen Weigh, Soph., Utah

Sorry, but the secret is out about the Australian Institute of Sport.
"Shhhhhh," Saint Mary's coach Randy Bennett said.
"We don't want to open a can of worms now," said Gonzaga assistant Ray Giacoletti, a former head coach at Utah.
"Ah, we're going back every year," said first-year Santa Clara coach Kerry Keating.
You see, the coaches who have tapped into maybe the most reliable place outside of the United States to find eligible, ready-to-contribute talent for Division I college basketball don't want to spread the word.
But it's too late.
A month into the college basketball season, it's clear that the Aussie rules for playing in the United States are working.
Vanderbilt's Andrew Ogilvy is second on the team and SEC in scoring (19.5 points a game), helping the Commodores to an undefeated season in his first year stateside.
Saint Mary's has just one blemish in its first eight games, in large part because of the play of Aussie guard Patrick Mills and his 15.5 points a game.
Washington State wouldn't be a top-10 team if it weren't for junior center Aron Baynes' play in the post.
Nebraska wouldn't even be a factor in the Big 12 if Australian senior center Aleks Maric (15.9 points per game) had not stuck around for his last season in Lincoln.
For three seasons, Baylor has relied on Aaron Bruce's talents at guard.
And now, count Santa Clara and Utah in the Aussie mix this season. The Broncos are getting significant contributions from Ben Dowdell, while two of the Utes' top five players are Luke Nevill and Stephen Weigh.
The one common theme for all of these players is that they went through Martin Clarke's junior Olympic program in Canberra, Australia, maybe the best precursor to Division I basketball on a foreign land.
"He's a real good basketball coach," Bennett said of Clarke. "He's the difference. I'm pretty sure they're not as good if he's not there. He really understands what it takes to be a good player."
Players from other countries have not experienced such a smooth transition to U.S. college hoops. Washington State's Fabian Boeke and Iowa State's Lucca Staiger, both of whom played on a club team in Germany that paid some players but not them, have been ruled ineligible by the NCAA for just being on that team and must sit out this season.
Australia avoids this issue. No player at the AIS is paid, said Clarke, who has been coaching there for 10 years.
[+] Enlarge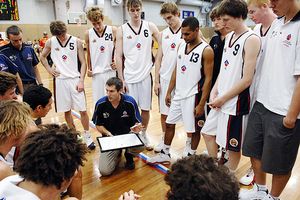 Australian Sports Commission, Image LibraryThe AIS and Marty Clarke ready Australian hoop players for the rigors of college play.
"It's not even questioned," Washington State coach Tony Bennett said. "It's already been cleared in the NCAA's eyes. It's accredited. It's OK. English is the language, and that helps. And the fact that they can practice and compete helps. And the kids are tough. That's why they come out ready to play."
"You know going in that you don't have to spend time dealing with eligibility," Baylor coach Scott Drew said. "You just evaluate and recruit. You know you're recruiting guys you can get [eligible]."
The NCAA rules against foreign players are now crystal clear: If you receive any money, sign a contract or play on a team considered professional (i.e., has a pro on it), you're subject to a penalty even if you don't receive money.
The only other country that may have something similar to AIS is France, which has the Paris-based INSEP, where Tony Parker and Ronny Turiaf played. Turiaf played at Gonzaga, while Parker chose the NBA over college. Parker could have been eligible, though, to play in college.
But in Australia, the initial plan wasn't to send players to the United States for college, Clarke said. He said in the late 1990s, the Australian professional league shrunk from 17 to 11 teams, and that meant younger players needed a place to continue using their skills.
The lure of American colleges suddenly became palatable. The AIS has seen its share of stars come through its doors, such as former Chicago Bull Luc Longley and former No. 1 draft pick Andrew Bogut of Utah.
Keating said the AIS, a junior Olympic academy, is actually what Sonny Vaccaro -- the former grassroots czar who was with Nike, adidas and Reebok at one point -- is preaching about implementing here in the United States.
"It's essentially the best kids in the country all going to school there," Keating said.
The Australians train and compete internationally, which builds even more confidence in their game.
"It's a college atmosphere in a high school situation," said Maric. "They have the best facilities in the country. We live on campus, practice on campus and don't have any of the time limits [like the NCAA]. We have tutors, too.
"I wouldn't be where I am without playing as much as I did there."
Giacoletti said other countries aren't set up like Australia, so they don't have the option of setting up a similar academy.
Clarke said the players shoot five mornings a week before school. They'll come back for individual or small-group sessions or strength and conditioning sessions at least once during the day around classes. He said they will then have a team session from 4:30 p.m. to 6:30 p.m.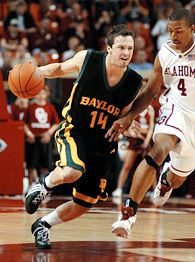 Baylor senior Aaron Bruce has been a double-figure scorer at Baylor for four years.
"On top of that, we will spend time with them doing a lot of halfcourt sessions with a coach," Clarke said. "There is also time-management study skills, nutrition and injury management."
Clarke said playing international competition against men is also a huge asset for the players' ability to adjust. So, too, is the fact they are already in a college dorm-like atmosphere, so there isn't a problem when they go to a U.S. college.
"They've already been away from home, so they don't have the normal freshman issues," Clarke said.
Maric said Clarke interviews the Australian players who return for summer vacation from the United States to see what the college coaches are doing, as well as taking trips over to the States to get a look himself.
"I think he's the key to the whole deal," said Randy Bennett. "He's a good coach who understands us and Australian basketball."
Maric said the Aussies play a similar style to the Americans, which makes for an easier transition too.
But the reality is the pool for the Aussie talent is still relatively small. Clarke said he has 14 players on college scholarship in the United States. In the Class of 2008, there is only one player who could and will go Division I, and that's Saint Mary's-bound Clinton Steindl.
"But the following class, we'll have a lot more players," Clarke said. "Our base of players isn't that deep. We do try to accelerate our best players. But the depth of talent is no where near the USA."
That's because basketball isn't the national sport there. It has to get in line behind the "footies" of soccer, rugby and Australian rules football, as well as cricket and anything aquatic. All of the Olympic sports train at the AIS, as well.
"It's not like there are a ton of players," Randy Bennett said. "I don't think there are a load of great Australian players that no one knows about. The ones that come through are the good ones from the past year."
But that won't stop college coaches from making more pilgrimages to Australia. When word spread about Ogilvy and Mills, an estimated 40 schools traveled to Australia for a look.
"College coaches have confidence now that they know the kid is going to be eligible, be prepared for college in a prep school situation," Maric said. "It's all a benefit. There are no negatives if you recruit because the NCAA has already done the background."
And if Ogilvy, Mills, Baynes and company continue to flourish, then it may seem like the distance between Australia and the United States is shrinking. Flying halfway across the world to get a ready-made player, who is amateur-eligible, will be worth any jet-lag fatigue.
Andy Katz is a senior writer at ESPN.com.
EDITORS' PICKS
How do decommitments change programs?
O'Neil

The 10 toughest challenges facing coaches this season.
Brown »