Commentary
Despite a season of turmoil, Bayless and Gordon are top draft prospects
Originally Published:
June 25, 2008
By
Andy Katz
| ESPN.com
NEW YORK -- Eric Gordon left Indiana for the NBA. But he can't avoid hearing about the roster carnage at the university, which has left his former team with only one returning scholarship player. He's from Indianapolis. He's a Hoosier.
[+] Enlarge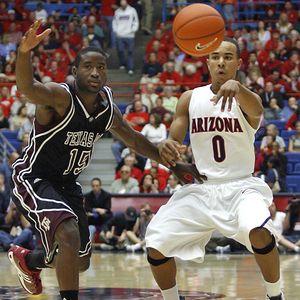 AP Photo/John MillerJerryd Bayless is confident, despite the uncertainty around Brandon Jennings, that Lute Olson will steady the Arizona program.
Jerryd Bayless left Arizona for the NBA. But he hasn't paid attention to any of the instability in the Wildcats' program -- from the complete overhaul of the coaching staff (save Lute Olson), to one recruit bolting and the country's top freshman talking about playing overseas if he's academically ineligible.
While Bayless is confident Arizona isn't going to wilt one bit, Gordon can't see the Hoosiers rebounding in the immediate future. The roster has been gutted after the departure of the Kelvin Sampson staff and the arrival of new coach Tom Crean, who will have just one holdover -- seldom-used senior Kyle Taber -- from last year's team.
"Man, I would say at least three to four years," Gordon said of the length of Indiana's recovery process. "I don't think it will happen within the next two years. It's so gutted, and the talent isn't what it used to be in Indiana. It's going to take time."
Gordon, who is projected to go as high as No. 6 to the New York Knicks in Thursday night's draft, said the end of Indiana's season was tough for him after Sampson resigned in February.
But his declining production at that time spoke more to his fractured left wrist than the coaching uncertainty. Gordon shot just 32.3 percent over the last eight games after shooting 46.6 percent prior to Sampson's resignation. He was just 7-for-50 from 3-point range under interim coach Dan Dakich.
"He never bitched or whined; he just played," Dakich said of Gordon. "He showed up to practice. If he was hurt, he never said it."
Dakich, who predicts Gordon will be an NBA All-Star, said the shooting guard has the fire that burns inside elite players like Kobe Bryant.
"He'll be a workout fanatic," Dakich said.
Prior to going to Indiana, Gordon was discussed as possibly the top player in the collegiate class of 2007. Gordon -- much like Dwyane Wade, who went fifth in the 2003 draft -- will harbor a grudge if he isn't selected until No. 6 in the NBA draft, Dakich said.
"He's got a lot of pride," Dakich said.
And that pride extends to Indiana.
[+] Enlarge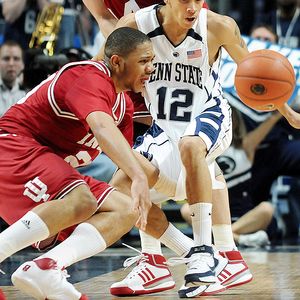 AP Photo/John BealeEric Gordon struggled to find his offense late in the season.
"It was a tough situation, and sometimes you could see that all of [the player defections were] going to happen with a new coaching staff," Gordon said. "I'm not surprised. The crazy part was how good we could have potentially been. But sometimes there was no team concept. And you could tell during certain parts of the season that we weren't [together] collectively as a team."
Gordon said the toughest thing to watch has been the slow depletion of the roster.
Meanwhile, Arizona's significant departures have been from its coaching staff. After the Wildcats lost to West Virginia in the first round of the NCAA tournament, Kevin O'Neill was reassigned from interim head coach to assistant athletic director for a few months. Now, he's an assistant coach with the Memphis Grizzlies. Assistant Miles Simon is no longer employed at the school. Assistant Josh Pastner took a job with the Memphis Tigers.
In addition, incoming forward Emmanuel Negedu opted out of his national letter of intent and eventually committed to Tennessee. Point guard Brandon Jennings, ESPN.com's No. 1 player in the collegiate class of 2008, has said he might play in Europe this upcoming season if he doesn't academically qualify for college.
But the good news for the Wildcats is that Olson has returned and is as passionate as ever about turning the program around. He hired well-respected NBA assistant Mike Dunlap, who has been charged with trying to figure out the Jennings situation. Prior to that, Dunlap earned his pay by helping Olson make Chase Budinger feel at ease about returning.
"Chase wanted to go back [to school], and I think he'll do really well," Bayless, who should go somewhere in the top seven of the draft, said of his teammate, who chose to withdraw from the draft. "It was a tough year last year. Coach Olson is back, so things are getting back to normal."
Olson has said he firmly believes the Wildcats will be an elite team next season, and if Jennings joins Budinger, Nic Wise and Jordan Hill, the Wildcats will have a shot to finish in the top three in the Pac-10, be regulars in the top 25 in the nation and advance to the Sweet 16 or beyond in the NCAA tournament.
If Jennings goes to Tucson, the storm that engulfed the program during Olson's leave of absence will have mostly subsided.
"It was an interesting year," Bayless said. "I tried to make the best of it. I'm still in a good position, so I can't complain that much."
Despite the tumultuous seasons Gordon and Bayless endured, they still are poised to be two of the first four guards selected in the NBA draft.
Andy Katz is a senior writer at ESPN.com.
SPONSORED HEADLINES
MORE MEN'S COLLEGE BASKETBALL HEADLINES
MOST SENT STORIES ON ESPN.COM
2008 NBA Draft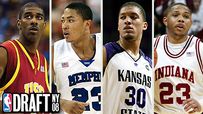 We've got the 2008 draft covered. Who are the top prospects? Check out our analysis, projections, scouting reports and more.
'08 NBA Draft Index
•
Roundup: A rundown of who went where
•
Keeping up with draft day trades
•
Mayo to Memphis, Love to Minnesota
•
Simmons, Ford: Great Draft Debate '08
•
Chad Ford's Mock Draft 7.0: Picks 1-30
|
31-60
•
Chad Ford's Mock Draft 6.1: Picks 1-30
|
31-60
•
Chad Ford's Mock Draft 6.0: Picks 1-30
|
31-60
•
Chad Ford's Mock Draft: Version 5.0
•
Chad Ford's Mock Draft: Version 4.0
•
Chad Ford's Mock Draft: Version 3.0
•
Chad Ford's Mock Draft: Version 2.0
•
Chad Ford's Mock Draft: Version 1.0
•
Draft Machine: Make your picks
•
Who's in, who's out of 2008 draft?
•
Ford's Top 100: Best draft prospects
Chad Ford
•
Draft Watch: How high or low will they go?
•
Draft Notes: Heat trading Beasley pick?
•
Draft Notes: Rose-Beasley rages in Chicago
•
NBA draft strategy: Ranking prospects by tiers
•
Draft Watch: Teams coveting UCLA's Westbrook
•
Draft Watch: Final in/out decisions made
•
Draft Watch: Rush's hot, Arthur's not
•
Draft Watch: International top 15
•
Draft Watch: Alexander's hot, Lawson's not
•
Draft Watch: Miami takes close look at Mayo
•
Draft Watch: Using the measurements
•
Draft Watch: Analyzing combine results
•
Draft Watch: Analyzing official measurements
•
Draft Notes: Who's looking to trade their pick?
•
Draft Notes: Stars come out in Orlando
•
Draft Notes: Beasley, Rose a marked contrast
•
Draft Stock Watch: Forbes taking wing on charts
•
Draft Notes: No. 1 question looms over Paxson
•
Draft Watch: Lawson bouncing back
•
Draft Notes: Rumors, promises and PGs
•
Draft Watch: Orlando hopefuls eye first round
•
Draft Watch: Could Mayo be the No. 2 pick?
•
Draft Watch: Who's No. 1 -- Rose or Beasley?
•
Draft Watch: Mayo's stock is rising again
•
Draft Watch: Judging early entry calls
•
Draft Watch: Nike Hoop Summit buzz
John Hollinger
•
Draft Rater: How will the Euros translate?
•
Draft Rater: Who are the best perimeter players?
•
Draft Rater: Who are the best big men?
•
Draft Rater: Beasley has most pro potential
•
Rating college prospects
More Analysis
•
Katz: Bayless, Gordon survived turmoil
•
Katz: Freshmen could produce record numbers
•
Katz: Draft trade rumors abound
•
Gottlieb: Mayo impresses while others falter
•
Katz: On top 12 picks
•
Katz: Rose's unique passion to win
•
Fraschilla: Who made right choice to return?

•
Katz: Heels win on withdrawal day
•
Katz: Anderson still on fence
Draft Lottery
•
Ford: Beasley-Rose debate rages in Chicago
•
Bulls win lottery; get first pick
•
Ford: Will Bulls take Beasley No. 1?
•
Vote: What should Bulls do?
•
Katz: Lottery projections

•
Fraschilla: Projecting picks 1-14

Podcasts
•
NBA Dish: Paxson on winning lottery
•
Mike & Mike: Paxson on No. 1 pick

•
NBA Dish: Joe Abunassar, NBA trainer
•
NBA Dish: Kevin Love, UCLA
SportsNation
•
NBA Draft polls
Fantasy
•
McKitish: Most freshmen have little impact
•
McKitish: Beasley and Rose as NBA rooks