Commentary
Patterson wants to taste Kentucky glory
Originally Published:
November 17, 2009
By
Andy Katz
| ESPN.com
LEXINGTON, Ky. -- Patrick Patterson was ready to punt on the whole Kentucky thing.
His career had hardly been what he envisioned coming out of high school, when he agonized about selecting Kentucky over Florida and Duke. His recruitment was a test for new UK coach Billy Gillispie and to some extent Florida's Billy Donovan, who was coming off a second national title but would soon flirt with the Orlando Magic that same spring.
[+] Enlarge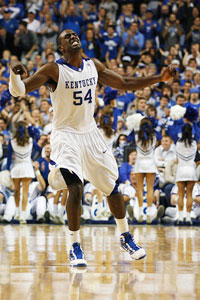 Mark Zerof/US PresswirePatrick Patterson has experienced plenty of lows during his time at Kentucky. He returned for his junior season to get a taste of Wildcats glory.
Patterson's decision to slide down from nearby Huntington, W.Va., to Lexington made sense. Gillispie desperately needed Patterson to anchor his program. Patterson was ready to blossom.
To say things didn't go as he expected during his freshman year is an understatement. An erratic season began with a crushing loss to Gardner-Webb in Kentucky's second game. It ended with a season-ending stress fracture in his left ankle that forced him to miss the final five games, including the Wildcats' first-round exit in the NCAA tournament.
Last season, Gillispie's second and final year in Lexington, was a disaster for the program, but not for Patterson individually. He averaged 17.9 points and 9.3 boards and was looking like a first-round draft pick, all while dodging questions about his coach's future.
When Gillispie was run out of Lexington, Patterson was about to follow his trail.
"I never expected all of this to happen," Patterson said. "I was close to leaving. When Coach Gillispie got fired and I heard that a couple of my teammates were going to lose their scholarship and there were all these people I didn't know -- DeMarcus Cousins, Eric [Bledsoe] and so forth coming in -- I had no idea who they were. I had heard of them, but didn't know them."
Patterson declared for the NBA draft. But he didn't last long. He knew what John Calipari could do once he took over as head coach. Patterson envisioned plenty of talent, but he still wasn't quite sure he was on board.
"The thought crossed my mind to forget all this and not come back for another year and just go to the league," Patterson said. "The thought really did come into my mind."

The thought crossed my mind to forget all this and not come back for another year and just go to the league. The thought really did come into my mind.
-- Patrick Patterson
Had he done that, the hype surrounding Kentucky this season would have been tempered. Sure, top player John Wall -- who put himself into UK folklore with his game-winning shot Monday night against Miami (Ohio) -- would have still been the star without Patterson. But with freshmen big men Cousins and Daniel Orton as the main options down low, the Wildcats would have been too green to be taken seriously as a national title contender. Expecting nearly every freshmen to be a key contributor might have been asking too much of this crew.
Once Patterson got word that he could graduate after three years, once he heard how much he was needed at Kentucky, his emphasis started to shift toward a return. He withdrew from the draft in May.
"I heard I was a mid-first-round pick in the 15-20 range," Patterson said. "I wanted to make my family proud. They stressed education and not many athletes get their degree in three years."
While Patterson was the more important player to return when compared to guard Jodie Meeks, who stayed in the draft, there was still a lack of national respect. Sure, Patterson was chosen as a first-team AP All-American, but the talk on this team was still about the freshmen, notably Wall. When was the last time a first-team All-American wasn't the focal point of his team?
"It's fine with me," Patterson said. "I'm probably the most humble person you've met. It's more fuel to my fire to motivate to make me work harder. I don't mind that everyone is talking about John [Wall]. He's getting all the press and he deserves it. Coach Calipari has had a successful career and I'm fine with that, too."
Patterson said he never heard anything in the preseason about himself.
"That's fine, I like that. I enjoy not having to deal with it, with all the hype that Patrick is all this or all that," Patterson said. "When it got announced that I was an AP preseason All-American, I probably got a few congratulations, maybe 10 or 12.
"I want to be an elite player. I don't mind not being talked about and being under the radar. I know I need to be an elite player on this team to help my teammates have the best year we've ever had to get a national championship for Kentucky."
Last week, prior to Friday's opener against Morehead State, Calipari pulled Patterson aside and told him that he needed more from him.
Following the opener, Calipari said that Patterson should be a 20-point, 12-rebound or 25-and-15 player. Patterson scored 17 points and had 10 boards in the win over Miami (Ohio). Of course, he was overshadowed by Wall, who hit the game-winner and finished with 19 points.
[+] Enlarge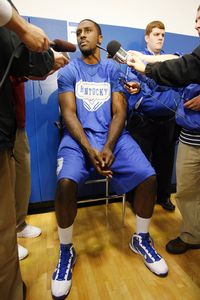 Mark Zerof/US PresswirePatterson is used to the spotlight in Lexington. He's hoping the Wildcats will have reason to celebrate this season.
"[Calipari] hammered home to me that I've got to be in condition," Patterson said. "He wants me to run a lot more. He wants me to be a dominant player and demand the ball. He wants me to hit the boards and be the leader on this team and take them to a national championship. I'll do whatever he wants. A lot of these players haven't played college basketball and don't know what to expect, but they've played in elite games."
Patterson said when he arrived as a freshman he was blown away by the Big Blue Nation and all that is expected of a player.
Former Kentucky player and current Oklahoma State head coach Travis Ford said being a UK player is rewarding when you're winning because the Kentucky fans love their basketball. But it does come with high expectations.
"It's tough," Ford said of being a Kentucky player.
"If you don't win, they'll grind you into the ground," Patterson said. "If you're winning, they're 100 percent behind you. We saw the fans talk negative about you and fans say this and that about you. But it's one of the best places to play, if not the best place. But if you don't do the right things it's probably the worst place to be."
Patterson said it was difficult to hear the negativity swirling around Gillispie last season.
"It was a frustrating and real complicating time for us," Patterson said.
Had Patterson bolted, he might never have experienced the good that Ford was speaking about, the type of adulation that the Wildcats are already feeling this season and will likely get during their campaign to get to Indianapolis in April.
"I wouldn't have known the full effect," Patterson said of the Kentucky experience had he left after two seasons. "I would have just seen shades of it."
With Wall and Eric Bledsoe pushing the ball, and Patterson anchoring the inside with Cousins and Orton, the Wildcats are set with a loaded lineup.
"We can be phenomenal, one of the best frontcourts in the nation, if not the best," Patterson said. "DeMarcus is a skilled big man and Daniel a tremendous shot-blocker and is active on his feet. If I'm doing what I can to improve then when all three of us are out there we'll be something to reckon with."
If all of this occurs, then any of the contemplation and anxiety Patterson felt last spring about whether to return to Kentucky will seem almost silly. Patterson, who won't be the headliner as long as Wall is on the roster, can quietly consume all that it means to be a star in Lexington, deliver on his commitment to get the Wildcats deep into the spring and fulfill his original plan of being a first-round pick and a contributor right away at the next level.
Andy Katz is a senior writer at ESPN.com.
SPONSORED HEADLINES
MORE MEN'S COLLEGE BASKETBALL HEADLINES
MOST SENT STORIES ON ESPN.COM
EDITORS' PICKS
It's time again for a college basketball dinner party.
Brown »

Which 2015 prospects have stood out this summer?
Binacardi

Is it time for a rule change for transfers?
Goodman
Adidas Men's Kentucky Wildcats Blue Final Four Bound Basketball T-shirt Shop »