Commentary
Steve Fisher had success as a sudden interim coach
Originally Published:
February 22, 2008
By
Dana O'Neil
| ESPN.com
The national championship trophy secured, his team crowned college basketball's improbable princes, Steve Fisher finally stepped back and considered the surreal three weeks he had just lived.
On March 15, Fisher was Bill Frieder's assistant coach, helping prep the Michigan Wolverines for a first-round NCAA Tournament date with Xavier in Atlanta.
[+] Enlarge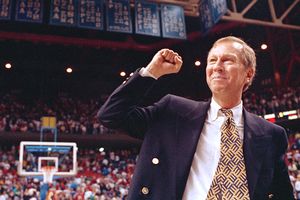 AP Photo/Ed ReinkeSteve Fisher won a national championship less than one month after he took over as an interim coach at Michigan.
On April 3, he was cutting down the nets in Seattle as the head coach of Michigan, the 1989 national champion.
Fisher could be one of the few people in the country who can empathize with Dan Dakich, Indiana's emergency interim coach now that the school has parted ways with Kelvin Sampson. Following a frightening trend set this season by college football when seven interim coaches led their squads in bowl games, college basketball now has four fill-in leaders: Eric Bridgeland took over at Pepperdine after Vance Walberg abruptly quit; Eddie Sutton is in charge at San Francisco following the school's still-murky parting with Jessie Evans; and Butch Pierre took over at LSU after John Brady was fired. But rare is the opportunity for a coach to take over a top-25 program midseason.
None of the temporary bowl coaches, after all, was still in the national championship mix.
Michigan was a No. 3 seed in the NCAA Tournament when Fisher stepped in. Indiana is No. 14 in the country, a team with enough talent to be in the Final Four conversation.
Fisher got the job after Michigan athletic director Bo Schembechler fired Frieder on the eve of the 1989 NCAA Tournament. Miffed that Frieder agreed to become Arizona State's head coach at season's end, Schembechler decided to end the coach's season immediately, canning Frieder on the spot and elevating Fisher, a nine-year assistant, to interim head coach.
In explaining his decision Schembechler memorably said, "A Michigan man will coach Michigan, not an Arizona State man." Frieder, though, was the UM graduate, not Fisher.
The twisted plot turned fairy tale when the Wolverines beat Seton Hall in overtime to win the national title.
"Those three weeks went by like a millisecond," said Fisher, now the head coach at San Diego State. "You don't have a whole lot of time to think about what's going on but after the fact, you step back. I kept thinking what just happened to me happens to somebody else, the person who hits the lottery or something like that."
From his vantage point clear across the country, Fisher wasn't willing to offer advice or even insight as to what's happening, will happen and could happen at Indiana.

If you can keep the outside world at bay, which is easier said than done, you're OK. I just told the team, 'I'm coaching the team now. We will prepare like normal and not change a lot. We'll try to keep the distractions to a minimum.'
--Steve Fisher
There's no doubt, though, that Dakich will walk through many of the awkward minefields that Fisher traversed.
The Indiana situation has been stewing now for 10 days, since the school's announcement that it had received a letter from the NCAA detailing what it termed to be "major" recruiting violations by Sampson.
Fisher, who ironically was forced out at Michigan amid NCAA allegations in a manner not unlike Sampson at Indiana, had about 12 hours' advance notice. The night before Schembechler fired Frieder, Frieder told his assistant that he had accepted the ASU job, was flying out to the Tempe campus and would meet his Michigan team in Atlanta, site of its first-round game.
Though stunned by the news, Fisher said he wasn't entirely shocked when at 7:30 the next morning he was summoned to Schembechler's office.
"There was speculation on TV after they got wind that [Frieder] was going to be announced as the new coach," Fisher said. "I was concerned with what was going to happen. I didn't know if they'd let him coach the team or if they'd be upset with him. I wouldn't have been surprised either way."
His players, naturally, were shocked by the upheaval but were able to roll with things because Fisher was a familiar face and voice. Fisher frequently ran drills and helped out in practice. He'd spoken before games and after games. Seeing him as a head coach wasn't a major adjustment.
[+] Enlarge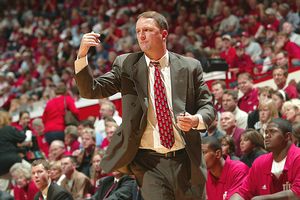 Icon SMINew IU interim coach Dan Dakich will have to try to minimize the distractions for the team to be successful.
The hardest part, Fisher said, was never the basketball. That was the team's haven, a place where some sort of normalcy returned for three hours each day. It was the outside noise that was hard to silence.
"If you can keep the outside world at bay, which is easier said than done, you're OK," said Fisher, who had to answer questions about whether his interim tag would be changed to a permanent one during the NCAA run. "I just told the team, 'I'm coaching the team now. We will prepare like normal and not change a lot. We'll try to keep the distractions to a minimum. We want you guys to not answer the phone, just focus on the job at hand.'"
Fisher also struggled with fractured loyalties, something Dakich will no doubt feel. Frieder hired Fisher at Michigan, and the two coaches were close friends as well as co-workers. The university wanted Frieder gone, completely unattached to the Michigan program.
Dakich returned to Indiana, his alma mater, thanks to Sampson, who hired him this season as the program's director of basketball operations.
"They excommunicated Frieder and that was hard for me," Fisher said. "To be honest, I went against the school's wishes. I had him talk to the team in Atlanta. I felt like that was owed to him. For my benefit after that he stepped away and stayed away."
Fisher discounts the notion that the coaching change became some sort of rallying cry. The Wolverines were talented, a team that the year before reached the Sweet 16, so winning a championship under the circumstances was intriguing but not altogether stunning.
But Fisher also didn't face any sort of player mutiny, a muddy area at IU what with the curious player absences at the Hoosiers' practice on Friday.
"They were like anybody else would be in that situation, they think about 'me' first," Fisher said of his players. "What's in it for me? How will this affect me? Then they thought about the team. They wanted to win. That was the most important thing to them."
Dana O'Neil covers college basketball for ESPN.com and can be reached at espnoneil@live.com.
College Basketball
College basketball reporter.
Joined ESPN in 2007.
Graduate of Penn State University.
SPONSORED HEADLINES
MORE MEN'S COLLEGE BASKETBALL HEADLINES
MOST SENT STORIES ON ESPN.COM
KELVIN SAMPSON/INDIANA SCANDAL

An NCAA report states head coach Kelvin Sampson and Indiana committed five "major" violations. The allegations stem from a phone call scandal that occurred while Sampson was still under recruiting restrictions.
News
•
NCAA downgrades one charge against Hoosiers
•
Report: IU paid $203K in legal fees for NCAA case
•
Indiana says its sanctions are enough
•
Sources: IU agrees with NCAA on violations
•
Committee created to find next Hoosiers coach
•
Sampson must cooperate with NCAA probe
•
IU moves on behind Dakich
•
IU, Sampson reach $750K termination settlement
•
Status unresolved, Sampson preps for game
•
Source: IU likely to suspend, fire Sampson
•
IU tops Purdue, awaits word on Sampson's fate
•
IU to conduct own investigation into allegations
•
Ex-Indiana assistant coach: 'I was not untruthful'
•
Source: Sampson status as coach game-by-game
•
Sampson, Indiana face 5 major NCAA violations
•
Wisconsin takes advantage of distracted Indiana
•
Sources: IU faces major violations over calls
Analysis
•
O'Neil: IU, Sampson to face NCAA in hearing
•
Wojciechowski: IU should penalize itself too
•
Forde: Dark day ends black saga at Indiana
•
O'Neil: Fisher lived what Dakich will experience
•
Forde: Coaches to consider to replace Sampson
•
Vitale: Time for Indiana to move on
•
Forde: Hoosier Nation ready for Sampson's exit
•
Katz: IU beats MSU as Sampson drama continues
•
Schlabach: IU investigation is a moot point
•
Schlabach: Lying attracts harshest punishments
•
Schlabach: Former Hoosiers react to Sampson
•
Forde: Weighing IU's best options
Documents (pdf)
•
Indiana's response to NCAA allegations
•
NCAA details Indiana violations
•
Sampson responds to allegations
•
Agreement between Sampson, Indiana
Audio
•
Bilas: IU might need to fire Sampson


•
Katz on Indiana's coaching options


Video
•
Indiana's recovery starts at Northwestern

•
The search for next Indiana coach is on

•
Indiana news conference with Rick Greenspan

•
Kelvin Sampson out at Indiana

•
Sampson and the Hoosiers top Purdue

•
Sampson enjoys emotional win over MSU

•
GameDay thoughts on Kelvin Sampson

•
What Sampson, Indiana players are saying

•
Michael McRobbie announces investigation

•
Violations put Sampson's future in question

•
Sampson denies NCAA's allegations

SportsNation
•
Vote: Your thoughts on Sampson's resignation?