Commentary
Glazier carves out niche as NCAA investigator
Originally Published:
June 12, 2008
By
Dana O'Neil
| ESPN.com
OVERLAND PARK, Kan. -- In the movie "Pulp Fiction," Winston Wolfe is a crass-talking wise guy who specializes in one thing.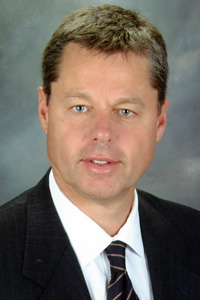 NCAAMike Glazier is a familiar face to colleges who have faced NCAA investigations.
"I'm Winston Wolfe. I solve problems," he says, before helping dispose of a headless corpse and clean out a rather messy car backseat.
Mike Glazier is a humble, reserved Midwesterner who works as a lawyer and spends his free time perfecting his golf game.
Ask Glazier if he and the character made famous by Harvey Keitel are similar, and he can't help but laugh. Glazier doesn't deal in blood, guts and gore. Doesn't associate with bad guys. Doesn't use curse words as adjectives, or even verbs, for that matter.
But like Wolfe, his phone is often the first to jingle when there's a hint of a problem.
The minor difference? Instead of panicked gangsters calling with bloodied dead guys to get rid of, Glazier fields calls from panicked university administrators with NCAA investigators sniffing around them.
"Oh, wow, could we have gone through it without Mike?" asked Villanova athletic director Vince Nicastro, who six years ago hired Glazier when the basketball team was being investigated. "We could have, but I don't know if I would have wanted to. As soon as the NCAA infractions people called to say they had to investigate, our first call was to Mike."
Glazier, head of the law firm Bond, Schoeneck and King's Collegiate Sports Practice Group, will represent Kelvin Sampson when the former Indiana University coach has his hearing with the NCAA Committee on Infractions on Friday. Glazier ordinarily only represents universities, not individuals, but he is making an exception in Sampson's case.

I am surprised there is this much work. Maybe 'surprised' isn't the right word, but I didn't imagine I'd be doing this for 20 years.
--Mike Glazier
Glazier initially agreed to represent Sampson because of his long-standing friendship with Oklahoma athletic director Joe Castiglione, who contacted Glazier when Sampson was under investigation while in Norman. When Sampson moved on to Indiana, Glazier continued to represent him against the charges at OU.
"Having been a student-athlete at IU [he was a quarterback], it would have been difficult for me to walk away from Kelvin and IU in mid-stream," said Glazier, adding that his fees have been paid by Oklahoma and Indiana, not by Sampson. "And Kelvin remained committed to being fully forthcoming before the Committee on Infractions."
It's doubtful that even Glazier can save Sampson from an expected show-cause penalty from the NCAA, but Glazier has had something of a magic touch in NCAA investigations. He abhors the notion that he is a "fixer" because it implies he's following a seedy Winston Wolfe script rather than an honorable one. But there's no question that Glazier's meticulous research can ease the pain of the NCAA's gavel.
In 1998, Louisville's basketball program was banned from postseason play for rules violations involving extra benefits. But Glazier uncovered what amounted to a technical error -- that the school hadn't received adequate notice that it was facing a major violation and could be charged as a repeat offender. On appeal, the NCAA overturned the postseason ban.
"He was very instrumental in uncovering so many details for us," Louisville athletic director Tom Jurich said. "I almost looked at him as an investigator for us."
Not everyone is a fan. Back in 1994, then-Pitt football coach Mike Gottfried -- angry that Glazier's tactics often led to a dismissed coach or at the least, a coach with a tarnished reputation -- called Glazier a "bounty hunter."
But if you leaf through the pages of NCAA violation infamy, you'll find Glazier's name. The investigation at the University of Minnesota centered on a tutor that wrote papers for players? The investigation of agent Tank Black at the University of Florida? Missouri's sanctions during Norm Stewart's tenure? Glazier represented all three universities.
Day Of Reckoning
Since Kelvin Sampson resigned from Indiana amid allegations of major violations, he has released a 70-page statement about the charges. IU released a 750-page statement. But now, they'll finally get their time in front of the NCAA this Friday the 13th. Dana O'Neil
"I don't think the industry within the NCAA community views us as 'fixers' at all," Glazier said. "We're charged with finding out the truth, and we do that. Sometimes we can learn the allegations aren't founded, but oftentimes they are. And when they are, we say that. We don't hide anything."
Glazier comes by his NCAA knowledge and connections naturally. For seven years he was on the inside, working on the NCAA's enforcement staff. In 1986, he decided to leave but wasn't enticed by practicing any sort of traditional law. Unsure of other options, Glazier took a job with a firm in Kansas City.
And then his phone rang.
Mike Slive, previously the athletic director at Cornell and a one-time district court judge, began working with universities to help them through NCAA investigations in 1983. Slive knew of Glazier and his work in the NCAA and suggested that Glazier not take the job in Kansas City but instead join him in Chicago. Slive's college friend was a managing partner at a firm there and agreed to give Slive and Glazier office space while they developed some sort of sports-related practice.
The Slive/Glazier Sports Group, the first practice of its kind, was born.
"It was my sense that there was not a need but a service that could be provided to help institutions that were facing allegations from the NCAA," said Slive, who eventually left the practice and is now the commissioner of the Southeastern Conference. "Mike and I started working together and found there was a significant demand."
In fact, Glazier had barely organized his desk when Oklahoma State called. The university was facing some significant NCAA issues (the football program eventually was placed on four years of probation) and knew of Glazier's unique résumé as a former NCAA staff member and current lawyer.
Before that case was closed, Texas A&M was on the horn, and like a funeral director, Glazier hasn't lacked for business since.
"I am surprised there is this much work," Glazier said. "Maybe 'surprised' isn't the right word, but I didn't imagine I'd be doing this for 20 years."
Before Glazier (and Slive before him) went into practice, most universities would turn to in-house counsel or well-connected lawyer alums to handle their investigations. Three years of law school were suddenly rendered moot. Instinctively, lawyers want to caution their clients to not cooperate, to remember that the burden of proof is on the prosecution.
The NCAA follows its own constitution. Universities facing NCAA sanctions aren't just presumed guilty, they are expected to help prove their own guilt by conducting their own investigations and self-reporting violations.
[+] Enlarge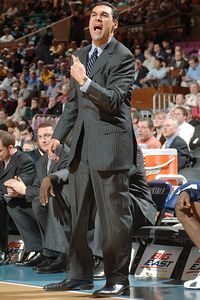 Mitchell Layton/Getty ImagesVillanova and coach Jay Wright turned to Mike Glazier when facing possible NCAA penalties.
Well-versed in the NCAA game and familiar with all the players involved, Glazier helps ease the pain of slapping oneself on the wrist, assuring schools that whatever they do to themselves will hurt less than what the NCAA will do to them.
Glazier isn't an NCAA rulebook expert (fortunately, Steve Morgan, the former associate executive director of the NCAA and the guy who wrote the language for most of the rules, now works in Glazier's office, as does Rick Evrard, the NCAA's former director of legislative services). He's more of an NCAA behavioral expert.
"It's the hardest process in the world to plead guilty to," Glazier said. "It takes forever. It's really frustrating for institutions because they don't understand why, when they say, 'We understand there's a problem. We're guilty on these things,' it's not over. It can take six months from that point to the end."
NCAA investigators were on the Villanova campus for almost two years, beginning in 2002. They pored over phone records and other documents and held countless interviews with players, coaches and administrators. It was tedious -- basketball coach Jay Wright remembered his players being routinely yanked from practice for interviews with NCAA investigators -- exhaustive and nerve-racking.
Glazier, who would come on campus for virtually every interview and then re-read the transcripts, was a regular on the suburban Philadelphia campus.
"As difficult and challenging as it was, having Mike gave you a level of comfort that you had someone experienced, who had been through the wars," said Nicastro, the Villanova AD. "He would constantly say, 'We're going to be OK.'"
Jurich inherited his mess at Louisville. The Cardinals were knee deep in their second investigation in three years when Jurich came on board in 1997, and people were more than a little anxious -- "the word 'death penalty' was on a lot of people's tongues," Jurich said.
He wasn't looking for someone to save his program. He was looking for someone to change it.
"This university was guilty and guilty of multiple sins," Jurich said. "I didn't want someone to tell me what I wanted to hear. I wanted to change the culture and that was met with a lot of resistance. Mike helped me make people understand I meant business. He gave me great recommendations, things we still use in the day-to-day, and when he left, we hired a full compliance staff. Mike helped me select those people. We fixed the problem because of him, and we've been great to this day."
Both Nicastro and Jurich discounted the notion that Glazier was a fixer -- "He never said, 'I'll make this one go away for you," Nicastro said -- and instead argue that he often does the opposite. He uncovers every transgression and forces schools to leave no stone unturned.
Consequently, when both Villanova and Louisville threw themselves at the mercy of the NCAA court, they had reported every blemish and pimple.
And that, Glazier said is the secret to "fixing" NCAA problems.
"The charge is not to get the least penalty or to get a school off," Glazier said. "In the end, you have certain violations, but there is no formula. There's a range. If you go in and annoy the group that's going to decide your fate and they don't think you're being diligent at getting at the truth, they're going to penalize you on the heavy end of the range. They don't feel so good about you.
"On the other end, if you've taken some measures and they feel good about you, they may come out on the lesser end."
Problem solved.
Dana O'Neil covers college basketball for ESPN.com and can be reached at espnoneil@live.com.
College Basketball
College basketball reporter.
Joined ESPN in 2007.
Graduate of Penn State University.
KELVIN SAMPSON/INDIANA SCANDAL

An NCAA report states head coach Kelvin Sampson and Indiana committed five "major" violations. The allegations stem from a phone call scandal that occurred while Sampson was still under recruiting restrictions.
News
•
NCAA downgrades one charge against Hoosiers
•
Report: IU paid $203K in legal fees for NCAA case
•
Indiana says its sanctions are enough
•
Sources: IU agrees with NCAA on violations
•
Committee created to find next Hoosiers coach
•
Sampson must cooperate with NCAA probe
•
IU moves on behind Dakich
•
IU, Sampson reach $750K termination settlement
•
Status unresolved, Sampson preps for game
•
Source: IU likely to suspend, fire Sampson
•
IU tops Purdue, awaits word on Sampson's fate
•
IU to conduct own investigation into allegations
•
Ex-Indiana assistant coach: 'I was not untruthful'
•
Source: Sampson status as coach game-by-game
•
Sampson, Indiana face 5 major NCAA violations
•
Wisconsin takes advantage of distracted Indiana
•
Sources: IU faces major violations over calls
Analysis
•
O'Neil: IU, Sampson to face NCAA in hearing
•
Wojciechowski: IU should penalize itself too
•
Forde: Dark day ends black saga at Indiana
•
O'Neil: Fisher lived what Dakich will experience
•
Forde: Coaches to consider to replace Sampson
•
Vitale: Time for Indiana to move on
•
Forde: Hoosier Nation ready for Sampson's exit
•
Katz: IU beats MSU as Sampson drama continues
•
Schlabach: IU investigation is a moot point
•
Schlabach: Lying attracts harshest punishments
•
Schlabach: Former Hoosiers react to Sampson
•
Forde: Weighing IU's best options
Documents (pdf)
•
Indiana's response to NCAA allegations
•
NCAA details Indiana violations
•
Sampson responds to allegations
•
Agreement between Sampson, Indiana
Audio
•
Bilas: IU might need to fire Sampson


•
Katz on Indiana's coaching options


Video
•
Indiana's recovery starts at Northwestern

•
The search for next Indiana coach is on

•
Indiana news conference with Rick Greenspan

•
Kelvin Sampson out at Indiana

•
Sampson and the Hoosiers top Purdue

•
Sampson enjoys emotional win over MSU

•
GameDay thoughts on Kelvin Sampson

•
What Sampson, Indiana players are saying

•
Michael McRobbie announces investigation

•
Violations put Sampson's future in question

•
Sampson denies NCAA's allegations

SportsNation
•
Vote: Your thoughts on Sampson's resignation?
MORE MEN'S COLLEGE BASKETBALL HEADLINES
Jansport Men's Villanova Wildcats Navy Tournament Basketball T-shirt Shop »

MOST SENT STORIES ON ESPN.COM