Commentary
Seton Hall flips the script in pulling shocker over USC
Updated:
November 21, 2008, 12:41 AM ET
By
Dana O'Neil
| ESPN.com
SAN JUAN, Puerto Rico -- They were chanting his name. Usually that's not a good thing for Bobby Gonzalez.
But this time, the embroiled Seton Hall coach walked across the court arms outstretched to receive the love from the Pirates faithful. With a roster depleted from self-inflicted wounds (Robert Mitchell was suspended after the Duquesne transfer traveled with the team back from Georgetown last season before he was an active member of the roster) and NCAA waiver appeals that didn't happen, Seton Hall dressed seven scholarship players for its game against No. 20 USC on Thursday.
[+] Enlarge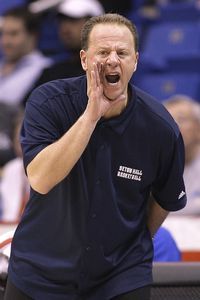 AP Photo/Andres LeightonBobby Gonzalez's Seton Hall squad picked up a signature win by beating No. 20 USC.
The Pirates also stuffed a slingshot in their shorts. Taking on the pit bull mentality their coach wears when he's ordering a latte, Seton Hall stunned the Trojans 63-61 in the opening round of the Puerto Rico Tip-Off.
"This was a monstrous win for our program," Gonzalez said. "USC has great talent, an epic name, a top-20 ranking, and we turned it into a street fight."
As much as this was a time for the Hall to rejoice in the improbable, it also was a time for the Trojans to stomach the incomprehensible. Armed with a roster stuffed with talent, a stud freshman in DeMar DeRozan and, most of all, a 15-point halftime cushion, USC fizzled, frazzled and unraveled. The Trojans shot 7-of-29 for the second half and missed all their 3-pointers and six free throws, which added up to a whopping 18-point effort in the final 20 minutes.
The tenor of the second half was set in the first five minutes. Seton Hall stunned USC with three consecutive 3-pointers, knocking the Trojans on their heels just far enough that the Pirates ultimately were able to knock them over.
"We came out thinking it was over," coach Tim Floyd said. "We didn't come out spirited in the second half, and they did."
And the closer the game, the tighter the Trojans played. They committed careless turnovers. If this were tennis, they'd be classified as unforced errors, silly mistakes personified by Keith Wilkinson's blistering pass from the top of the key to absolutely no one but Floyd on the sideline with 4:48 to play and USC on its last breath, up 55-54.
Seton Hall pulled the final string on USC with 1:16 to play. After the Pirates missed what seemed like endless chances to take the lead, Eugene Harvey found Jeremy Hazell in the corner. The sophomore swished the trey to put the Hall up, 62-59.
Ballgame.
The upset ruins the much-anticipated meeting Friday between USC and Memphis with their respective freshman phenoms, DeRozan and Tyreke Evans.
"We knew that, we knew people were talking about that," said Seton Hall big man John Garcia, who pulled down 18 rebounds, including 10 critical offensive boards to keep possessions alive. "We wanted to play the spoiler."
And so they will, while USC will have to take comfort in one simple truth: This isn't football.
This isn't Oregon State relegating the pigskin Trojans to the BCS bridesmaid pile. This is a November loss at a neutral site in a long season.
"This is a great lesson for us to learn," Floyd said. "I hope we do."
Dana O'Neil covers college basketball for ESPN.com and can be reached at espnoneil@live.com.
College Basketball
College basketball reporter.
Joined ESPN in 2007.
Graduate of Penn State University.
SPONSORED HEADLINES
MORE MEN'S COLLEGE BASKETBALL HEADLINES
MOST SENT STORIES ON ESPN.COM
EDITORS' PICKS
Villanova escaped Michigan's upset bid to end a wild night.
Brennan »

Kentucky is the unquestioned No. 1 team.
Power Rankings »

Villanova's balanced attack led it to victory against VCU.
Dana O'Neil »