Commentary
Balanced effort propels Heels over MSU
Originally Published:
December 1, 2009
By
Dana O'Neil
| ESPN.com
CHAPEL HILL, N.C. -- A jacket and tie are too restrictive, a bed too painful to offer even a tolerable night's sleep.
His wife made her way to the bench during a game last week, armed with painkillers, after she saw her husband flinch when he tweaked his surgically repaired left shoulder during a game.
[+] Enlarge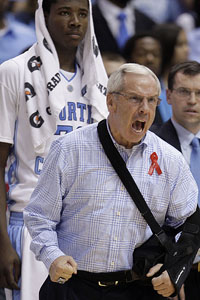 AP Photo/Gerry BroomeRoy Williams isn't pain-free, but he'll sleep easier after his team's impressive victory Tuesday.
But when Roy Williams tucks himself into his Barcalounger tonight, he will enjoy the rest of the satisfied.
And in East Lansing, Tom Izzo will once more see blue Heels stomping across his nightmares.
This time it was supposed to be different. Michigan State had the experience, the hosses, and most of all, the anger after two humbling losses to UNC in the span of four months.
North Carolina had little left over but its uniforms.
Nevertheless, the Carolina Kryptonite once again paralyzed the Spartans. Putting together its most complete effort of the season and riding the revelry of a crowd chastised into action by its head coach, the Heels won 89-82, their fifth consecutive victory over Michigan State -- and third in the last 12 months.
"Winning helps,'' said Williams of his new method of pain management. "It definitely helps.''
And losing hurts. The feisty Izzo said after the game he'd be ready for another round with Carolina next year, vowing that he's never backed down from a fight before and he's not about to start now … if someone would like to schedule the next installment.
Izzo tried in vain to find the silver lining, pointing to the fact that the Spartans fought and turned a would-be rout into a game late in the second half. He acknowledged that MSU is at least making progress -- the margin of defeat has dropped from 35 points in December 2008 to 17 in April 2009 to seven Tuesday night.
But anyone who knows Izzo even a little bit knows that he's not one for silver linings.
This was supposed to be the Big Ten's year, with Michigan State carrying the banner. Instead, the Spartans lost again, and the league will have to settle for a 3-3 split as it heads into Day 3 of the Big Ten/ACC Challenge.
"I think it's evident; I've said all along we're not where they are yet,'' Izzo said of North Carolina. "It's OK to lose these games, but you have to compete. I think we're headed in the right direction, but we've got to win one of these games. Our program may not be where theirs is yet, but we're also not at the point where we're looking for moral victories, either.''
It will have to do for now, because any shot at a real victory was all but erased by halftime.
Pushed around on the inside and unable to buy a bucket from the outside -- the Spartans were 0-for-7 from behind the arc in the first 20 minutes (and finished 2-of-20) -- Michigan State lost its poise and its aggression on offense while simultaneously serving as defensive doormat.
Not a good combination.
For 10 minutes, the Spartans traded bucket-for-bucket with the Heels, electrifying an already-electric Dean Dome with an offensive display that led to a 21-21 tie with 10:45 to play.
But when the Spartans' shots stopped falling, North Carolina kept finding the bottom of the net. The Heels blitzed through an 11-2 run, and not just any 11-2 run. In front of a fan base aching to see its vaunted freshman class take over a game, the rookies accounted for all 11 of those points.
By the time Dexter Strickland drained a 3-pointer at the halftime buzzer, the Heels waltzed to the locker room up 50-34.
Not to be confused with the 55-34 lead in the national title game or the 53-39 advantage the Tar Heels held last December.
[+] Enlarge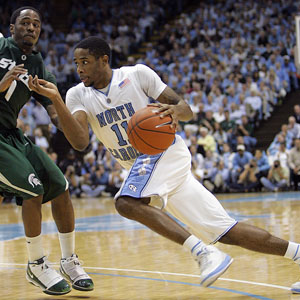 AP Photo/Gerry BroomeLarry Drew II more than held his own against All-American candidate Kalin Lucas, scoring 18 points, missing just one shot and notching six assists.
"Everyone was talking about Michigan State and how this was their chance to get revenge on us,'' senior Marcus Ginyard said. "This was their chance to beat us for the first time in three tries. Well, we were just as excited to put it to them for the third time.''
In the span of one game -- the dichotomy of two halves -- North Carolina showed both its potential and its room to grow.
Against the toughest backcourt competition he's seen this season, Larry Drew II not only scored a career-high 18 points (6-of-7 shooting) but also dished six assists with just three turnovers. When he needed a breather, the lightning-quick Strickland provided it, making for a potent one-two punch that all but exhausted Michigan State's Kalin Lucas, who shot just 6-of-17 from the field.
Mix in the forest of redwoods, as Izzo referred to the Carolina frontcourt -- a dizzying rotation of Ed Davis (career-high 22 points), Deon Thompson (14), John Henson, Tyler Zeller and the Wear twins -- and it's easy to see, with all that length and strength, where the Heels can go from here.
"Tonight I felt like we were coming at them from all angles,'' Ginyard said. "You really saw the kind of team we could become.''
But the red flag of caution has to be raised. A year ago, North Carolina took a 16-point lead and made it 26.
This year, a team still trying to figure out how to win let a 19-point, second-half lead get all the way down to six. Michigan State made it somewhat of a heart-stopper in the waning minutes as the Heels clanked several free throws.
"When you have a team down, you have to keep them down,'' Thompson said. "Teams like these are too good. You keep letting them back in the game and they're capable of making anything happen.''
That's a lesson the Heels learned two weeks ago.
A night after impressively beating Ohio State in the Coaches vs. Cancer tourney in New York, North Carolina was bloodied by Syracuse in an 87-71 loss.
Now they enjoy the rush of a win against Michigan State … with Kentucky waiting in the wings on Saturday afternoon.
"It's still early, so we're not going to make too much of this game,'' Williams said. "We'll enjoy it until midnight. Well, we have Kentucky coming up, so maybe we'll enjoy it until noon tomorrow.''
At least long enough for the coach to enjoy a good night's sleep.
Dana O'Neil covers college basketball for ESPN.com and can be reached at espnoneil@live.com.
College Basketball
College basketball reporter.
Joined ESPN in 2007.
Graduate of Penn State University.
EDITORS' PICKS
The 10 toughest challenges facing coaches this season.
Brown »

How do decommitments change programs?
O'Neil

Who are the 10 best mascots in college basketball?
O'Neil »