Cardinal crash out of another dance
Updated:
March 22, 2004, 12:35 PM ET
By
Ray Ratto
| Special to ESPN.com
SEATTLE -- In time, Mike Montgomery will learn to hate what happened to his Stanford Cardinal on Saturday afternoon at KeyArena.
In fact, he pretty much hates it now. The Cardinal lost to Alabama, 70-67, in a fashion so galling and unforgivable that it almost makes people forget how good Stanford's body of work actually was.
But few things chafe him quite like the artificial templates of seasons past, conference reputations, the tyranny of old shattered brackets and the cruel assumptions that follow.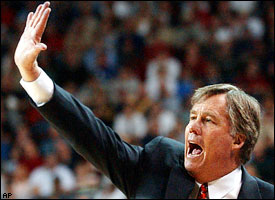 AP PhotoInstead of winning his first national title, Mike Montgomery saw his team's NCAA Tournament cut short again.
Assumptions? Ask Jim Boeheim. Or Roy Williams. Or Dean Smith. Or Lute Olson. Or Jim Calhoun. Or all the other members of the Can't Win The Big One Tavern Chorus And Texas Hold-Em Society.
For instance, Saturday's loss only served to reinforce two persistent stereotypes, neither of which really had anything to do with the loss of the game before us now.
One, that the Pacific 10 Conference really was held in precisely the esteem it deserved. Three teams in, three teams out, after only 37 games.
And two, that Stanford can't find the second weekend with both hands.
Of course, this is an issue that grinds on the players as well, given the modern player's disdain for history that doesn't have their DNA somewhere in it.
"I think you guys look at the past too much, in all honesty," junior forward Josh Childress snapped. "We're talking right now, we're talking about our 30-2 season, and we're not worried about the past."
"The relevance of the past, or the relevance of playing in Seattle (where Stanford's undefeated season ended) has nothing to do with how we play. They are all independent of each other."
All true, without question.
And yet, the History Channel is lined with statistical anomalies that can be turned into a 44-minute BBC documentary hosted by Diana Rigg, or at the very least Jennifer Saunders.
And here is Stanford's statistical anomaly: In 12 trips to the NCAA Tournament under Montgomery, Stanford has made the round of 16 only three times.
1989: Loss as 3-seed to Siena in the first round.
1992: Loss as 12-seed to Alabama in the first round.
1995: Loss as 10-seed to Massachusetts in the second round.
1996: Loss as 9-seed to Massachusetts in the second round.
1997: Loss as 6-seed to Utah in the regional semifinal.
1998: Loss as 3-seed to Kentucky in the national semifinal.
1999: Loss as 2-seed to Gonzaga in the second round.
2000: Loss as 1-seed to North Carolina in the second round.
2001: Loss as 1-seed to Maryland in the regional final.
2002: Loss as 8-seed to Kansas in the second round.
2003: Loss as 4-seed to Connecticut in the second round.
2004: Loses as 1-seed to Alabama.

This is a much more damning statistic if you ignore context, as in, most of those times, the Cardinal didn't deserve to get into the second weekend.

The '89 loss to Siena was asterisked by the fact that Stanford hadn't been in the tournament in 47 years. The '92 Alabama team had four NBA players on it. The '95 UMass team went to the regional final, and the '96 team went to the Final Four. Gonzaga was midwifed into the national scene by beating Stanford in '99, although the Cardinal was injury-depleted. Carolina was the livest of eight-seeds and reached the Final Four. Maryland had the makings of the team that won the national title a year later. Kansas went to the Final Four in '02. UConn had the younger Ben Gordon and Emeka Okafor.

And now this.

So let's break it down a different way. Siena, bad loss no matter what. Alabama and UMass, completely according to Hoyle. Gonzaga, well, not so good, even though the Zags were building something real under cover of snowfall. Carolina, just a bad matchup that many people foresaw. Kansas and UConn, simply superior teams. Alabama ... well, even giving the Tide the benefit of the doubt, this was probably the worst of them all.

So that's five games they should have lost anyway, a sixth that could be explained away by any clever basketball mind, and three that Stanford should have done more with. You may decide what all of it means.

Still, the math is what it is, and Stanford will be viewed with suspicion until it figures out how to make people stop asking them the question. And there is only one way to do that, isn't there, boys and girls?

Ray Ratto is a columnist with the San Francisco Chronicle and a regular contributor to ESPN.com
EDITORS' PICKS
Tournament losses tend to stick in coaches' minds.
Medcalf »

One NCAA tournament run can do wonders for recruiting.
Borzello

Look at the teams. This Final Four just feels big.
First look »
MORE MEN'S COLLEGE BASKETBALL HEADLINES

MOST SENT STORIES ON ESPN.COM