Commentary
IU's Sampson investigation is a moot point
BLOOMINGTON, Ind. -- Indiana University president Michael McRobbie, with his thick Australian accent and grim facial expressions, stood before a group of reporters Friday afternoon and announced that the school would conduct its own investigation into NCAA allegations against Hoosiers basketball coach Kelvin Sampson and two of his assistants.
[+] Enlarge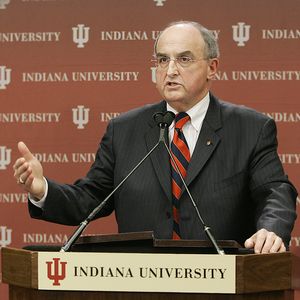 AP Photo/Darron CummingsIndiana University president Michael McRobbie announced a seven-day investigation into the NCAA's allegations against coach Kelvin Sampson.
It was only fitting that McRobbie's news conference took place in a moot courtroom at IU's School of Law.
At this point, Indiana's investigation is a moot point.
Sampson is gone.
There is nothing Sampson can say or do to save his hide. He is a two-time loser when it comes to breaking NCAA rules, and his latest attempt at cutting corners has embarrassed a school that prides itself on doing things the right way. Indiana hasn't been hit with major rules violations in any sport since 1960.
"I am deeply disappointed by these allegations, and I share that disappointment with all who love and support Indiana University," said McRobbie, who wasn't yet in office when Indiana hired Sampson as its basketball coach in March 2006.
Let's be clear: Indiana officials won't spend the next seven days looking for evidence to defend Sampson against the NCAA's allegations. The only reason the school is conducting its own investigation is to ensure it won't have to pay Sampson the remaining money he is owed on his contract that runs through the 2012-13 season. Providing Sampson one week of due process will also avoid a wrongful termination lawsuit down the road.
"I fully understand the desire by many people for us to move quickly in bringing this situation to resolution," McRobbie said." And we intend to do just that. In making this decision, I have attempted to balance our desire for a swift and prompt resolution of this situation with the equally important need for fairness and due process."
Without question, Indiana will move so quickly that Sampson won't be coaching the No. 12 Hoosiers a week from now. The only reason Sampson will coach in home games against No. 9 Michigan State on Saturday night (ESPN, 9 ET) and No. 23 Purdue on Tuesday (ESPN, 7 ET) is because his contract doesn't allow Indiana officials to suspend him right now.
Under the terms of Sampson's contract, athletics director Rick Greenspan will decide whether the coach should be terminated for allegedly breaking NCAA rules. Greenspan is expected to make that recommendation to McRobbie on Feb. 22. If Greenspan recommends Sampson be fired, and McRobbie upholds the decision, Sampson can then be suspended without pay. Sampson will then have 10 days to appeal to McRobbie to save his job.
On Friday, McRobbie certainly didn't sound like he was willing to give Sampson any more chances.
"Let there be no doubt," McRobbie said. "These are serious allegations of misconduct. It is my responsibility to take whatever actions are necessary to ensure our men's basketball program lives up to the high level of integrity that has always been its hallmark, and I am determined to do that."
Certainly, Sampson is already guilty in the court of public opinion. For a coach who has guided the Hoosiers to a 20-4 record and into contention for a Big Ten championship, Sampson has little support on the Indiana campus. Students, fans and former players here aren't willing to tolerate a cheater.
Neither is McRobbie.
"As president, I believe the most important measure of our success in intercollegiate athletics is not to be found in the win-loss columns," McRobbie said. "Rather, it is in how well we measure up to our own high standards for good sportsmanship, academic success, the welfare of our student-athletes and playing by the rules."
Indiana already stuck its neck out when it lured Sampson away from Oklahoma nearly two years ago. Who knew the Hoosiers were doing the Sooners such a favor? At Oklahoma, Sampson and his staff made 577 impermissible phone calls (Sampson made 233 of them) to 17 recruits from 2000 to 2004. The NCAA penalties placed upon Sampson at Oklahoma -- he was banned from recruiting off-campus and phoning recruits for one year -- followed him to Indiana.
Even with NCAA suspicion hanging over Sampson's head, Indiana hired him anyway after the coach vowed to clean up his act. But before Sampson's second season with the Hoosiers, an intern in the IU compliance office discovered Sampson had violated the restrictions placed on him for the Oklahoma mishap.
Admitting he unknowingly participated in improper three-way calls with recruits, Sampson forfeited a $500,000 raise. As a self-imposed penalty, Indiana stripped its basketball program of one scholarship for the 2008-09 season. Assistant coach Rob Senderoff ended up being the scapegoat and resigned after he admitted he set up several of the three-way calls.
Now it's Sampson's turn to take the fall. Indiana's self-reported violations caused the NCAA to take a closer look, which is never a good thing. The NCAA alleges Sampson knowingly broke the restrictions it placed on him, then lied about it to Indiana officials and NCAA investigators.
Indiana officials seem pretty confident in the NCAA's findings. The three-person committee appointed by McRobbie to investigate Sampson's behavior won't even interview the recruits who accused the coach of breaking NCAA rules. Instead, the school will rely on transcripts from those players' interviews with NCAA investigators, according to Indiana University spokesman Larry MacIntyre said.
So much for defending your coach.
Even more telling? McRobbie said he hasn't spoken to Sampson since Indiana received a 14-page letter from the NCAA on Feb. 8. Now Sampson can't pick up the phone? The coach has gone into relative hiding, aside from coaching the Hoosiers in games. He canceled a scheduled news conference on Friday, in which he and his players were supposed to discuss the Michigan State game. The school had already informed media members that the team would not take questions about the NCAA's case.
McRobbie and other Indiana officials are saying the right things. They insist Sampson will be given a fair shake.
"I want to make it clear that all of us are going into this with no presumptions," McRobbie said. "I do not know what conclusions the investigators will come to regarding these new allegations."
But conclusions have already been made.
Sampson is guilty as charged. Phone records don't lie.
Mark Schlabach covers college football and men's college basketball for ESPN.com. You can contact him at schlabachma@yahoo.com.
College Football and Basketball
College football writer for ESPN.com
Author of seven books on college football
Formerly at the Washington Post and the Atlanta Journal-Constitution
KELVIN SAMPSON/INDIANA SCANDAL

An NCAA report states head coach Kelvin Sampson and Indiana committed five "major" violations. The allegations stem from a phone call scandal that occurred while Sampson was still under recruiting restrictions.
News
•
NCAA downgrades one charge against Hoosiers
•
Report: IU paid $203K in legal fees for NCAA case
•
Indiana says its sanctions are enough
•
Sources: IU agrees with NCAA on violations
•
Committee created to find next Hoosiers coach
•
Sampson must cooperate with NCAA probe
•
IU moves on behind Dakich
•
IU, Sampson reach $750K termination settlement
•
Status unresolved, Sampson preps for game
•
Source: IU likely to suspend, fire Sampson
•
IU tops Purdue, awaits word on Sampson's fate
•
IU to conduct own investigation into allegations
•
Ex-Indiana assistant coach: 'I was not untruthful'
•
Source: Sampson status as coach game-by-game
•
Sampson, Indiana face 5 major NCAA violations
•
Wisconsin takes advantage of distracted Indiana
•
Sources: IU faces major violations over calls
Analysis
•
O'Neil: IU, Sampson to face NCAA in hearing
•
Wojciechowski: IU should penalize itself too
•
Forde: Dark day ends black saga at Indiana
•
O'Neil: Fisher lived what Dakich will experience
•
Forde: Coaches to consider to replace Sampson
•
Vitale: Time for Indiana to move on
•
Forde: Hoosier Nation ready for Sampson's exit
•
Katz: IU beats MSU as Sampson drama continues
•
Schlabach: IU investigation is a moot point
•
Schlabach: Lying attracts harshest punishments
•
Schlabach: Former Hoosiers react to Sampson
•
Forde: Weighing IU's best options
Documents (pdf)
•
Indiana's response to NCAA allegations
•
NCAA details Indiana violations
•
Sampson responds to allegations
•
Agreement between Sampson, Indiana
Audio
•
Bilas: IU might need to fire Sampson


•
Katz on Indiana's coaching options


Video
•
Indiana's recovery starts at Northwestern

•
The search for next Indiana coach is on

•
Indiana news conference with Rick Greenspan

•
Kelvin Sampson out at Indiana

•
Sampson and the Hoosiers top Purdue

•
Sampson enjoys emotional win over MSU

•
GameDay thoughts on Kelvin Sampson

•
What Sampson, Indiana players are saying

•
Michael McRobbie announces investigation

•
Violations put Sampson's future in question

•
Sampson denies NCAA's allegations

SportsNation
•
Vote: Your thoughts on Sampson's resignation?
MORE MEN'S COLLEGE BASKETBALL HEADLINES


MOST SENT STORIES ON ESPN.COM