In Baylor's wake, Lucas finds Stillwater
Originally Published:
December 17, 2003
By
Jeff Shelman
| Special to ESPN.com
John Lucas III didn't need a lot of time to figure out where his college basketball career would continue.
Sure the former Baylor point guard considered transferring to Memphis, San Diego State or Georgia. But when Lucas found out that he and the other Baylor players could transfer wherever they wanted -- including other Big 12 schools -- without penalty, he knew Oklahoma State would be his destination.
Back before Baylor teammate Patrick Dennehy was murdered and another teammate, Carlton Dotson, was charged with the crime, Lucas always looked forward to the Bears' trips to Stillwater, Okla. He liked the atmosphere, the noise and the scene that features more orange than a deer hunters convention.
Lucas, the son of former NBA player and coach John Lucas Jr., had played club basketball with the Cowboys Ivan McFarlin, and he knew OSU coach Eddie Sutton would make him a better player.
Now, about four months after deciding to leave Baylor, Lucas is happy, and he's played a significant role in the Cowboys' 5-1 start to this season.
"I see myself being a better basketball player," Lucas said. "I'm around Coach Sutton, and he's one of the best coaches around. I'm improving my game as a point guard, and he's molding me into a true 'PG.'"
Lucas, an honorable mention All-Big 12 selection a year ago, has been an immediate starter for the Cowboys as they enter Saturday's game at Arkansas. Still, Lucas' role is different than it was playing for Dave Bliss at Baylor. Instead of being relied on for scoring, Lucas' priority now is running the Cowboys offense and getting the ball to the right people at the right times. Certainly he's going to score, but dropping dimes is more important.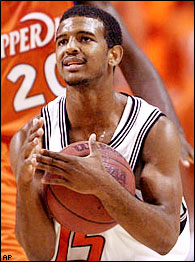 AP PhotoOSU was looking for a point guard. John Lucas III was looking for a new place to play.
The change is evident in his statistics as his points are down, but his assists are up. After averaging 13.3 points and 4.4 assists last season, the 5-11 Lucas is scoring 10.8 points per game and is second in the Big 12 with 5.5 assists per game.
Why? In addition to being more concerned about getting a balanced OSU offense rolling, Lucas also has learned the difference between an open shot and a good shot. So far this season, Lucas is taking more than two fewer field goal attempts than a year ago and one fewer 3-pointer a game.
Lucas' arrival in Stillwater could not have worked out better for the Cowboys. With Victor Williams exhausting his eligibility, Sutton was in position to be the Tom Izzo of the Big 12 -- a coach trying to make due without a true point guard.
Stevie Graham, a 6-foot-7 junior-college transfer, would have been the likely candidate to run the point. Would he have made the transition? Perhaps. But there's little question that Lucas is a better fit for the job.
"We didn't have a scholarship, but Jimmy Williams used to be one of our assistant coaches, and he's friends with John Lucas," Sutton said. "Jimmy called and said, 'Would y'all have any interest?' and we said, 'Certainly we would.' We brought John in for a visit. Obviously he had played here and he realized what a great setting it is to play basketball at Gallagher-Iba.
"He made a decision this was where he wanted to come to school. We thought it was Christmas come early because he's been a welcome addition. He's certainly been embraced by his teammates. He's been impressive not only as a basketball player but as a young man."
The move has been a pretty good fit. The Cowboys needed a point guard and Lucas -- who is paying for school this season but will be on scholarship next year -- wanted a place where he felt comfortable. Because long before the tragedy at Baylor and the firing of Bliss, Lucas wasn't happy.
"Coach and I, I don't want to say we butted heads," Lucas said. "But I got moved around and moved around, and I didn't see myself getting better."
Would Lucas -- who hasn't been back to Baylor's Waco, Texas, campus since Dennehy's death -- have left regardless? He doesn't know for sure, but it's certainly something he considered.
A summer that featured one of his teammates being murdered, another charged with the crime, and his coach fired in the wake of an offensive attempted cover up, wasn't easy for Lucas. He simply tried to keep himself busy.
"It was just crazy, all the allegations coming out," said Lucas, who will return to Baylor with OSU on Feb. 28. "I've tried to put all that in the past. I hope everything goes good for Baylor and Coach Drew."
But while the Bears are down to six scholarship players and appear destined to finish last in the Big 12, Lucas is on a team that expects to reach the NCAA Tournament. He's playing for a great coach, and he's winning games.
"It's a winning team, you can feel the winning tradition," Lucas said. "It's all about getting better.
"It's been everything I've hoped for. Everything's very good. I feel very blessed."
Games to Watch
Marquette at Wisconsin, Saturday
Marquette defeated the Badgers a year ago in this in-state rivalry. Wisconsin, however, has won four of the past five in the series.
Indiana vs. Kentucky at Indianapolis, Saturday
This is one of college basketball's great annual rivalry games. Half of the RCA Dome will the red and the other half will be blue. This is the Hoosiers' sixth consecutive game this season against a team that played in the 2003 NCAA Tournament.
Texas vs. Duke at New York City, Saturday
After losing to Arizona earlier this month at Madison Square Garden, the Longhorns hope this trip to New York will be more fruitful.
Texas Tech vs. Iowa at Dallas, Monday
Former Indiana All-American Steve Alford takes on former Indiana coach Bob Knight. This will be the biggest test so far this season for the Hawkeyes. For the Red Raiders, this is the first game of a Big Ten stretch that includes games with the Hawkeyes, Minnesota and Ohio State -- Knight's alma mater.
Utah at Colorado, Tuesday
Buffs coach Ricardo Patton doesn't understand why his team isn't at least receiving votes in the Associated Press poll. Well, Ricardo, win this one and this voter will put you in his top 25.
Missouri vs. Illinois at St. Louis
These two teams get together for an annual holiday battle that generally doesn't disappoint. It's a tough ticket to get, the two schools don't like each other that much and the two teams are generally pretty good. Can the Illini slow Mizzou big man Arthur Johnson? Can the Tigers contain the Illinois perimeter players?
Around the Midwest
Is Texas A&M coach Melvin Watkins in trouble? It might be too early to know, but the Aggies are certainly the Big 12's biggest disappointment. Watkins' team is 3-3 despite playing a less-than-challenging schedule.

A&M lost at Oakland and then suffered a surprising loss to Texas A&M-Corpus Christi. Not exactly what was expected from a team that finished .500 last season and returns sophomore Antoine Wright. Put that all together and the contract extension Watkins signed in the offseason might not matter.

"It's not in my mind, it's still early in the season," Watkins said when asked if he was concerned about his future. "I still think this team is going to surprise some people."

Earlier this week, A&M athletic director Bill Byrne declined to discuss Watkins status with reporters.

"I don't talk about personnel matters during the season," Byrne told the San Antonio Express-News. "I've been doing this for over 20 years now, and I've never commented on a coach during a season, and I'm not going to change that now."
Michigan center Chris Hunter is on the shelf after arthroscopic knee surgery. The school is listing him as out "indefinitely." Hunter had played in 35 consecutive games for Tommy Amaker's Wolverines.

The Wolverines are the latest Big Ten team to lose a regular. Indiana remains without George Leach (knee) and Illinois is without guard Deron Williams until at least early January because of a broken jaw.
While ticket demand outpaces supply for the annual Braggin' Rights game in St. Louis between Illinois and Missouri, Tigers' coach Quinn Snyder isn't in favor of seeing the game moved from the 20,000-seat Savvis Center to the much larger Edward Jones Dome.

"My personal feeling is that if it ain't broke, don't fix it," Snyder said. "The history of that game in that building is special."
Generally we don't get too concerned here with weekly player of the week awards in the various Midwest leagues. This one, however, is worth a mention. When Oklahoma guard Drew Lavender was named Big 12 player of the week on Tuesday, he made a bit of history.

Lavender, who hit the game-winning shot in the Sooners victory over Purdue last week, became the first freshman in league history to ever win the weekly honor. Considering the players that have gone through the Big 12 since its inception that's quite an accomplishment.

But there's one thing that is still puzzling about the conference's weekly honors. So Lavender is the league's player of the week, but he wasn't named the Big 12 rookie of the week? That seems rather silly.
When Southern Illinois plays at Murray State on Wednesday night, one of the two rookie coaches will suffer their first loss. Southern Illinois' 32-year-old coach Matt Painter has led the Salukis to six consecutive victories, the school's best start in a decade. Meanwhile, Murray State's Mick Cronin (another 32-year-old) is 7-0 as the first-year Racers coach.
Starting lineups generally have a bit of fluidity. Somebody will get sick or sprain an ankle or get into a slump and a coach will make a switch. For the most part, that hasn't been the case at Butler. The Bulldogs didn't make a single starting lineup change in 2000-01, 2001-02 or 2002-03.

That, however, has changed. After starting Duane Lightfoot, Jeff James, Bruce Horan, Avery Sheets and Mike Monserez for the first six games of the season, Butler coach Todd Lickliter finally became a bit less predictable. Against Indiana, Brian Ligon replaced James in the starting lineup.
Ricardo Patton was in a Midland, Texas, hotel room on a recruiting trip when his cell phone rang at 3:30 a.m. Sunday morning. Coaches know nothing good can come out of a phone call at that hour.

"Nobody's ever called me and offered me any money at that type of hour," Patton said.

This time, the news wasn't good. But it wasn't as bad as it could've been. Buffaloes sophomore forward Chris Copeland was shot at a party. It was originally believed that Copeland was just grazed with a bullet. However another bullet was found lodged inside of him a day later.

"He's doing pretty good right now," Patton said. "He's up and about. He didn't spend any hospital time or anything."

Copeland played in each of the Buffs first six games, averaging 2.8 points per game.

"You realize how easy it is for things to turn," Patton said. "We're having pretty good success so far this season and Chris Copeland has started to play well for us."

Copeland is not expected to play Friday against Tennessee State
Already thin, Baylor is down to six scholarship players and five walk-ons after juco transfer Ellis Kidd Jr. was dismissed from the team this week. He had started all seven Baylor games this season, averaging 13.4 points and four rebounds.

Quote to Note


"How in the heck can Colorado not be receiving votes in the AP? That just blows my mind. We've played a good schedule. For us not to be receiving any votes just blows my mind."
-- Colorado coach Ricardo Patton is a little surprised his Buffaloes aren't receiving any more love after a 5-1 start.

Jeff Shelman of the Minneapolis Star Tribune (www.startribune.com) is a regular contributor to ESPN.com
EDITORS' PICKS
Duke and Gonzaga changed things up and moved on.
Brown »

Louisville and Michigan State turned their seasons around in time to meet in the Elite Eight.
O'Neil »

Louisville broke through late in a close game to hold off NC State.
O'Neil »
MORE MEN'S COLLEGE BASKETBALL HEADLINES
Nike Men's Oklahoma State Cowboys Elite Pullover Performance Basketball Hero Black Hoodie Shop »

MOST SENT STORIES ON ESPN.COM