Meet the MAC's newest contenders
Originally Published:
January 1, 2004
By
Jeff Shelman
| Special to ESPN.com
Western Michigan hasn't played in the NCAA Tournament since 1998. Akron made its last appearance in 1986 when a guy named Bob Huggins was leading the Zips. And Toledo's drought goes all the way back to 1980.
Could one of these teams change that this season? If the first two months of this season are any indication, it's certainly a possibility.
Last season, Central Michigan went from doormat of the Mid-American Conference to darling. This season, the MAC -- the Midwestern league that spends the winter beating up on each other -- might have another new face.
Western Michigan (7-1) has been the MAC's most impressive member this season. The Broncos, coached by former Western assistant Steve Hawkins, opened the season with a victory over Southern California. After losing to Detroit, Western Michigan beat a pretty decent Alabama-Birmingham team.
This week, however, the Broncos defeated a pair good teams en route to winning Arizona State's on-campus tournament. After defeating Winthrop and the host Sun Devils, the Broncos moved up to No. 26 in the Ratings Percentage Index, according to collegerpi.com. As a result, the Broncos might have the best chance of any MAC team at earning an at-large berth to the NCAA Tournament.
Be we're getting ahead of ourselves, a bit. Still, four years after going 7-21, the Broncos have won seven consecutive games against major conference opponents.
"We have a couple of kids who can really score," Hawkins said. "And we have a bunch of kids who have really accepted their roles."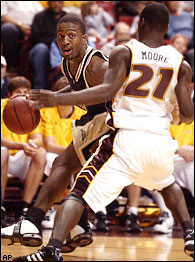 AP PhotoBen Reed and the Broncos knocked off Arizona State on Tuesday night --WMU's second win over a Pac-10 team this season.
Those couple of kids are senior forward Mike Williams and junior guard Ben Reed. Williams -- who Hawkins describes as "6-foot-7 and 130 pounds" -- is a thin forward who has a knack for scoring. He's a rare college player with a mid-range game. And even though he has yet to make a 3-pointer this season, Williams is averaging 21.5 points per game. He lit up Arizona State for 27 points and 10 rebounds.
After scoring a career-high 36 points against the Sun Devils on Tuesday night, Reed is now averaging 19.4 points per game while making 58.5 percent of his 3-point shots. Still he was a question mark entering the season.
Two years ago, Reed was the MAC freshman of the year, but he blew up his knee late in the season. Instead of working on his game between his freshman and sophomore seasons -- maybe the most important offseason for a college player's development -- he tried to get healthy. Last season, Reed lacked confidence and averaged only 7.4 points per game.
As impressive as the pair's offensive numbers have been this season, the Broncos have been better on defense as a whole. Before the season, Hawkins didn't know if his team would be able to defend as well. Turns out those concerns were unfounded as Western is giving up only 60.4 points per game. In their MAC opener, the Broncos held Miami (Ohio) to only 38 points.
Hawkins said the best thing that might have happened to his team this season was the 20-point butt-kicking it received at Detroit.
"We played very soft in the game over there," Hawkins said. "We made a couple of adjustments. We're not able to pressure the ball as much as we'd maybe like to, but we're doing a good job protecting the paint. And now the kids realize we need to be a physical team."
And while Hawkins, who moved over a chair when Robert McCullum took the South Florida job, is pleased with his team's start, he also realizes that the MAC will be as battle-filled as ever.
"It's every night," he said. "I can see any of seven or eight schools being capable of winning the thing."
One of those is Akron, the team Western Michigan faces Saturday night in a huge early season MAC game.
The Zips have looked good while starting the season 6-2. Dan Hipsher's team doesn't have any marquee victories, but their only losses came at Cincinnati and at North Carolina.
"We've been OK," Hipsher said. "But I think we've got a lot of room for growth."
While the MAC's top teams have traditionally been junior- and senior-laden, Akron has made a slight adjustment to that theory. While the Zips have good upperclassmen in guard Derrick Tarver (league-leading 23.4 ppg), guard Johnny Hollingsworth and forward Andy Hipsher (the coach's son), they also have a trio of freshmen that have made Akron better.
Dru Joyce, Romeo Travis and Jeremiah Wood are responsible for more than 30 percent of the Zips scoring and more than 40 percent of its rebounding.
"They've really helped us defensively and with rebounding," Hipsher said.
All three are Akron-area products. Joyce and Travis were high school teammates of LeBron James at Akron St. Vincent-St. Mary's. While they don't yet have their own sneaker like their former teammate, both are extremely experienced for a freshman in the MAC. As a player in the LeBron national tour, they became comfortable with playing in front of large crowds and they haven't seen anything that's intimidated them yet.
"They just don't have LeBron to look for," Hipsher said.
Like Hawkins, Hipsher said it's difficult to really know what will happen in the MAC, other than that the eventual league champ will have several losses.
"There's just such a fine line between the middle and the top," Hipsher said. "Who knows until we play."
Another team that enters the conference schedule on top is Toledo, which won at DePaul as part of its 6-2 start. But, while several teams that have been in the MAC middle have been impressive, it's probably too early to write off some of the favorites. On Tuesday night, Kent State defeated Detroit by 20. Northern Illinois, while under .500, has a good win over Illinois-Chicago.
What will happen? In the crazy MAC anything is possible.
Tough times for Tigers
With allegations of NCAA violations swirling around the program, there was little question this would be a difficult and challenging season for Missouri and Tigers coach Quin Snyder. But if there was an upside to the situation, it was that the Tigers roster was filled with sick amounts of talent.
On paper, Missouri had as much talent as any team in the Big 12. Put their roster up against Texas or Kansas or Oklahoma and a case can be made that the Tigers have more talent.
But as the first eight games of Missouri's season has shown, even copious amounts of talent don't guarantee victory.
When the Tigers lost December neutral-court games to Gonzaga and Illinois, rationalizations could be made. Even Saturday's loss at Memphis could be explained away as a product of going on the road.
But losing to Belmont on Tuesday night? An Atlantic Sun team? At home?
That doesn't seem to make any sense. Not surprisingly, the folks in black and gold were searching for answers after losing 71-67 to Belmont.
"It was an abysmal effort on our part," Snyder said after the game. "We just don't play every play. We take possessions off. I don't think our team right now is competing on a level that they need to compete on. We've practiced hard, we're just not getting that to carry over into the game."
Unlike the past two losses, Missouri had a 10-point lead in the first half. That, however, shrunk to one at halftime. The Tigers fell behind by as many as 10 points in the second half before making a late charge.
"We've been inconsistent all year, in terms of we play one half and we play poorly in another," Snyder said. "It's a question of our concentration about the things that are important to win, not about ourselves, but about our team. What am I doing to help my team win? That's competing as a group and that's something we're not doing right now."
The Missouri players don't have answers for the recent slide either.
"We work so hard, we play so hard," Arthur Johnson told the Kansas City Star. "I don't know. It just seems like something's missing."
The Tigers don't have a lot of time to fix it. There's a game Saturday against Iowa and then Big 12 play begins next week.
"I think we need a gut check," Snyder said. "We need to look, everybody needs to look inside themselves, including our staff, to see what we can do to get things right. We've got a long year ahead of us.
"Our team just needs to step up a level and it's got to happen. It's got to happen fast."
Games to Watch
Michigan State at Syracuse, Saturday
The Spartans brutal non-conference schedule finally comes to an end. After losses to Kansas, Duke, Oklahoma, Kentucky and UCLA, Michigan State needs to down the defending national champs to keep from going 0-fer against the big names. The Spartans also need to win to avoid entering Big Ten play with an under .500 record.
Texas Tech at Ohio State, Sunday
Bob Knight's team is preparing for Big 12 play by running through the Big Ten. First was a victory in Dallas over Iowa. Then came New Year's Day game against Minnesota. The final is a trip to Knight's alma mater and a game with a Buckeyes team that is still trying to get the pieces together.
Western Michigan at Akron, Saturday
On the first full weekend of Mid-American Conference action, two of the league's most impressive teams so far this season square off.
Iowa at Missouri, Saturday
Can Quin Snyder's team break its four-game losing streak? Can Iowa pick up a quality road win and help out a conference that's been underwhelming so far this season.

Mid-Con kind of night
Behind Missouri-Kansas City, the Mid-Continent had one of its best night's ever on Tuesday -- with the exception of Valparaiso's run in the 1998 NCAA Tournament.
And, just when you think Kansas State might be good enough to fight for a spot in the middle of the Big 12, the Wildcats slide backwards. After defeating Wyoming and Wichita State, K-State was routed 93-52 on Tuesday night by Missouri-Kansas City. Forty-one points? No offense to the folks in the Mid-Con, but no Big 12 team has any business being thrashed liked that. Six Kangaroos players scored in double figures and UMKC outrebounded the Wildcats in a game that was never really close.
"It was the most embarrassing lose I've ever been a part of," Kansas State coach Jim Wooldridge said afterwards. "I'm the person responsible for it.
"It's really disappointing. I'm embarrassed. It was a total breakdown, meltdown. From the opening tipoff, we were never really in it."
For a UMKC program that is almost always overshadowed in its own town by Missouri, Kansas and the Wildcats, the win was huge.
"All we've been hearing is Big 12 this and Big 12 that," Mike English told the Kansas City Star. "This win meant a lot. It's a great win for our program."
While the Kangaroos' victory was the most shocking because of the margin of victory, both Oral Roberts and IUPUI pulled upsets as well.
Oral Roberts defeated a Wichita State team that is among the contenders in the Missouri Valley and IUPUI defeated a pretty good Pepperdine team.
Around the Midwest
It's been a rough stretch for Purdue. First was a loss to SMU. Then big man Chris Booker was held out of action because of academic issues (his mother told The Indianapolis Star that he fell behind in some coursework after the death of his stepfather and he hopes to be allowed to make it up). Then the Boilermakers lost in one of the most bizarre fashions possible.

Purdue led Colorado State 69-65 before the Rams Michael Morris hit a 3-pointer with 0.7 seconds to play. When the Purdue inbounds pass was deflected, Morris caught the ball and shot it toward the basket. It went in and the Boilermakers suffered the most unbelievable of losses.

"I've never seen anything quite like that," Purdue coach Gene Keady said after the game.

Making it even worse was the fact that the Boilers led by six with 10 seconds to play.
Give Michigan forward Bernard Robinson Jr. credit for dealing with adversity. Just days after Bernard Robinson Sr. died after a battle with lung cancer, the younger Robinson helped the Wolverines defeat UCLA. Robinson scored 17 points against the Bruins before returning to Washington, D.C. for the funeral.
Kansas coach Bill Self said there's a slight chance forward Michael Lee will play Monday night against Colorado. Lee is going through non-contact drills in practice as he recovers from a broken collarbone. Self said, however, that it's more likely Lee will return for the Jan. 14 game against Kansas State.
Most amazing stat of the week? Try this one. In Michigan State's white-knuckle victory over Coppin State, the Spartans were outrebounded 29-21. No, that's not a typo. And Michigan State, a program that's been so successful in recent years because of hard play and rebounding, is currently 10th in the Big Ten in rebounding and ninth in rebounding margin.

Quote to Note


"It was huge, monumental. If you gave me a thesaurus I could run out of words."
-- Missouri-Kansas City coach Rick Zvosec on the Kangaroos' 41-point victory over Kansas State.

Jeff Shelman of the Minneapolis Star Tribune (www.startribune.com) is a regular contributor to ESPN.com
SPONSORED HEADLINES
MORE MEN'S COLLEGE BASKETBALL HEADLINES
MOST SENT STORIES ON ESPN.COM