Tech proving it's worth title talk
Originally Published:
January 14, 2004
By
Jeff Shelman
| Special to ESPN.com
It was supposed to be an exclusive four-team party atop the Big 12 Conference. It still may be. Only, 2003's guest list has changed as we enter 2004.
Kansas, Missouri, Oklahoma and Texas were going to be the elite of the conference. How could they not be? The Jayhawks, Sooners and Longhorns had all reached at least one of the last two Final Fours. And the Tigers entered the season with maybe the most talented roster west of Storrs, Conn.
But as Big 12 play begins in earnest this week, things don't appear to be quite as cut and dried. Missouri is a team that now has to worry about winning enough games to reach the NCAA Tournament before thinking about winning a Big 12 title. Kansas, Oklahoma and Texas have all shown signs of being exceptional, but all have also had outcomes that make you rub your eyes when the score flashes on the TV (Kansas loses to Nevada? Oklahoma's down how many against Connecticut? Is Duke really beating Texas that bad?)
And while much of the attention has been on the league's top four, there's a league contender that's quietly gone about its business. Maybe Texas Tech was overlooked because of its location in remote Lubbock, Texas. Maybe it's the fact that the Red Raiders roster isn't filled with McDonald's All-Americans.
Whatever the reason, it was wrong. Because in Bob Knight's third season at Texas Tech, the Red Raiders appear on the verge of competing for their first Big 12 title. Since losing to Georgia Tech in the championship game of the Preseason NIT and at SMU, the Red Raiders have won nine consecutive games.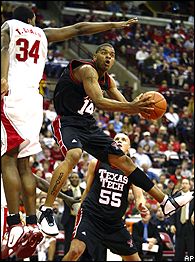 Andre Emmett has guided Texas Tech into the Big 12's title chase by leading the league in scoring.
Knight, the former Indiana coach, is 3-0 against the Big Ten this season as the Red Raiders defeated Iowa, Minnesota and Ohio State. Texas Tech then followed that up by beating a good Oklahoma State team by 21 in its Big 12 opener (83-62).
"I really think this could be Bob's best team (at Texas Tech)," Oklahoma State coach Eddie Sutton said. "They have a go-to guy in (Andre) Emmett. They set a lot of screens for him and get the ball to him where he can score.
"They're going to be tough to beat, especially at home. They are one of the best teams in our league."
And while the Red Raiders may not have been the popular preseason pick of fans and reporters, the play of Knight's team has attracted the attention of the other Big 12 coaches.
"When they are playing well, they play as well as anybody," Kansas coach Bill Self said. "Certainly they have a legitimate shot, but I also think there are some other teams that do as well.
"I think they're very athletic. They played great (against OSU). Emmett is great and without question has been the best scorer in our league. I like their team. They had a couple of games where they didn't play as well, but other than that they've been rock solid. They have a great player and they are guarding people. I think they're doing a lot of good things."
Defense has certainly been a strength of this Red Raiders team. Texas Tech is fourth in the Big 12 in scoring defense (62.3 points per game) and only two opponents have gotten to 70 points against the Red Raiders.
Not surprisingly, the demanding Knight said his team is far from a finished product. When asked if he likes where his team is, Knight was blunt.
"Not in the slightest," he said. "To be as good as we can be, we have a long ways to go. It's such a difficult road and there are so many turns. We just have to keep going and going."
With Emmett, that's certainly possible. The Dallas native declared for the NBA Draft after last season, but made the wise decision to return for his senior year in college. There's never been a question of whether Emmett can score, but of late even Knight has acknowledged that he's become more than that.
"Andre was a scorer and is still a scorer," Knight said. "But he's really worked on becoming a better basketball player, a complete player. He had some lapses against Oklahoma State, but he came back later in the game and played much better defense."
Offensively, Emmett is the Big 12's leading scorer at 22.2 points per game. He scored 32 in the victory over the Cowboys and has averaged 24.8 ppg in his past four games. On Monday, he was named the Big 12 player of the week for the third consecutive week. That's something that's never happened in the seven-plus years of the Big 12. That means Emmett has been able to do something that Marcus Fizer, Drew Gooden, T.J. Ford or Nick Collison weren't able to do.
But while Emmett has received much of the attention, the Red Raiders also have significant depth. Nine players are averaging at least 10 minutes per game and Jarrius Jackson, Ronald Ross and Robert Tomaszek are all averaging at least nine points per game.
Knight has also been in Lubbock long enough to have built a good understanding of his motion offense with his players. The Red Raiders move the ball well and they make good decisions about when to shoot, when to pass and what teammates to look for. The offense looks less mechanical this season and the ball moves quicker and crisper.
If the Red Raiders have a weakness, it's in rebounding. Texas Tech doesn't have a player in the top 15 in the Big 12 in rebounding and as a team the Red Raiders are last in the conference in rebounding margin.
Will that become an issue as Big 12 play continues? It might.
However, the Red Raiders certainly appear to be for real. And if the Big 12 is really going to be a four team race, the four will probably be Kansas, Oklahoma, Texas and Texas Tech.
"I would say they are in a group that certainly could (win the league)," Self said. "They are one of the premier teams in this league."
Green Bay's top team
Yes, the team in green hosts a big game this weekend as two of the league's best teams will play.
No, the Packers didn't find a way to get into this weekend's NFC championship game. We're taking about Tod Kowalczyk's Wisconsin-Green Bay team, one that is preparing for arguably the program's biggest game since the Dick Bennett era in the early 90s.
After losing four of six games to start this season, the Phoenix have won nine consecutive games and they are 5-0 in the Horizon League. Included in that stretch is a pair of victories over Butler. On Saturday, the Phoenix host the Horizon's only other undefeated team -- Wisconsin-Milwaukee. With the winning streak, UWGB has already won more games this season than in either of the past two seasons.
"We're gaining respect," Kowalczyk said. "Respect that wasn't there at the beginning of the season."
Kowalczyk, a former Marquette assistant who is in his second season at Green Bay, said he could see the turnaround begin in the Phoenix's game at Wisconsin. While the Badgers won the game 73-57, Green Bay responded from a poor first half and played Wisconsin within a point in the second half. It was a confidence builder for a team that began the season with road losses at Southeast Missouri State and IUPUI.
Brandon Morris, a junior college transfer, has led the Phoenix from the point guard position and is averaging a team-high 11.5 points per game. Kowalczyk acknowledged that it's difficult for a newcomer to lead a team, but that Morris' personality is infectious and he gets his teammates to play hard. Terry Parker Jr. and Mike King are also averaging in double figures.
"They really play hard, they really compete, and they really guard," Kowalczyk said of his team.
This weekend, the surprise team in the Horizon League will face it's biggest test. Wisconsin-Milwaukee is 9-5 overall despite playing a difficult pre-conference schedule. Led by Dylan Page, the Panthers 4-0 in league play and they've downed three of the Horizon's top teams in the process (Illinois-Chicago, Detroit and Butler).
Games to Watch
Wisconsin at Purdue, Wednesday
The Big Ten's two-time defending champion Badgers make their first trip on the road. It isn't an easy as the Boilermakers are one of the few teams that could challenge Wisconsin in the Big Ten. Wisconsin's track record in West Lafayette, Ind., however, hasn't been great. The Badgers have lost 28 consecutive games at Mackey Arena and haven't won there since 1972.
Oklahoma at Oklahoma State, Wednesday
The first Bedlam game of the season likely won't disappoint. Whenever the two schools meet the tensions are high. This game, however, is important for both teams as Oklahoma just lost at Connecticut and Oklahoma State fell over the weekend at Texas Tech.
Kent State at Miami, Wednesday
If the Golden Flashes win this game (never a given as the Redhawks are tough at home), they will have a two-game lead in the loss column in the MAC's East Division.
Michigan at Michigan State, Saturday
This game is important for the Spartans for several reasons. First, the Wolverines won the only game between the two schools last season. Second, Michigan State needs all the victories it can get. Third, the Spartans follow up this game with three in a row on the road.
Wisconsin-Milwaukee at Wisconsin-Green Bay, Saturday
Both teams are undefeated in Horizon League play. Milwaukee is the league favorite, but Green Bay already has a pair of victories over Butler. Who needs the Packers?
Around the Midwest
The biggest surprise so far in the Big Ten has been the early play of Penn State, which defeated both Minnesota and Ohio State during the first week of conference play. As a result, a program that has been a combined 5-27 in league play the past two seasons is tied for the league lead.

How surprising is this start for first-year coach Ed DeChellis and his Nittany Lions? Well, Penn State is off to its best Big Ten start since 1996. With eight victories in 13 games, the Nittany Lions already have more victories than in either of the past two seasons (seven wins each year). And Penn State is doing it with a pair of freshman guards and essentially a six-player rotation since DeForrest Riley-Smith left the team.

While much has been and will be made of the improvement of 7-footer Jan Jagla, the most valuable Penn State player might be freshman Marlon Smith. When DeChellis was hired from East Tennessee State to replace Jerry Dunn, he soon received the news that guard Sharif Chambliss was going to transfer to Wisconsin.

As a result, DeChellis was scrambling to find another guard. The name he kept hearing was that of Smith, then a senior at Archbishop Molloy High School and one of the best available guards in the spring.

Landing Smith -- and beating schools such as Georgia, Pittsburgh and West Virginia in the process -- was huge. In the Nittany Lions' comeback victory over Minnesota, Smith scored all 13 of his points in the second half and 10 during the comeback. Against Ohio State, Smith scored a game-high 23 points and hit five three pointers.

"He's been very, very solid," DeChellis said of Smith, who is averaging 11 points per game.
Penn State on top of the Big Ten pretty much sums up a conference few can explain. Wisconsin crushes Indiana and then the Hoosiers come back and win at Michigan? Purdue loses at Iowa and then comes back to break Illinois' home court winning streak? The Hawkeyes follow up a good win over the Boilermakers and then lose to Northwestern and home and then go on the road and beat Minnesota?
In recent years, Northwestern has had many more players transfer out of the program than transfer in. On Monday, Wildcats coach Bill Carmody received a very good transfer, a player who can make an impact when former Duke center Michael Thompson decided to continue his career at Northwestern. Thompson, a native of the Chicago area, was a McDonald's All-American as a high school senior, but he played little for the Blue Devils.

Regardless, when the 6-10 Thompson becomes eligible next December, Northwestern will have its first true center since the Evan Eschmeyer era ended.
P.J. Tucker and J.R. Giddens are freshmen who have played key roles this season at Texas and Kansas respectfully. But at this point in the season, neither should be the frontrunner for Big 12 freshman of the year honors. If things continue the way they have, that title will go to Iowa State's Curtis Stinson.

Stinson averaged 18.5 points and made 51.8 percent of his shots as the Cyclones beat Missouri and Nebraska to begin Big 12 play. The Bronx, N.Y. native has quickly become Iowa State's go-to guy and Cyclones Wayne Morgan has gone to him late in games. Against Missouri, Stinson scored eight points during 14-2 Iowa State run during the final five-plus minutes of the game.

In the past five games, Stinson is averaging 18.3 points per game and is making 55.4 percent (46-83) of his shots.
No team nationally is getting more production from their freshmen than Oral Roberts. Guard Ken Tutt (18.1 ppg) and forward Caleb Green (16.4 ppg) are averaging a combined 34.5 points per game. That's nearly nine points per game more production than California is getting from Leon Powe and Marquise Kately.

Tutt and Green are both in the top five nationally among freshmen scorers and they've given Oral Roberts a good inside-out combination. Tutt is a quick, athletic guard who can get to the basket and hit the three-pointer. Green is strong forward who is nearly averaging a double-double.

The two are much of the reason why Oral Roberts is 11-4, undefeated in Mid-Con play and off to its best start in nearly 30 years. The Golden Eagles haven't lost for more than a month and defeated Valparaiso over the weekend.
Chicago State erased a pair of extremely unflattering streaks in the past week. With a 70-69 overtime victory over Oakland on Tuesday, the Cougars broke a 33-game losing streak against Division I opponents and a 31-game losing streak in Mid-Continent play. Over the weekend, Chicago State stopped a 42-game road losing streak by defeating Southern Utah.
Kent State is 4-0 in league play for the first time in 52 seasons of Mid-American Conference play. The Golden Flashes, just two years removed from their deep and elite tournament run, are winning from the perimeter. For the season, Kent State is averaging 22.5 three-point attempts a game and making 9.3 per game. In the past three games, Kent State has made 34 three-pointers.
Former Iowa and first-year Drake coach Tom Davis has the Bulldogs playing the pressure defense his Hawkeyes teams were known for. Drake leads the Missouri Valley in turnovers forced per game (22.1) and steals (11.7) per game. Even undefeated Creighton turned the ball over 22 times against the Bulldogs. That pressure defense has made the Bulldogs much more difficult to beat this season.

Drake is 2-2 in Missouri Valley play entering Wednesday's game against Illinois State. The Bulldogs won at Wichita State and defeated Bradley at home.

Quote to Note


"The only two words we used in prep for Northwestern were defense and patience and you saw how well we did it. You can talk about it, but you have to go out and execute it."
-- Iowa coach Steve Alford about his team's downfall against the patient Wildcats.

Jeff Shelman of the Minneapolis Star Tribune (www.startribune.com) is a regular contributor to ESPN.com
SPONSORED HEADLINES
MORE MEN'S COLLEGE BASKETBALL HEADLINES
MOST SENT STORIES ON ESPN.COM
EDITORS' PICKS
Cincinnati doesn't win pretty, but its blueprint suits the Bearcats.
Story »

Steve Lavin finally has the team he envisioned.
Coachspeak »

Bama's loss is bad news for Kentucky.
Medcalf »