MVC's familiar-looking Cinderellas
Originally Published:
January 21, 2004
By
Jeff Shelman
| Special to ESPN.com
The changes were supposed to be too great. The Missouri Valley Conference would certainly have a new face this season.
Creighton no longer had gunner/leader/mid-major poster boy Kyle Korver. Southern Illinois was without guard Kent Williams, forward Jermaine Dearman and coach Bruce Weber.
As a result, things were going to look different. Maybe Wichita State would emerge as the Valley's top program. Maybe it would be Southwest Missouri State or Bradley. But it hasn't quite worked out that way.
Things haven't changed much at all.
Creighton, maybe the most consistent mid-major program aside from Gonzaga, has moved back into the nation's top 25. And Southern Illinois, under first-year head coach and former Saluki assistant Matt Painter, is quietly leading the conference. The two schools, again first and second in the league standings, are a combined 25-3 overall and 11-1 in conference play.
Yes, it's quite possible that the Cinderella of the 2004 NCAA Tournament might have a familiar look.
That Dana Altman has kept the Bluejays rolling isn't completely surprising. Creighton, which has reached five consecutive NCAA tournaments, has been able to continue its success in the past despite losing players such as Rodney Buford and Ryan Sears. But the success of Southern Illinois, a team projected to finish in the middle of the Valley pack, has been much more surprising.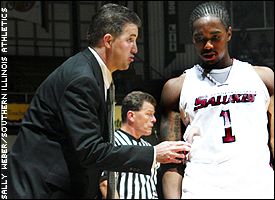 Southern Illinois has followed new coach Matt Painter and relied on new leaders such as Darren Brooks to produce its usual MVC success so far this season.
With Williams and Dearman gone, the Salukis lost 40 percent of their offense from a team that gave Missouri everything it wanted in the first round of last season's NCAA Tournament. If it wasn't for a late charging call on Dearman that wiped out a basket, it's quite possible that Southern Illinois would have won that game.
This season's team certainly doesn't have the same type of offensive firepower as a year ago, but it is a better defensively and rebounding. That's what Painter, the former Purdue player, began preaching from the moment he was promoted.
"They've taken a blue collar stance and they've kept working hard," said Painter, who added that the transition has been relatively smooth because the Salukis are doing nearly everything the same way they did under Weber. "It's sometimes tough on the offensive end because we don't have that one go-to guy. But we have very good athletes and good team quickness."
That quickness -- especially on the perimeter -- has led to the Salukis averaging just more than 10 steals per game. Guard Darren Brooks is the closest thing Southern Illinois has to a star. Brooks, who enters Wednesday night's game at Illinois State averaging 16.3 points per game, can shoot from the perimeter, but he is athletic enough to get to the basket and finish.
After Brooks, the Salukis are simply a bunch who just get the job done. Brad Korn is the only other player to average in double figures, but Painter has four other players who average between 7.4 and 8.9 points per game.
"We have a group of guys who just want to win," Painter said. "They don't care about scoring or who gets the attention. Our seniors want to put their own personal stamp on the program."
While the Salukis seniors aren't going to set many personal team records, they have been winners. If Southern Illinois wins 21 games this season (something that seems quite reasonable), Korn will have won more games than any player in school history. These seniors were a part of Southern Illinois' run to the Sweet 16 of the 2002 NCAA Tournament, reached the tournament last season and are certainly in position for a third consecutive tournament bid.
"I challenged them and said, 'You guys have to step up the way Creighton has stepped up in the past few years,'" Painter said.
So far it's working for the Salukis. It also appears to be working again for a Bluejays team that opened the season with 12 consecutive victories before losing at Northern Iowa.
But, this Creighton team is also a little different than recent versions.
While last season's team often scored in the 80s, this group is a little lower octane. Led by center Brody Deren, Creighton isn't as guard-oriented as in the past and the Bluejays aren't making as many 3-pointers as a year ago.
"We're not quite as explosive offensively," Altman said. "We don't have the spurts like we had last year."
Regardless, Creighton has been consistent in part because the Bluejays players stay four (or five) years, they learn the system and the learn how to win. In the past five seasons, Creighton has won at least 22 games each year, something only eight other programs complain. The list is pretty impressive as the Bluejays are grouped with Arizona, Butler, Duke, Florida, Gonzaga, Kansas, Kentucky and Tulsa.
"We have four fifth-year seniors," Altman said. "They don't want to let it drop off."
But Altman acknowledges this season hasn't been easy, especially since point guard Tyler McKinney battling a nasty eye infection. McKinney hasn't played since Jan. 7 at Illinois State and he recently spent time at the University of Iowa hospital.
"He might not be back the rest of the year," Altman said. "The doctors will probably be pretty conservative with him. Right now he's a question mark. We're not sure if or when we'll get him back."
While McKinney isn't a huge scorer, he understands how Altman's offense works and how the coach wants it executed. Sophomore Johnny Mathies isn't doing a poor job, but the Creighton offense hasn't flowed as well.
Altman said he shortened his rotation because of inexperience at the point in recent games, but after losing at Northern Iowa a week ago, he's gone back to using his depth. The short rotation led to less attacking on the defensive end.
Like Southern Illinois, the Bluejays have great balance. Seven players average at least seven points per game. But if there's an emerging star in the Creighton program, it is guard Nate Funk. The sophomore is an excellent scorer and can really get going offensively. Is he the next Korver?
"Potentially, he's an awfully good player," Altman said. "He's made great strides, but I don't want to put too much pressure on him."
Michigan State gaining momentum
It's taken a little longer than expected, but Michigan State appears on the verge of playing like a team that can contend for the Big Ten title. The Spartans early-season woes have been well documented, but Michigan State played like a different team in victories last week over Penn State and Michigan.
After a non-conference season in which the Spartans were porous defensively, Michigan State held both the Nittany Lions and Wolverines to less than 60 points. The Spartans also rebounded the ball and got production from Paul Davis (16 ppg, 7.5 rpg in the two victories). As a result, Tom Izzo's team enters Wednesday's game at Northwestern only one-half game out of the Big Ten lead.
Izzo called the past week, "Ownership Week." He had his players talk on conference calls to former Spartans standouts Mateen Cleaves, Eric Snow and Antonio Smith. In addition, the Spartans have been able to work on getting better in recent weeks. That didn't happen much during the stretch that included losses to Kansas, Duke, Oklahoma, UCLA, Kentucky and Syracuse.
Instead of improving, the Spartans were simply trying to prepare for each game. That's a huge difference. But, while improved, Izzo remains cautious.
"I don't think the world's been changed," he said. "But we've taken two steps."
Games to Watch
Southern Illinois at Wichita State, Wednesday
Undefeated in league play, this might the most difficult game so far for Southern Illinois. Wichita State, one of the preseason favorites in the Missouri Valley, defeated Creighton a week ago.
Texas Tech at Oklahoma State, Saturday
The Red Raiders routed the Cowboys earlier in the month. Now Oklahoma State gets a chance for payback. While both teams are in good position for the NCAA Tournament, the winner here is in better position to win the Big12 title.
Indiana at Michigan State, Saturday
The Hoosiers lead the Big Ten and the Spartans need this one to keep their NCAA hopes alive.
Missouri at Kansas, Monday
Rivarly Week starts with another great Big 12 game on Big Monday. This would be a quality victory that Missouri needs so badly. The Jayhawks, however, would like nothing more than to defeat their biggest rivals.
Around the Midwest
Texas Tech extended its winning streak to 11 games with Monday's victory over Oklahoma. It's the longest winning streak for the Red Raiders since coach Bob Knight was hired. It's also the longest winning streak in the Big 12 this season. Yeah, this Texas Tech team is looking more and more like the conference favorite this season.
It's been a rough week for Iowa. First, center Jared Reiner (the Big Ten's leading returning rebounder from last season) was lost for the season because of a stress fracture. Then forward Nick DeWitz decided to transfer to Oregon State. If that wasn't enough bad news, Hawkeyes coach Steve Alford found out Tuesday that freshman guard Mike Henderson is academically ineligible for the second semester. It's possible that Iowa will petition the NCAA to get Reiner another season of eligibility.
Oklahoma's offensive numbers of late have been extremely poor. In recent losses to Connecticut, Oklahoma State, Missouri and Texas Tech, the Sooners have averaged only 59.3 points per game. And that includes a 75 point outburst against the Tigers.
Missouri-Kansas City received a pair of transfers who should bolster the Kangaroos' backcourt next season. Quinton "Pooh" Day transferred into the program after spending the first semester at USC, while Tim Blackwell left Creighton to become a Kangaroo. Both are from the Kansas City area and they played together on the K.C. Rocktown club team.
As expected, Michigan State transfer Brandon Cotton has enrolled at Detroit. Cotton, a Detroit native, also considered Clemson and Baylor.
Wisconsin forward Alando Tucker remains out indefinitely because of an injured right foot. Tucker broke the foot in the fall and returned to the Badgers lineup in December. However, the foot was reinjured and he has not been cleared to play or practice. Without Tucker, the Big Ten-favorite Badgers are more vulnerable than they have been.
Oklahoma State looked to be in trouble last weekend at Kansas State as the Cowboys trailed by 16 points with 14 minutes to play. So what happened? Eddie Sutton's team pulled off an amazing comeback and won 57-56. "Needless to say, Kansas State beat Kansas State," Wildcats forward Marques Hayden told The Kansas City Star.
Former Ohio State coach Paul Biancardi has done a very good job in his rookie season at Wright State. Despite a roster that features seven freshmen, Wright State is 5-1 in Horizon League play and currently tied for second in the standings. The Raiders already have a victory over Butler and they won at Detroit -- something not very many Horizon teams will do.
Early play in the Mid-Con has been anything but predictable. After going more than two years without winning a league game, Chicago State has won three consecutive conference games. Preseason favorite Oakland is 1-5 in the league. And home teams are only 12-12.
Who's the toughest player in the Big Ten? It might be Illinois guard Deron Williams. After losing 26 pounds when his jaw was wired shut, Williams played 38 minutes in Illinois' victory over Iowa. "Two times he asked out and I said, 'You can't come out,'" Illinois coach Bruce Weber said. "I called timeout once and the other time I told him he had to gut it out."

Quote to Note


"Who knows? We may not have it tomorrow. We could be as different tomorrow as black and white or as apples and watermelons. You just have to continue to be focussed and play as well as you can. Momentum, I've never understood that."
-- Texas Tech coach Bob Knight when asked if the Red Raiders are gaining momentum with each victory during an 11-game winning streak.

Jeff Shelman of the Minneapolis Star Tribune (www.startribune.com) is a regular contributor to ESPN.com
SPONSORED HEADLINES
MORE MEN'S COLLEGE BASKETBALL HEADLINES
MOST SENT STORIES ON ESPN.COM
EDITORS' PICKS
Is it better to coast through your league or be fully tested?
Four Corners »

Kansas continues making its move up the bracket.
Bracketology »

Coach K's latest milestone is about more than longevity.
Brennan »