Commentary
WAC teams schedule up, off to a slow start
Originally Published:
December 14, 2007
By
Kyle Whelliston
| Special to ESPN.com
Utah State head coach Stew Morrill is busy these days. So busy breaking in eight new players and navigating through a tough nonconference schedule, he doesn't have time to check up on his WAC league mates, their records or even the conference's RPI.
"I don't even know where our RPI is as a conference," Morrill said on Tuesday. "Where are we right now?"
You really don't want to know, coach. The Western Athletic Conference currently stands at No. 26, just ahead of the MEAC, right behind the America East.
"Really," Morrill said, followed by a lengthy pause. "I … I … that's amazing. We've been No. 9 or No. 10 pretty consistently. I think our league's a lot better than that."
Not at the moment. Only three of the WAC's nine member schools (Boise State, Fresno State and Utah State) own a winning record, and the league as a whole has stumbled to a 35-43 nonconference mark so far. A league that's been a consistent two-bid performer -- one that has sent two teams to the NCAA Tournament the past 24 years (except 2003) -- is in remarkably unfamiliar territory these days. No other conference currently in the 20s of the RPI has earned an at-large bid to the Big Dance this century.
Each WAC team is an island unto itself this time of year (conference play doesn't start until Jan. 2), so the sudden and amazing decline can't be pinned on any one leaguewide factor. But it seems that a tide of remarkably bad fortune has submerged the league's signature programs.
Over the summer, defending champion New Mexico State lost head coach Reggie Theus to the NBA's Sacramento Kings after two seasons. New hire Marvin Menzies, fresh off Rick Pitino's bench at Louisville, was forced to deal with two bizarre situations upon his arrival in Las Cruces. First, productive guard Tyrone Nelson (11.5 points per game) was dismissed from school following a no-contest plea on robbery and bribery charges stemming from a 2006 incident involving a pizza deliveryman. Then Scouts Inc.'s No. 33-rated recruit, Herb Pope, a 6-foot-9 power forward who was expected to make an instant impact, was denied initial eligibility pending an NCAA investigation into his high school transcript. The issue still has not been resolved.
"We're still in flux there," Menzies said on Tuesday. "If we don't have word relatively soon, Herb will likely elect to redshirt the season."
Despite being out two double-figure scorers from its 2006-07 team as well as a key newcomer, New Mexico State hasn't had problems scoring points -- 77.2 per contest so far. But turnovers and substandard interior defense have doomed the Aggies to a 5-7 record.
"No major injuries so far, all the kids are healthy," said Menzies, looking on the bright side. "They're just getting familiar with the new system. We're making some progress … wouldn't hurt if it was happening faster, but we're going in the right direction."
There also haven't been any major injuries at Nevada, last season's WAC at-large team, but there has been major player movement. In addition to losing 6-11 star Nick Fazekas to graduation, sure-handed point guard Ramon Sessions decided to forego his senior season to try his luck at the pro level. He was selected 56th overall by Milwaukee but was assigned to the D-League. Instead of leading Nevada this year, Sessions is currently putting up big numbers for the Tulsa 66ers.
"We're one of the few mid-majors that have had to deal with early entry into the NBA draft," said Nevada head coach Mark Fox. "Kirk Snyder left early [2004], and Ramon left last year. We weren't anticipating that, and it's hurt us coming into the year with no experience at the point."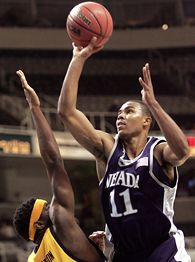 John Medina/WireImage.comRamon Sessions' unexpected departure to the NBA left Nevada (4-4) without a point guard.
The Wolf Pack also have had to deal with the academic ineligibility of Lyndale Burleson for the fall semester, the point guard that had been tabbed to take Sessions' place in the lineup. And, like New Mexico State, Nevada has had to bear off-court distractions -- Fox booted Tyrone Hanson off the team after the reserve forward broke team rules and attended a Halloween party where three people were shot and killed.
But the Pack's biggest problems have come on courts other than their own. The Wolf Pack have won 10 road games in each of the past three seasons, but without the solid guard play of old, the team has struggled to a 1-3 record away from home.
"With four new starters, four of our first six on the road probably wasn't the easiest schedule we could have had," Fox said. "It's not a secret that our whole league is off to a slow start, and I think a big part can be attributed to scheduling. We've all played too many road games, and that's not a formula for success."
Indeed, the WAC's collective road mark is 9-25, and four squads (NMSU, Hawaii, Idaho and Louisiana Tech) are winless so far in their dark jerseys. But nearly half of the league's away victories belong to surprising Boise State, which is 7-3 overall and 4-1 on the road. Boise is averaging 86 points away from Taco Bell Arena -- not bad for a team picked a distant fifth, with no first-place vote, in the preseason coaches poll.
"We've all had a lot of games on the road," said Boise State coach Greg Graham. "But it's because we've made an effort as a conference to upgrade our schedules, which means more and tougher games on the road. I don't want to make excuses for anyone. I think we've got some good teams. We've taken our share of losses, but I think this league will get better as it goes. The only thing I worry about is that we cut each other up come league play."
"The teams in our league tried to schedule up a little bit, us included," echoed Utah State's Morrill. "And we're all paying the price. A lot of teams try to make their schedules so that they get lots of wins. And the bottom line in RPI isn't strength of schedule, it's quality wins."
Morrill knows all about both. He's overseen eight straight seasons with at least 23 victories, with four consecutive finishes in the RPI top 50. In 2006-07, the 23-11 Aggies would have gone to the NCAA Tournament themselves if not for a missed Jaycee Carroll 3-pointer at the buzzer in the league title game against New Mexico State. But so far, preseason Player of the Year Carroll and Utah State's young bunch is 6-5, with four brutal second-half collapses, and their impressive streaks are in jeopardy.
And, like the rest of the WAC, they're searching for answers.
"Maybe we should learn from Hawaii on the football side of things," said Morrill, referring to the 12-0, Sugar Bowl-bound Warriors, who ran up 60-point scores on Northern Colorado and Charleston Southern in nonconference play. "Maybe that's what we need to do, go schedule some dang wins."
Kyle Whelliston is the national mid-major reporter for Basketball Times and a regular contributor to ESPN.com.
Senior Writer, ESPN.com
Kyle Whelliston has contributed to ESPN.com's college basketball coverage since 2005. He covers mid-major programs for Basketball Times magazine, and will have a basketball travelogue of the 2008-09 season published next summer. Whelliston also founded
midmajority.com
and statistical database site Basketball State (
bbstate.com
).
SPONSORED HEADLINES
MORE MEN'S COLLEGE BASKETBALL HEADLINES
MOST SENT STORIES ON ESPN.COM
EDITORS' PICKS
What are the nations most consistent programs?
Gasaway

Three freshmen will bring toughness to North Carolina.
Brown »

Michael Hausfeld, lead attorney for Ed O'Bannon, is one of sports' most powerful people.
Fainaru, Farrey »
Authentic Street Signs Nevada Basketball Court Sign Shop »