Bonnies 'March' toward new beginning
Originally Published:
November 25, 2003
By
Michael Vega
| Special to ESPN.com
The first steps are usually the hardest, but it appears St. Bonaventure's first-year coach Anthony Solomon is off and running in his bid to get the Bonnies' scandal-ridden basketball program marching in step with his self-styled theme, "Marching Forward Together."
A former University of Virginia walk-on who last season served as an assistant to Notre Dame coach Mike Brey, Solomon was hired to bring a fresh outlook and a new sense of direction to a wayward St. Bonaventure's program. The Bonnies had lost their way under former coach Jan Van Breda Kolff, athletic director Gothard Lane, and, even, school president Robert Wickenheiser. Each lost their jobs in the aftermath of a scathing academic scandal involving junior center Jamil Terrell, who was declared ineligible after it was learned he had transferred from Coastal Georgia Community College with nothing more than a welding certificate.
The school tried to police itself, forfeiting six Atlantic 10 conference games. The Bonnies, however, were barred from participating in the league's tournament and, with two regular season games remaining against Massachusetts and Dayton, were subjected to an embarrassing player boycout that resulted in forfeitures and fines of $120,000. After submitting a self-report to the NCAA in July, the school forfeited each of the 26 games Terrell played.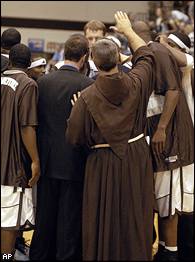 The Bonnies get a little spiritual help during a late timeout Friday in their win over Robert Morris.
And while the dark cloud of further NCAA sanctions still lingers overhead, Solomon's arrival in Olean, N.Y, on May 5 signaled a fresh start for the Bonnies and their corps of dedicated fans. The healing process officially got underway this past Friday in St. Bonaventure's season-opening victory over Robert Morris, 78-76, at the Reilly Center. The Bonnies then made it two straight wins to open the season by beating Arkansas-Little Rock on Tuesday night, 89-75.
"In terms of returning back to the court, yes, it was a healing process," Solomon said. "But I think the healing had already begun even several months back. I'm really pleased with our young men as they march forward with me. Since I've come on board, we're making progress. We're making progress on the basketball floor, but we're also making progress off the basketball floor. Those are the areas that I talked about when I first came on board here."
And that's when Solomon hit upon his theme -- "Marching Forward." It conveyed his message, his philosphy, his vision for the program to St. Bonaventure's search committee.
"That theme came about as I was preparing to visit St. Bonaventure for my interview," Solomon recalled. "I put together a portfolio, and after I put all the material inside, I was looking at the cover there and I knew I had to come up with something to just sort of send my message and what I came up with was, 'Marching Forward.' Then I said, 'Marching Forward With St. Bonaventure University.' "
When he was hired May 5, Solomon inherited a team of six scholarship players, led by 5-foot-7-inch senior guard Marques Green. Solomon knew Green would be an important messenger of his theme, which the coach and his staff have hammered home by wearing custom T-shirts in practice bearing the team's new mantra.
"Marques is our only senior, so if there's someone who could help me get that message out, he would be the guy,'' Solomon said of Green, who led the team and the A-10 in scoring (21.3 ppg) and had a school-record 216 assists last season. "He's the only senior and what a career he's had up to this point. I think any time it's your senior year, it's a special year, and I want to give him the best chance possible to be successful."
To that end, Solomon immediately set out to bolster his roster by recruiting three new players. Then, when he brought them together for their first practice, Solomon began the challenging task of nuturing his players, building a rapport, and earning their trust. Basketball would be fun again at St. Bonaventure as soon as the team bought into their first-year coach's theme.
"Once the fall semester began in August, I added the 'Together' part,'' he said. "That togetherness is certainly meant for myself and my staff and our young men, but I also meant that for all our alums, fans, supporters -- nationally as well as locally. While we're all disappointed in the past happenings of the spring, for us to get to where we all want and expect our university and basketball program to be, we must march forward and look to the future."
And not dwell on the past.
"What we can control is our future and that's why I'm so concentrated on marching forward," Solomon said. "We do have some control of the things in the future. As for the past, all we can do is learn from those situations. And I first start with our young men, because they learn from the things of the past and that's a life lesson. When moments of adversity occur in our lives, if you handle those properly, it can help you mature for later in life.''
Certainly, the win over Robert Morris was a start. The Bonnies will attempt to take another step by hosting Arkansas-Little Rock on Tuesday before playing their first road game Nov. 29 at Creighton. That will be followed by, perhaps, the toughest game of the season: a Dec. 3 date against the defending national champion Syracuse Orangemen at the Blue Cross Arena in Rochester, N.Y., two days after Solomon's 39th birthday.
Then there are the NCAA sanctions, which will likely come down in December.
"We are aware of it, but again it goes back to our original message of marching forward," Solomon said. "Part of that message is that as we march forward, we can control some of the things in the future, but what we can't control is the past. Our university has done a great job of informing and giving to the NCAA the required information and we've done that. Now it's in the hands of the NCAA and we'll remain in waiting for their decision.
"Whatever that decision will be, we'll respect it and we'll continue on."
Marching forward -- together. Always, together.
Games to Watch
Connecticut vs. Georgia Tech
Wednesday, Preseason NIT
This semifinal would have had an added juicy subplot had Georgia Tech transfer Ed Nelson been eligible to play for the top-ranked Huskies.
Temple vs. Illinois
Saturday
The Illini kick off a tough stretch of games by playing the Owls in Philly as as tune-up for its ACC/Big Ten Challenge contest at North Carolina on Dec. 2.
Notre Dame at Marquette
Monday
An interesting backcourt duel looms between ND's Chris Thomas and Marquette's Travis Deiner in a game between, presumably, future Big East opponents.
Williams' red carpet walk
When he walked out of the tunnel leading out to the hardwood court at the Smith Center for North Carolina's Nov. 22 season opener against Old Dominion, Tar Heels coach Roy Williams must have felt like he was walking the red carpet for a major Hollywood premiere.
Judging from all the paparazzi that greeted him, not to mention the blinding flashbulbs, Williams must have felt like he had J-Lo on his arm as he walked out onto the court for his first game as Carolina's head coach.
Certainly, it was a star-studded affair. Coach Dean Smith, Bill Gutheridge, and Eddie Fogler were all in attendance as were several of Williams's friends from Kansas, where he had toiled for 15 years and thought he would remain after turning down his dream job in Carolina when it was offered to him three years ago.
But, when he emerged from the tunnel with Carolina blue T-shirts that read "North Carolina Basketball, Worth Coming Home For," he proceeded to toss them into the student section as souvenirs. Asked what thoughts he had before UNC's 90-64 triumph over Old Dominion delivered him his first win as Tar Heels' head coach, Williams told the Charlotte Observer, "My first thought was I didn't ever see myself walking out of that tunnel as the head coach at North Carolina, especially after what happened three years ago. I thought that was it."
Evidently, for Williams, North Carolina basketball was well worth the wait, and the trip home.
Around the East

Blame it on jet lag. Blame it on the suspensions. Blame it on something. But, Villanova certainly knew its stunning 52-49 loss to Division II Chaminade in the first round of the Maui Invitational Monday was a distinct possibilty after the Wildcats tried to shoehorn two games into a 24-hour period. Villanova won a Big Five Midnight Special impressively in the wee hours of Nov. 21 at Temple (73-48) before boarding a West Coast flight to play a Maui tune-up game Nov. 22 at the University of Redlands (114-103). Then, about 36 hours later, just six Wildcats played in Maui, becoming the Silverswords' first victim in 11 years.
No Troy Bell. No Ryan Sidney. No problem for the Boston College. The Eagles improved to 3-0 after Monday's 84-81 victory over Wichita State in the finals of the Paradise Jam in St. Thomas, US Virgin Islands. Sophomore Craig Smith had 28 points and 13 rebounds to lead the Eagles.
Duke's Mike Krzyzewski and Army's Jim Crews each recorded personal milestones in their respective season-opening victories over the weekend. Coach K tied John Wooden for 18th place on the NCAA's Division 1 all-time list with his 664th career triumph, which came in a hard-fought 67-56 victory over Detroit Saturday at Cameron Indoor Stadium. Crews, meanwhile, finally got his long-awaited 300th career triumph in Army's 60-57 victory last Friday night over Columbia at Christi Arena.

Michael Vega covers college basketball for The Boston Globe and is a regular contributor to ESPN.com. He can be reached at vega@globe.com.
SPONSORED HEADLINES
MORE MEN'S COLLEGE BASKETBALL HEADLINES
MOST SENT STORIES ON ESPN.COM
EDITORS' PICKS
This week's Wooden Watch goes beyond the box score.
Brennan »

Shaquielle McKissic took an unconventional route to ASU.
O'Neil »

Rashad Vaughn was the star as UNLV upset No. 3 Arizona.
Medcalf »