Commentary
St. Bonaventure still on the road to recovery
Originally Published:
October 31, 2007
By
Andy Glockner
| ESPN.com
As a head coach taking over a rebuilding program, you'd think a first impression that was reminiscent of mythical Hickory High from the movie "Hoosiers" would be a good thing. For new St. Bonaventure coach Mark Schmidt, though, his initial gathering with his new players was a striking dose of reality.
"When I left the locker room after meeting the team, … I called [my assistants] up and said, 'Boys, we better start recruiting, because right now we have four guys. And it's like "Hoosiers" -- my four guys are on the court,'" Schmidt said, unleashing a hearty laugh.
That's the state in which Schmidt, a former Xavier assistant under Skip Prosser who came to St. Bonaventure after building up the NEC's Robert Morris, found the Bonnies four seasons after a devastating academic scandal rocked both the program and the university.
It's hard to fully describe the impact of that 2003 scandal -- in which former player Jamil Terrell was found to possess only a welding certificate, not an associate degree, from his junior college -- on this small school and the intimate blue-collar town of Olean, N.Y.
[+] Enlarge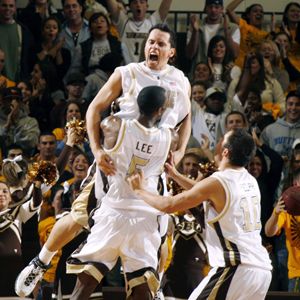 Craig MelvinSt. Bonaventure has had very little to celebrate over the last five years. The program won 24 games in four seasons under now-departed coach Anthony Solomon.
The initial scandal led to widespread firings -- from head coach Jan Van Breda Kolff and his staff, to athletic director Gothard Lane, and all the way up to the school's president, Robert Wickenheiser, whose son Kort was an assistant coach on the team. The fallout contributed to the suicide of the chairman of the board of trustees. The school was hit with NCAA sanctions that included three years of probation and the loss of three scholarships over two seasons.
Perhaps even more important than the toll on any one person, the scandal violated the almost sacred trust the Franciscan school had with its community -- the approximately 15,000 locals who live for the school's athletics -- and its alumni.
"You probably couldn't put [the full effect] in words," said Jim Satalin, the head coach at St. Bonaventure from 1973 to '82 and the current supervisor of Atlantic 10 referees. "They've lived and died with St. Bonaventure basketball. … It was everything that went with it … [that] makes it 99.9 percent different than the rest of the scandals that have hit schools over the years. It had a major effect on the community."
Entering this season, though, there is renewed hope. Former Notre Dame assistant Anthony Solomon started the resurrection in 2003, rebuilding relationships with the school and the town. But a steady stream of juco recruits -- who were merely short-term solutions to the problem -- and player defections led to a 24-88 record and his ouster this past spring. Now, enter Schmidt, who understands that the next step is improving the product on the court.
"Anthony did a good job getting the community back," Schmidt said. "Now we have to get the players back. We have to do a better job of getting players here who can win."
That's not as easy it it sounds, given Olean's remote location by the New York-Pennsylvania border. The winters can be bleak. Buffalo, the closest urban center, is 70 miles to the north. New York City and Philadelphia are five or six hours away by car, a fact that both Schmidt and new athletic director Steve Watson (who grew up in nearby Franklinville) tried to portray as a positive by painting Olean as a potential escape from the dangers of city life. Despite all of the challenges, Schmidt is optimistic.
"This is not a graveyard," Schmidt said. "Everyone talks about 2003, but the three years prior, they went to the NCAA and two NITs, so they're only five years removed from having success."
That success came mostly under former Bonnies player Jim Baron, now the head coach at Atlantic 10 rival Rhode Island. With the hiring of A-10 veteran Schmidt and Watson, St. Bonaventure is trying to replicate that model of success with people who understand the uniqueness of the school and its surroundings.
"One of the things that I've talked about quite a bit since I've been back here is that it's so important to the community, our alumni and the students that our athletic department -- and specifically men's basketball -- be successful," Watson said. "As soon as people stop caring, we're in a lot of trouble. But believe me, the people in this community care a lot."
That caring is what gets a good portion of Olean through the long, tough winters. It's that caring that kept the Bonnies' average attendance during last season's 7-22 campaign at more than 3,000, well down from the program's more successful days but still respectable given the recent quality of the program. That caring also likely earns St. Bonaventure some benefit of the doubt from its league peers.
"I think the fact that they have been in the league for so long … you just don't disregard those kind of things," said Satalin, who led St. Bonaventure to the NIT title in 1977. "Most are interested in seeing them get better, seeing them improve and start to become competitive, because when the Bonnies were good -- Jimmy Baron's teams and Jimmy O'Brien's teams -- that helped the league."
These Bonnies are not good yet. There are eight newcomers and Schmidt knows that the national postseason glory of prior eras is still a while off. For starters, he'd like this team -- picked last in the league -- to qualify for the 12-team conference tournament. The Bonnies haven't been there in the last two seasons. Until then, his team will need to meet heightened expectations in other areas, ones that aren't necessarily connected to wins and losses.
"I think here at St. Bonaventure, the team takes on the personality of the community," Schmidt said. "The community is a hardworking community, middle America, go out, earn a living, work hard, don't cheat, don't cut corners. I think what they want in a basketball program is a team that works hard. Kids that give everything they've got. Overachievers. I think if we do that, we'll bring them back."
If they do that, they might bring back some victories, too.
Andy Glockner is a regular contributor to ESPN.com's college basketball coverage and is the host of the ESPNU College Basketball Insider podcast. He can be reached at bubblewatch@gmail.com.
EDITORS' PICKS
Arizona is far stronger than its No. 7 ranking.
Gasaway

Wisconsin cruised to a win vs. Michigan State.
Recap »

BYU upset Gonzaga to end a wild day.
Medcalf »
MORE MEN'S COLLEGE BASKETBALL HEADLINES

MOST SENT STORIES ON ESPN.COM