Commentary
First-year phenoms lead Orange to Garden
Originally Published:
November 14, 2007
By
Andy Glockner
| ESPN.com
SYRACUSE, N.Y. -- New is sexy. New is fun. And new is as dominant as it has been at the college level in recent years.
This season's first-week Freshman Fiesta has featured a phalanx of big performances, but until Tuesday night, it hadn't had a signature moment. Thanks to Syracuse's Jonny Flynn, we now have that, too.
Flynn drilled a deep 3-pointer -- his only field goal of the game -- with 5.3 seconds left to break a tie and push the Orange past determined Saint Joseph's 72-69 in a second-round NIT Season Tip-Off tussle at the Carrier Dome. The win moves the Orange on to Madison Square Garden next week to match up against Ohio State, which has its own ballyhooed freshman in 7-footer Kosta Koufos. That game, on ESPN2, should be the national coming-out party for Flynn and fellow freshman star Donte Greene -- if Tuesday's game wasn't already.
"It was a terrific game," Syracuse head coach Jim Boeheim said of a contest that featured numerous big runs and double-digit leads for both teams. " … Flynn made a big one at the end of the game. It's hard for a freshman to do that."
In a lot of ways, today's elite freshmen are anything but young. They have spent the last several years playing against other top talents. They have traveled around the country. Some have already played on national TV. They're more prepared for this level of competition right out of the chute.
They're also extremely self-aware. Flynn's been watching his classmates tear it up, and he said he and Greene can provide Syracuse with that same level of performance.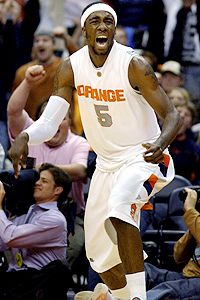 AP Photo/Kevin RivoliFreshman Donte Greene's 18 points tied teammate Paul Harris for the team high.
"We always keep in touch with everybody," Flynn said. "You got O.J. Mayo, I just talked to him last night. You got Nick Calathes down at Florida, Eric Gordon, so you always check out ESPN and you see what other freshmen are doing. I think we can have that same impact on our team."
Flynn's paltry five points belie the impact he had on Tuesday night's game. He consistently broke down Saint Joseph's defense and often made the extra pass that got Syracuse a better shot. Flynn finished the game with six assists, but the running joke among the media was that he could have had 15 had this been the NHL, where secondary assists count.
"That's what makes good teams great," said Flynn, who erased any doubts about his scoring ability Monday night with a Syracuse debut-record 28 points in an eight-point win over Siena. "Being unselfish, making the extra pass, not caring about your stats but just getting someone else a bucket."
That someone else often was Greene, who notched a team-high 18 points. His night started with a 3 that finally got Syracuse on the board 5 minutes, 36 seconds into the game and concluded with a vicious one-handed dunk (and the foul) off a fast-break feed from Flynn that gave Syracuse the late breathing room it ultimately needed.
"It was crazy," Greene said, perhaps about the finish itself and the subsequent explosion from the Orange faithful. "I saw Jonny coming the whole time, so I knew that if I got to the basket, he'd find me."
Before we get totally swept away by this freshmen frenzy, it's important to note that Syracuse would not be Garden-bound without the contributions of veterans Eric Devendorf and Paul Harris.
Devendorf chipped in 11 of his dozen points in the first half when the Orange, which fell into early 10-0 and 17-7 holes, were starved for offense.
"Big-time player, possibly could be Big East Player of the Year this year," said Greene. "That's my guy. He plays hard and he leads us well."
Harris' line -- 18 points, 14 rebounds and six assists that backed up his 14-point, 15-rebound effort Monday -- may resonate even deeper. He and Flynn are former backcourt mates at Niagara Falls High School, and when Harris arrived here last year, he was supposed to be the catalyst that Flynn apparently is.
Instead, Harris' freshman season was best described as square-peg-in-round-hole, and two games into his sophomore campaign, he remains one of the nation's most perplexing players. He's out of position on both ends, essentially playing the 4 on offense and stuck in the left corner of the Orange's 2-3 zone on defense. For long stretches, he doesn't show many traditional basketball skills. Yet he was the most consistently impactful player on the court Tuesday night, where every piece of his near triple-double seemed to occur when the Orange needed a play.
"The bright lights are Flynn and Greene, but to me, Syracuse will go on the backs of Arinze [Onuaku , who had a career-high 17 points], Devendorf and Paul Harris, because they've been there, done that," said Saint Joseph's head coach Phil Martelli. "And I'm sure they carry a little chip on their shoulder from last season, from not making the NCAA tournament."
Two games into this season, that doesn't look like it will be a repeat issue for Syracuse. While the Orange are still experiencing understandable growing pains -- Boeheim noted that they alternate between some unbelievable plays and some unbelievably horrendous plays -- the firepower this team was missing last season is in place. And in what's already shaping up to be the Year of the Freshmen, the Orange have two of the better members of that club, and at least one who's not afraid to take the biggest of shots.
"I just hope they continue to do what they're doing," Harris said. "I don't look back at last year. It's a new year, a new team and I think we have quite a chance to be quite a team this year."
Andy Glockner is a regular contributor to ESPN.com's college basketball coverage and is the host of the ESPNU College Basketball Insider podcast. He can be reached at bubblewatch@gmail.com.
SPONSORED HEADLINES
MORE MEN'S COLLEGE BASKETBALL HEADLINES
MOST SENT STORIES ON ESPN.COM
EDITORS' PICKS
Can No. 8 Notre Dame contend with No. 4 Duke?
Gamecast

Jay Bilas offers up the best teams in the land ... with some help.
Bilas & Gasaway

The rosters for both sides of the McDonald's All American Game have been released.
Borzello »