Commentary
Friday no-shows lead Hoosiers to Saturday win
EVANSTON, Ill. -- When Indiana's team charter took off Saturday morning, Dan Dakich looked around the cabin and tensed up.
There was no turbulence. That had been left on the ground in Bloomington.
Dakich had no fear of flying. More a fear of what would happen when the Hoosiers touched down.
After a week of constant clamor -- about Kelvin Sampson, NCAA violations, a sidetracked season and a shamed program -- there was only silence.
"This is a loud team, this is a team that has real personality," said Dakich, who had been named interim coach of his alma mater one day earlier. "And everybody's sleeping. I looked at [assistant coach] Jeff Meyer, and I'm like, 'What is this?'"
As the plane climbed, the weight of all that had happened dragged down the nation's 14th-ranked team.
"It was quiet," Hoosiers guard Armon Bassett said. "It just wasn't the same. We all had to get used to not having Coach Sampson around."
The tumultuous transition nearly left Indiana with an embarrassing end to arguably the darkest week in program history.
[+] Enlarge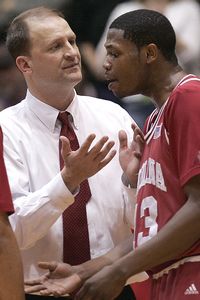 AP Photo/Nam Y. HuhDan Dakich was pumped up for his first game as Indiana's interim coach.
But on the brink of falling to the Big Ten's worst team, the Hoosiers prevailed thanks to a group of players who showed up when it counted, after being notable no-shows Friday.
Bassett, Jordan Crawford and senior captain D.J. White -- three of the six players who skipped Friday's practice -- combined for 61 points as Indiana nipped Northwestern 85-82 at Welsh-Ryan Arena. Dakich survived his debut, and Indiana (23-4, 12-2 Big Ten) remained tied for first place in the conference.
"I don't think it's something you put behind you truly in 24, 48 hours," Dakich said. "Things take time. But this is a resilient group."
About 24 hours after athletic director Rick Greenspan announced that Sampson had accepted a $750,000 buyout to resign and not sue the school for wrongful termination, White limped off the court at Welsh-Ryan. The senior forward had helped seal the win with strong defense on Michael Thompson's drive and by sinking two free throws with 5.3 seconds left.
Drained by the flu and the loss of another coach -- White received IV fluids after the game and did not speak with reporters -- the senior stopped just outside the Hoosiers locker room, exhaled, then went inside.
"This happened with coach [Mike] Davis before," Bassett said. "D.J.'s a strong kid, a lot of character. He's going to keep on doing what he's doing."
Whether White would continue doing anything seemed questionable after he skipped Friday's practice, but Dakich played down rumors of a mutiny.
The team was informed at 11:45 a.m. Friday that Sampson would not be back as coach, and Dakich met with players for about 45 minutes. When White and the others didn't return later that afternoon, Dakich didn't worry.
"It's natural," he said. "It wasn't like a boycott. … It was a non-issue. I was getting texts, 'I'll be there. Walk-through tonight, I'll be there.' Soft is not one of the things I'm known for as a coach, but the kids needed time and needed space."
There were no repercussions, as White, Bassett and Jamarcus Ellis all started the game and Crawford and DeAndre Thomas entered in the first half (Brandon McGee hasn't played since Feb. 3). The possibility of skipping the game never seriously crossed Bassett's mind.
[+] Enlarge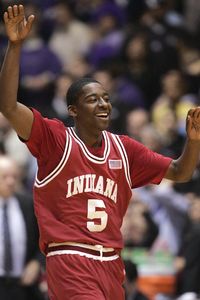 AP Photo/Nam Y. HuhJordan Crawford was one of the six players to skip Indiana's practice Friday, but he was all smiles Saturday.
"We were just emotional at that time, and Coach Dakich understood," Bassett said. "He asked us in the meeting after we found out if we would be at practice, and we gave him the heads-up. We have the utmost respect for Coach Dakich, and we still have expectations left for the season."
Those expectations remained clear as soon as Indiana's team bus pulled up 90 minutes before tip-off. A team manager led the players toward the arena, carrying the 2002 Big Ten championship trophy in his arms.
"That's Coach Dakich's idea," Bassett said. "He said he's going to keep on bringing it until we can get our own."
They must do so without the man who guided them to 22 wins.
The only Sampson in Indiana's team huddle Saturday night was Kelvin's son, Kellen, a graduate manager for the Hoosiers. But reminders of the elder Sampson were everywhere.
Many Indiana players, including White, Crawford and Bassett, wrote Sampson's initials in red marker on their sneakers. As players warmed up, a girl standing in the fourth row held up a sign that read "Thanks Kelvin Go IU!"
A Northwestern student countered with a "Hoosier Coach?" sign, and his wingman wore a T-shirt reading "Call me Kelvin." When star freshman Eric Gordon went to the free-throw line with Indiana down 18-10, Northwestern students chanted, "Samp-son's call-ing."
"He was the one who got us all here," said Gordon, who finished with 18 points, going 13-for-16 at the foul line. "He wasn't just like a coach. He was more like a father to us.
"We've got to keep on playing for Coach Dak."
Dakich entered the floor Saturday night to cheers from the partisan Indiana crowd and chants of "Where's your coach?" from Northwestern students. He waved to the Hoosiers faithful as he reached the scorer's table, then emphatically pumped his fist, nearly striking Northwestern coach Bill Carmody, who had walked over for a pregame handshake.
"It was just emotional for me," Dakich said.
He nearly had a lot of heartache, as Indiana fell behind early to a Northwestern team that last won a Big Ten game Feb. 10, 2007, and -- until Tuesday's 53-51 setback at Iowa -- had dropped all of this season's conference contests by double digits.
Heading to the locker room at halftime, Dakich asked assistant Ray McCallum for his thoughts.
"He said, 'This is how we knew it would be,'" Dakich said. "We knew this would be tough. We knew this would be tough."
Crawford finished with a career-high 21 points on 6-of-7 shooting, and Bassett tallied a season-high 24 points to lead the Hoosiers.
After the game, Bassett received a text message from Sampson, whom he plans to visit Sunday.
"He told me he loved me, he's happy for me and good win," Bassett said. "We keep on finding a way to win."
Adam Rittenberg covers college football and college basketball for ESPN.com. He can be reached at espnritt@gmail.com.
College Football
ESPN.com Big Ten reporter.
Joined ESPN.com in 2008.
Graduate of Northwestern University.
SPONSORED HEADLINES
MORE MEN'S COLLEGE BASKETBALL HEADLINES
MOST SENT STORIES ON ESPN.COM
KELVIN SAMPSON/INDIANA SCANDAL

An NCAA report states head coach Kelvin Sampson and Indiana committed five "major" violations. The allegations stem from a phone call scandal that occurred while Sampson was still under recruiting restrictions.
News
•
NCAA downgrades one charge against Hoosiers
•
Report: IU paid $203K in legal fees for NCAA case
•
Indiana says its sanctions are enough
•
Sources: IU agrees with NCAA on violations
•
Committee created to find next Hoosiers coach
•
Sampson must cooperate with NCAA probe
•
IU moves on behind Dakich
•
IU, Sampson reach $750K termination settlement
•
Status unresolved, Sampson preps for game
•
Source: IU likely to suspend, fire Sampson
•
IU tops Purdue, awaits word on Sampson's fate
•
IU to conduct own investigation into allegations
•
Ex-Indiana assistant coach: 'I was not untruthful'
•
Source: Sampson status as coach game-by-game
•
Sampson, Indiana face 5 major NCAA violations
•
Wisconsin takes advantage of distracted Indiana
•
Sources: IU faces major violations over calls
Analysis
•
O'Neil: IU, Sampson to face NCAA in hearing
•
Wojciechowski: IU should penalize itself too
•
Forde: Dark day ends black saga at Indiana
•
O'Neil: Fisher lived what Dakich will experience
•
Forde: Coaches to consider to replace Sampson
•
Vitale: Time for Indiana to move on
•
Forde: Hoosier Nation ready for Sampson's exit
•
Katz: IU beats MSU as Sampson drama continues
•
Schlabach: IU investigation is a moot point
•
Schlabach: Lying attracts harshest punishments
•
Schlabach: Former Hoosiers react to Sampson
•
Forde: Weighing IU's best options
Documents (pdf)
•
Indiana's response to NCAA allegations
•
NCAA details Indiana violations
•
Sampson responds to allegations
•
Agreement between Sampson, Indiana
Audio
•
Bilas: IU might need to fire Sampson


•
Katz on Indiana's coaching options


Video
•
Indiana's recovery starts at Northwestern

•
The search for next Indiana coach is on

•
Indiana news conference with Rick Greenspan

•
Kelvin Sampson out at Indiana

•
Sampson and the Hoosiers top Purdue

•
Sampson enjoys emotional win over MSU

•
GameDay thoughts on Kelvin Sampson

•
What Sampson, Indiana players are saying

•
Michael McRobbie announces investigation

•
Violations put Sampson's future in question

•
Sampson denies NCAA's allegations

SportsNation
•
Vote: Your thoughts on Sampson's resignation?