Commentary
Sweating it out once again in Maryland
COLLEGE PARK, Md. -- Somehow, for a veteran coach who had already been through hell and back before the calendar even turned to March, life just got even more difficult.
Maryland coach Gary Williams, who turns 64 on Wednesday and is in the midst of a turbulent 20th season in College Park, is now facing the all-too-familiar must-win scenario heading into the regular-season finale on Saturday at Virginia.
[+] Enlarge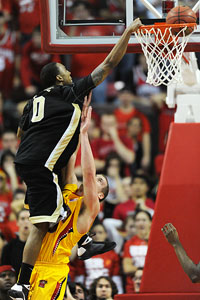 James Lang/US PresswireJeff Teague led Wake with 17 points and helped secure Maryland's spot on the bubble.
It wasn't for a lack of effort. Maryland (18-11, 7-8) played some of its best basketball this season in building a seven-point halftime lead against No. 10 Wake Forest. But the Terps couldn't hold on, and in the end, their lack of size and athleticism was exposed on their home court in Tuesday's 65-63 loss on Senior Night.
Maryland was outrebounded 50-32, outblocked 10-3 and beaten on second-chance points by a 20-6 margin.
A win would have meant their third victory over a top-10 team this season and dramatically increased chances at an NCAA tournament bid. Instead, it slipped out of their grasp in the final 90 seconds, and Maryland fans began to file out before the final buzzer sounded.
But there is something more driving this undersized and overlooked team than just an appearance in the NCAA tournament -- a concept that was unimaginable when the Terps were 2-4 in the ACC in late January. Outsiders -- and some insiders, for that matter -- have questioned Williams' job security and his recruiting efforts, and his once-unspoken but generally known rift with athletic director Debbie Yow became embarrassingly public last month.
"Yeah, we're definitely playing for him," the usually soft-spoken guard Eric Hayes said. "He's our coach, and any talk of him leaving is kind of crazy to all of us, from what he's done here. We want to prove he still can coach and we're a team he can coach to the NCAA tournament."
They certainly seem to be at their best when the pressure is on. In late January, Maryland hit what was arguably its low point of the season, when a home loss to Boston College sunk their ACC record to 2-4 and the Terps looked like a team of McDonald's Misfits that couldn't play defense. They rebounded, though, with a win against Miami, won two of their next three, and shocked the college basketball world with an overtime upset of No. 3-ranked North Carolina.
"We definitely have a chip on our shoulders," said 6-foot-7, 263-pound forward Dave Neal, the team's unlikely hero and lone senior who led the Terps against Wake with 19 points and made 5-of-6 3-pointers. "Coming into the season, people were talking about how we might have a losing season -- we don't have any five-star recruits or McDonald's All-Americans.
"People were talking down on us in the beginning of the season. ... We've been getting bounced on lately in the press, but that's stuff we can't let affect us. We've got to use it as motivation and just play harder, and I think we've shown people we can play with just about anyone in the country, even with who we have on our team."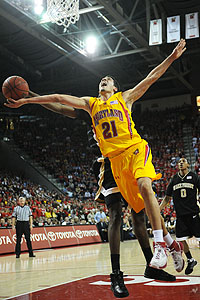 James Lang/US PresswireGreivis Vasquez was just 7-of-24 for 16 points in Tuesday's loss to Wake Forest.
Williams won't tell his team precisely what they need to do now to get into the NCAA tournament, and he doesn't have to. They know that historically an 8-8 record in the ACC and 20 wins has been good enough, but that might not be the case this year. Eight ACC wins didn't cut it last season for the Terps, and it wasn't good enough for the selection committee in 2006, either.
Maryland could do wonders for its postseason chances by ending the regular season with a road win against Virginia on Saturday and victory in its first game of the ACC tournament. Considering UVa is just 3-12 in league play, it wouldn't appear to be a daunting task. But Maryland has a tendency to struggle in Charlottesville -- the 91-76 loss in last year's regular-season finale sure didn't help the résumé -- and it will be Senior Day there as well.
Williams adamantly refused to compare this season's team to last season's, which finished with a loss to Syracuse in the NIT. The difference, he said, is the way this group has handled adversity. With the loss to Wake Forest, they've got another dose to handle this weekend.
"These guys have had my back all year," Williams said. "They've been tremendous. And I'm going to have their back going into this game."
Their backs have been holding up that wall for the past month, though.
The problem in College Park is that the Terps have grown accustomed to sweating it out on Selection Sunday. Maryland has gone to the NIT in three of the past four seasons, and the Terps faced a similar situation last year when they finished 8-8 in the league but ended the regular season with back-to-back ACC losses and a loss in the conference tournament.
In fact, since a shocking run to the 2004 ACC tournament title, Maryland has won exactly one game in the league tourney.
"It wears on you," Neal said. "I think if we would have won this game tonight, it would have relieved a little bit of stress, but we didn't. We've done a great job when our backs are against the wall, and our backs are against the wall.
"But it's also in our own hands. If we beat UVa and then go down to the ACC tournament and have a good showing, we still have a great chance."
Heather Dinich is a college football and basketball writer for ESPN.com. She can be reached at Espn.hd@hotmail.com
College Football
ESPN.com reporter
Joined ESPN.com in 2007
Graduate of Indiana University
SPONSORED HEADLINES
MORE MEN'S COLLEGE BASKETBALL HEADLINES
MOST SENT STORIES ON ESPN.COM
EDITORS' PICKS
Kentucky's wall of bigs is intimidating.
Gasaway

North Carolina showed glimpses of what it can be.
Powers »

Syracuse gave Villanova a scare, and the Wildcats needed it.
O'Neil »