Discussion
Wooden's wizardry was for the ages
In the wake of John Wooden's passing, William Nack remembers the magic and the might of the Wizard of Westwood, the greatest coach in the history of sports.
Updated:
June 5, 2010, 12:23 AM ET
By
William Nack
| ESPN.com
Editor's note: John Wooden died on June 4, 2010, at the age of 99 in Los Angeles, Calif.
No one had the vaguest notion of the magical era that was about to begin, not even a hint that it had already begun. Not the players, not the writers and certainly not the coach himself. All John Wooden wanted to do, in his 16th season as the head basketball coach at UCLA, was win his first NCAA title.
Yet, on this evening of March 21, 1964, in the old and creaky Municipal ...

Read full story
JOHN WOODEN: 1910 - 2010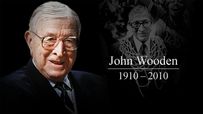 Remembering John Wooden
STORIES
VIDEOS
RELATED CONTENT