Friday, May 29 2015
Picks Of The Litter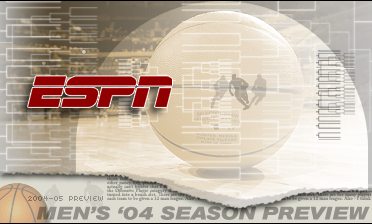 Time for us to put our stamp on the 2004-05 bracket.


Monday, Nov. 15: The Final Word
Lunardi: Bracketology debut
See Joe's first prediction of the 65 teams for the NCAA tourney.
Lunardi: Be wary of Wake

The Deacons have several red flags similar to last year's overhyped team, Michigan State.
ESPN.com experts: Predictions
All-Americans, POY, Final Four and national champs picks.


Sunday, Nov. 14: Mid-Majors
Shelman: Another year, another coach
The Salukis, despite all their success, are on their third coach in as many seasons.
Fraschilla: Love the mids

I love the label mid-major. I laugh when people ridicule it.
Katz: Gael force
St. Mary's may be a "mid," but it's about to get high-major exposure.
ESPN Mag: Feeling Vermont's Coppenrath

They might be from a small town, but watch out for Taylor and the Catamounts.


Saturday, Nov. 13: Welcome (Back)
Gottlieb: Looking for redemption
Doug Gottlieb knows that transferring brings lots of changes on the way to salvation.
Katz: Leader of the Pack
N.C. State fans should like what they see from Tony Bethel this season.
Newmann: Memorable transfers
The good and the not-so-good from the past few years.
ESPN.com experts: More returnees to watch


Friday, Nov. 12: Schedule Sagas
Katz: End of an era
Expansion has killed off the ACC's home-and-home round-robin schedule.
Bilas: UnACCeptable change

The ACC's new schedule won't determine a true champion, which is a shame.
Katz: Stuck in the middle
The NCAA committee is focusing on scheduling, but many mid-majors still can't get games.
Fraschilla: Four easy steps

Many schools don't understand how to craft a good RPI schedule.
Lunardi: Numbers don't lie

Philosophies are good, but the math always dictates what's really a good schedule.
ESPN.com experts: Other schedules to watch


Thursday, Nov. 11: Coaching Tales
Katz: Purdue's succession plan
Gene Keady's enjoying his final year at Purdue ... now that his hand-picked successor is in place.
Katz: Mississippi learning
Larry Eustachy is recovering and happy for a second chance at Southern Miss.
Forde: On the line
Mike Davis thinks he's done a good job at Indiana, but that might not matter.
Gottlieb: Learning from Coach
I learned how to play, and how to live, from at Oklahoma State from Coach Sutton.
ESPN.com experts: Other coaches to watch


Wednesday, Nov. 10: Programs Under Pressure
Graney: Somethin' Bruin in L.A.?
Ben Howland's only in year two, but the pressure's there to show progress.
Gottlieb: How the mighty have fallen
UCLA's problems run much deeper than any coaching staff.
Katz: Fallen giants
Twenty years ago, St. John's and Georgetown rules college hoops. Now they are fighting irrelevance.
Katz: Patience is a virtue
Villanova's sticking to its plan, even if the results haven't been there yet.
Fraschilla: Honeymooners

What determines the length of a coach's honeymoon? Usually the school itself.
Bilas: Stop fanning the flames

The hot seat is a media creation. I'll get back to you when there's actual news.
ESPN.com experts: Other programs under pressure
Each of our experts give you three more schools to watch.
ESPN Mag: Top 16

The Magazine likes North Carolina as the nation's top team.
ESPN Mag: Staying power
Chris Paul is Wake Forest's local boy made good.


Tuesday, Nov. 9: Hot Teams
Katz: Program with a buzz
Georgia Tech found Paul Hewitt, stuck with him, and now is reaping the rewards.
Katz: This year's "it" school
Watch out for Pops Mensah-Bonsu and the George Washington Colonials in the A-10.
Fraschilla: Capitalizing on the buzz

Sometimes getting a landmark win is the easiest part of building a program.
ESPN.com experts: Other hot teams
Each of our experts give you three more schools to watch.


Monday, Nov. 8: Impact Players
Katz: Enjoy the ride
From Kansas' seniors to new conference rivalries, a look at the final season of college hoops as we know it.
Katz: No time for timidity
Everyone expects Rudy Gay to star immediately at UConn. Except, maybe, him.
Forde: One-and-done at UK?
It was a coup for Kentucky to land Randolph Morris. Can it keep him beyond this season?
Katz: Thomas gets the point
It's now or never for Irish senior PG Chris Thomas. Can he lead his team deep into the NCAAs?
Gottlieb: Breaking down Chris Thomas
ESPN's Doug Gottlieb breaks down the game of Notre Dame PG Chris Thomas.
Fraschilla: Point guard rankings

Fran's top ten PGs, sleepers and top frosh.
ESPN.com experts: Other impact players
Each of our experts give you three more names to remember.