May's day: 26 points, 10 rebounds to lead UNC
Updated:
April 5, 2005, 1:23 AM ET
Associated Press
ST. LOUIS -- Sean May no longer needs to carry around that old videotape of his father's national championship game. Now he has one of his own.
The burly North Carolina center made all but one of his 11 shots and scored 26 points in a dominating performance, controlling the paint and leading the Tar Heels past Illinois 75-70 Monday night.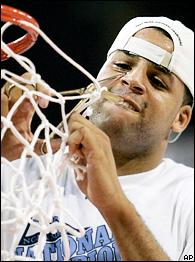 APMay helped net UNC a title.
In the process, May forced one of his defenders to foul out and left another with four fouls. And May left with the Most Outstanding Player award.
No surprise there. The son of Scott May carried North Carolina to the Final Four by averaging 21.5 points and 11.8 rebounds in the tournament, slightly better than his regular-season numbers.
"My dad is not a very emotional person, but he might get a little emotional about this," May said. "I tried to find him after the game, but he ducked into a corner. He's a little shy."
When May and his teammates arrived in St. Louis, he showed them the footage from the 1976 final, where his father and Indiana completed an undefeated season with a victory over Michigan. May had the tape since high school and had seen it before, but he saved one final viewing for the Tar Heels.
Then they went out and claimed the NCAA title, sprinting away to a big lead before holding off a late comeback by the Illini. May added 10 rebounds, grabbing the carom after a last miss by Illinois' Luther Head in the final seconds.
May's 26 points matched the total his father scored in the final 29 years ago, leaving Sean with quite a night on his 21st birthday.
"This celebration is a lot better than that '76 celebration, 'cause it's my celebration and this team," he said. "My dad talked about it for so many years, and I never really understood what it was like, I never won anything on this level."
The Illini had rarely faced someone so rugged as May, listed at 6-foot-9 and 250 pounds. And they were ill-equipped to handle him, particularly when 6-foot-10 center James Augustine left with five fouls. Reserve Jack Ingram finished with four.
"It's tough to stop May," Illini coach Bruce Weber said. "They had probably more inside threat with May than we had, and it made the difference in the game."
In the final 20 games of the season, May had 15 double-doubles, and he added the final one when it mattered most. May didn't take a shot after making two free throws with 4:21 left to give the Tar Heels a 70-67 lead, but he found other ways to help.
Head later missed a 3-pointer that would have given Illinois a tie in the final minute, and May leaped high to tip the carom to North Carolina point guard Raymond Felton. When Felton got fouled, a couple of his teammates began celebrating a bit, and May was there quickly to squash it.
He finally allowed himself to smile when it was over, soaking in the atmosphere in what might be his final college game. All season long, May firmly insisted he would be back for his senior season, but considering his effort in the tournament, the NBA surely will be an option.
"It's been unbelievable," May said. "My teammates, friends, family, they supported us. I'll never forget this till the day I die. This is the best moment I've ever had in my whole life."
May started the second half by scoring North Carolina's first two baskets, then added another less than 2 minutes later when he followed up a miss by Jawad Williams with a powerful dunk. Time and again, when the Tar Heels needed points, they went to May, and he almost always delivered.
"Man, Sean was absolutely just killing those guys," North Carolina guard Melvin Scott said. "I wish we could have gotten him the ball 12 extra times and gotten him 50."
Even when Illinois surrounded him with double teams, May couldn't be stopped. He threw a nifty crosscourt pass to set up a 3 by Williams to give North Carolina a 60-53 lead, then May had a chance for a three-point play on the next possession after making a jumper over Ingram.
Missing the free throw didn't slow him down. May converted 3-of-4 at the line to make it 65-55 before adding his final points on those free throws to set up the finish.
"They play really good defense, but they extend so much, it leaves a wide gap," May said. "Our guards did a great job getting me the ball, and they just kept feeding me."
He also had a hand in helping the Tar Heels take the lead for good, getting good position alongside teammate Marvin Williams when Rashad McCants missed a reverse layup. May and Williams both jumped for the tip, but Williams was credited with it, and the Illini couldn't recover.
"You know, it's not supposed to be easy," May said. "We have to tip our hats to them. They played well, but we didn't give up. We wanted to win."

Copyright 2005 by The Associated Press
EDITORS' PICKS
Notre Dame must be efficient to beat Kentucky.
Brennan »

Arizona, which lost to Wisconsin in last season's Elite Eight, gets a second chance.
Medcalf »

Duke and Gonzaga changed things up and moved on.
Brown »
MORE MEN'S COLLEGE BASKETBALL HEADLINES
Jordan Men's North Carolina Tar Heels Carolina Blue 'just Net' Basketball T-shirt Shop »

MOST SENT STORIES ON ESPN.COM