Monica Thompson's battle grounds husband, Hoyas
Getting to the Final Four is hard enough, but John Thompson III's been able to do it while helping his wife battle cancer, Andy Katz writes.
Originally Published:
March 25, 2007
By
Andy Katz
| ESPN.com
EAST RUTHERFORD, N.J. -- When it was over, Monica Thompson could have climbed up the ladder to trim down a piece of the East Regional championship net. She had every right to have a few inches of the twine. Her strength, her will and her support meant that much to Georgetown's run to the Final Four.
The past two years, John Thompson III hasn't said much about his wife's battle with breast cancer. But don't think for a second that he hasn't been dealing with more stress and pressure than anyone else coaching in this field.
Thompson III somehow has balanced coaching the Hoyas to the Big East regular-season and tournament titles and now to the East Regional crown, while also helping with his wife's battle and raising three children under the age of nine.
"John has done an incredible job of balancing and keeping everything in perspective," said Monica, with one of her children, giddy with excitement, hanging around her leg while she held another. "I was diagnosed in November [2005] before the first game, and my whole treatment was the entire season and I finished my chemo during the [2006] NCAA Tournament.
"He was there, he was at every single chemo treatment," Monica said. "We're able to do it through the support of friends and family and the belief in God."
Monica said she feels great.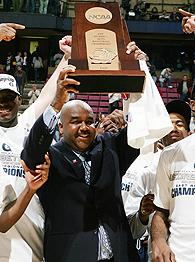 Jim McIsaac/Getty ImagesRonny Thompson floundered in one season at Ball State while his brother, John Thompson III, led Georgetown back to the Final Four.
"I'm doing well and I'm really enjoying every moment of this," she said.
Monica said she went through the whole battery of treatment: surgery, chemotherapy, radiation and more. And throughout every day, there was John, never shirking his responsibility as a father and a husband to have more time with his team.
"This game was indicative of how it has been throughout the whole season, and I would say that it's a testament to John and his character and his personality and the way he is and how he never, never gives up," Monica said.
Now you can understand her raw emotion, her real joy in seeing her husband coach the family's program to a comeback 96-84 overtime win over the deeper and, at times, relentless North Carolina Tar Heels on Sunday.
JTIII clearly was emotional with his father, John Jr., the father of the Georgetown family, in the building calling the game on radio for Westwood One. He pointed to him with about five seconds left and, just like his players, made the pilgrimage over to Big John for a bear hug after the win. It was the look he gave Monica after the game, though -- with a warm hand reaching out to her behind the bench during the on-court euphoria -- that was the moment that embodied the real perseverance of their family.
"She's enabled me to balance, and that's the truth," JTIII said. "That's the answer. I said it last year at our banquet that she's allowed me to do my job and fortunately we've been doing OK."
How has he done it?
"I don't know, I don't know the answer to that," he said. "We just work hard and she's allowed me to do my job. I've been lucky, fortunate and blessed by her strength. She's tough, she's strong, she's a fighter and that's allowed me to do my job."
This past November, Thompson briefly discussed how difficult Monica's struggles were for their family. But then, like now, he didn't want to discuss too much. Earlier Sunday, John Jr. commended his son for balancing his life and his daughter-in-law's strength. Big John has helped out as much as he can, too, with the children. This has been a true family effort to support Monica and the children while helping this program run flawlessly and at a championship level the past two seasons.
"The guy is tougher than I imagined, than I can be," said Georgetown assistant coach Kevin Broadus, who will be announced on Monday as the new head coach at Binghamton (he won't begin until after the Final Four). "He is so focused about both, it's scary. It's something that an ordinary man can't do. His will has willed that team to win.
"He's juggling being in the office at 7 in the morning, being at the hospital at 9 in the morning, individual workouts at 12:30 p.m. and practice at four and always on the go. He's got unbelievable energy and it's contagious."
Monica said the challenges have been obvious.
"He has continued his work while we've had a lot of support from friends, family and unbelievable faith has gotten us through it," Monica said.
Three years ago, while driving around the District with Thompson III, he told me how hard it was to leave Princeton since he and his wife both were alumni. But he said being home with his family was a plus that is hard to weigh. Being home near their family the past two years allowed the Thompsons to build a support network and fight the toughest of opponents off the court and on it, where they continued their dream Final Four run.
Now the Hoyas' Final Four appearance is being celebrated by the entire Thompson family. The family continues to fight for and with Monica, and her elation Sunday night was yet another step in her ongoing recovery that continues to provide strength for this program.
"I'm doing well now, my health is great," Monica said. "And my family is enjoying this moment."
Andy Katz is a senior writer at ESPN.com.
SPONSORED HEADLINES
MORE MEN'S COLLEGE BASKETBALL HEADLINES
MOST SENT STORIES ON ESPN.COM
EDITORS' PICKS
VCU won its 12th in a row and is building toward March.
Brown »

Malcolm Brogdon's game and mind a big reason Virginia is undefeated.
Power Rankings »

The Big 12 is playing havoc with our rankings. Just take a look.
Power Rankings »