Humphrey provides final piece of Gators puzzle
ATLANTA -- Long after Florida had dismantled Ohio State in yet another title game Monday night, and moments after the Gators had been presented college basketball's national championship trophy for the second season in a row, the four juniors who came back to school for a chance to repeat stood on the stage on the floor of the Georgia Dome.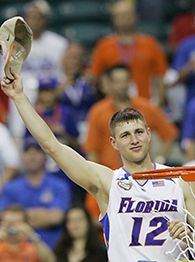 AP Photo/Morry GashWhile Lee Humphrey tipped his cap to the fans, the Florida juniors tipped their cap to Humphrey.
Point guard Taurean Green and forwards Corey Brewer, Al Horford and Joakim Noah pointed to the sea of orange and blue, raising two fingers in the air as a salute to becoming the sport's first repeat national champion since Duke in 1991 and 1992.
Amid the celebration, the juniors stopped and searched for senior guard Lee Humphrey, the team's fifth starter. Even though Humphrey joined the Gators a year earlier than the celebrated recruiting class of 2004, and despite the fact he was overshadowed by the aforementioned players throughout his college career, he was every bit as important in the Gators' extraordinary feat.
So even in celebration, the Gators weren't complete until Humphrey joined the four juniors on the stage.
"Humpty's just a beast out there, and he's such a big part of what we do," Noah said, after Florida defeated the Buckeyes 84-75 to become the seventh school to repeat as college basketball's national champion. "I've never seen anybody shoot the ball like him. I just felt like our games complemented each other. We were like a puzzle, and we all just meshed together."
So much so that even if Florida's four juniors did the unimaginable once again and returned to school for their senior season, the Gators wouldn't be the same team without Humphrey. They wouldn't be as dangerous or successful in 2007-08 without Humphrey sitting on the perimeter, waiting to throw a dagger in an opponent's heart each time one was foolish enough to double-team either Horford or Noah in the post, leaving him alone to wander outside the 3-point line.
"He's the finest pure shooter I've ever been around in the game," Gators assistant coach Larry Shyatt said.
"I've never seen anybody shoot the ball like him. I just felt like our games complemented each other. We were like a puzzle, and we all just meshed together."
-- Joakim Noah
Humphrey, the quiet, humble son of teachers from Maryville, Tenn., proved to be the finest 3-point shooter to play in the NCAA Tournament. He made four more against Ohio State, giving him 47 in 15 NCAA Tournament games in his career, breaking the previous record of 42 set by Duke guard Bobby Hurley from 1990 to 1993.
Humphrey finished with 14 points on 5-for-8 shooting, including 4-for-7 on 3-pointers. He made 15 3-pointers in the last three games of the NCAA Tournament and 113 this season, tying the Florida record he set in 2005-06.
"It's pretty cool when you think of all the players who have played in the NCAA Tournament," Humphrey said.
Humphrey's last four 3-pointers were some of the most important in his career. Each time the Buckeyes seemed on the verge of making a run and closing the gap on the Gators, Humphrey, Brewer or Green hit a 3-pointer to extend Florida's lead. In the first half, after Ohio State cut Florida's lead to 24-22 on Ivan Harris' 3-pointer from the left corner, Humphrey drilled a 3-pointer from the right wing to make it 27-22.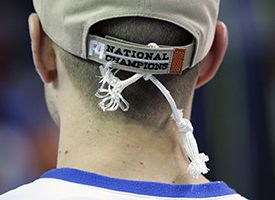 AP Photo/Mark HumphreyNot as heralded as his teammates, Florida's Lee Humphrey still leaves school with two national championships.
In the second half, Ohio State cut Florida's lead to 53-46 on point guard Mike Conley Jr.'s reverse layup. But then Humphrey made a long 3-pointer from the right side to make it a 10-point cushion once again. His third 3-pointer put the Gators ahead by 10 points, the fourth extended their lead to 12.
"It was real deflating," Ohio State guard Ron Lewis said. "You try to make a run, and they came back every time. It showed how much their veterans and leaders came ready to play."
Buckeyes coach Thad Matta said the Gators' potent 3-point shooting -- they went 10-for-18 from beyond the arc during the game -- was a result of too many defensive lapses.
"They've got really everything, you know?" Matta said. "We made some major, major mistakes defensively, and great teams make you pay. When Green came off there late and hit that one from 24 feet, it was like, 'You know, my gosh, what do we do next?' The one that Humphrey hit in the corner, I mean, I thought Michael [Conley Jr.] was there and challenged.
"They just did an incredible job of making 3s. That was one thing we really wanted to hone in on and really try to limit and take away their 3s. I thought our post guys fought like crazy and for the most part did a heck of a job there, but the 3s were daggers for us."
Mark Schlabach covers college football and basketball for ESPN.com. He can be reached at schlabachma@yahoo.com.
College Football and Basketball
College football writer for ESPN.com
Author of seven books on college football
Formerly at the Washington Post and the Atlanta Journal-Constitution
2007 FINAL FOUR
The Florida Gators defeated the Ohio State Buckeyes 84-75, becoming the first team to repeat as college basketball champion in 15 years.
Tournament Index
CHAMPIONSHIP GAME, APRIL 2:
• Donovan on Kentucky: Nothing to talk about
• Woj: Gators' lasting legacy
• Forde: Brewer delivers
• Schlabach: The senior piece
• Katz: Donovan's level raised
• Around The Rim
• Florida 84, OSU 75 | Analysis
Video:
• GameDay breakdown


• Coaches postgame


• Florida's juniors


• Repeat champions

MEDIA DAY, APRIL 1:
• Woj: Brink of history
• Forde: Megaprogram Era
• Katz: Matta's rise
• Katz: Horford full package
• Schlabach: Buckeyes different
SEMIFINALS, MARCH 31:
• Forde: Real Fab Five
• Woj: Burning questions
• Katz: Disappointed Afflalo
• Schlabach: Green turns invisible
• Katz: Conley drives Ohio State
• Around the Rim
• Florida 76, UCLA 66 | Analysis
• OSU 67, G'town 60 | Analysis
MORE MEN'S COLLEGE BASKETBALL HEADLINES
Nike Men's Ohio State Buckeyes Scarlet Elite Practice Knit Performance Shorts Shop »

MOST SENT STORIES ON ESPN.COM