Fewer mids taken, several paired against each other
Originally Published:
March 13, 2007
By
Kyle Whelliston
| Special to ESPN.com
Winthrop never had received better than a No. 14 seed in six prior trips to the NCAAs before landing a No. 11 in the Midwest regional this season. But even though the 28-4 Eagles from the Big South enter the tournament armed with the same seemingly magical seed number as George Mason 2006, their head coach doesn't like the draw very much.
"I don't think a lot of it," Gregg Marshall said of his team's Big Dance coat-check number. "I'm glad they include teams who play in non-BCS conferences, but what do you have to do to get a single-digit seed? Go 30-1? 30-2?"
Marshall isn't alone in thinking the non-BCS teams generally got the short end of the stick this March. The number of mid-major at-larges has declined from 12 to nine to eight to six over the past four fields. The Missouri Valley Conference, despite being the No. 6 league in the RPI for the second straight year, found its at-large bid band slashed from a trio in 2006 (Wichita State, Northern Iowa and Bradley) to a solo act (regular-season champion Southern Illinois) in 2007.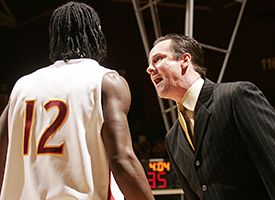 AP Photo/Willis GlassgowGregg Marshall and Winthrop have never been seeded higher, but he's still not thrilled with an 11-seed.
"I was really disappointed," said Valley commissioner Doug Elgin. "I really felt that the overall quality of our league, top to bottom, made us more worthy of a third team this year than perhaps we were for a fourth team last year. Leaguewide, we were stronger this season. The question is, did we cannibalize ourselves?"
Here's a question the big bracket already has answered: Mid-major nation is scheduled to cannibalize itself on Thursday and Friday as the field shrinks from 64 to 32. There are three instances of first round non-BCS elimination games: No. 12 Old Dominion versus No. 5 Butler in Buffalo, a New Orleans-based No. 7 versus No. 10 game that pits Nevada against Creighton, and No. 4 Southern Illinois against No. 13 Holy Cross at Columbus.
But Elgin, a former basketball committee member, discounts any anti-mid conspiracy talk.
"One of the accusations I've heard in the last few days is that the committee conspired to put mid-majors against mid-majors," said the MVC commissioner, who served on the committee from 1998 through 2002. "That's ridiculous. The basketball committee, when they put together the brackets, don't have time to think about those kind of things."
And the highest-seeded non-BCS entry is no stranger to mid-on-mid first-round action, having been paired with a fellow mid in 2005.
"My first year, we played St. Mary's," said third-year Southern Illinois head coach Chris Lowery. "We were a seven, they were a 10. We saw a mid that year, and I think it helped us understand what it is to be the hunted. But now it's totally different. We're such a high seed, now it's an upset special … we've told the kids that they've really got to respect Holy Cross."
Thanks in large part to the Salukis' No. 4 (the highest Valley entry since Tulsa's own No. 4 in 1984), there might be a hidden silver lining to the declining number of tourney mids. The average seed number drawn by teams from the lower 21 conferences actually is up slightly, from 13 in 2006 to 12 this year. And along with two top-line mid-majors in No. 5 Butler and No. 7 Nevada, the strongest candidates among the non-BCS schools perhaps were placed in a better position to move on, regardless of seed number.
"I'm not trying to backpedal here when I say that I do believe the basketball committee gets it right," said Elgin. "The committee this year had more tough calls to make than ever before, and there were some agonizingly close calls. But they came up with some great matchups … and I think one of the really, really interesting matchups is the 6-11 game in Spokane."
However, that particular No. 11 seed will face a very mid-major problem trying to make that Friday date with Notre Dame. The Rock Hill, S.C.-based Winthrop Eagles were dispatched 2,581 miles away from home to the Spokane pod, pressuring a travel budget already stretched with a trip to remote Springfield, Mo., for its BracketBusters game with eventual MVC snub Missouri State. Because of the school's limited financial resources and lack of West Coast alumni groups, Winthrop will be able to charter in only several hundred supporters for Friday's matchup.
"A Winthrop fan is as good as two regular fans, so don't worry, we'll have plenty of noise," said Marshall. "We'd rather be in Winston-Salem, but that's not the way it happened."
Kyle Whelliston is the founder of midmajority.com and a regular contributor to ESPN.com.
Senior Writer, ESPN.com
Kyle Whelliston has contributed to ESPN.com's college basketball coverage since 2005. He covers mid-major programs for Basketball Times magazine, and will have a basketball travelogue of the 2008-09 season published next summer. Whelliston also founded
midmajority.com
and statistical database site Basketball State (
bbstate.com
).
SPONSORED HEADLINES
MORE MEN'S COLLEGE BASKETBALL HEADLINES
MOST SENT STORIES ON ESPN.COM
EDITORS' PICKS
North Carolina is ready to make a big push.
Greenberg

Who are the top 25 newcomers in college hoops.
Goodman

MSU's Branden Dawson needs to elevate his game.
Brennan »