Badgers put positive spin on disappointing Sunday
Editor's note: ESPN's Shelley Smith will be traveling with the Wisconsin basketball team throughout the NCAA Tournament, and will be filing regular All-Access pieces about the Badgers.
CHICAGO -- If losing to Ohio State in the finals of the Big Ten championship wasn't bad enough, things for the Badgers only got worse.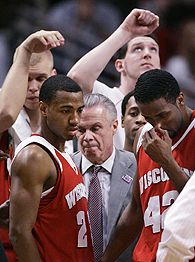 AP Photo/Nam Y. HuhWisconsin coach Bo Ryan is trying to keep his team's confidence up after a tough loss to Ohio State.
First, they and their families were relegated to the upper-level conference room filled with postgame pizza and soda to watch the selection show (while the Buckeyes were given the swanky lounge adjacent to the court, where they proudly displayed their conference tournament trophy). And then it was announced that because of NCAA rules, their families couldn't eat or drink, because the NCAA would consider that an extra benefit. As if giving a bottle of water to Aunt Betty would have landed the Badgers a top recruit.
So, because nobody wanted to risk putting Wisconsin on probation by sneaking a slice of overcooked pepperoni pizza, the players ate, the families watched and before you knew it, the selection show was on.
It didn't take long for the Badgers to learn they were the No. 2 seed in the Midwest. The players tried to feign some excitement for the cameras, but everybody was still pretty down about the game. Coach Bo Ryan gave it a good shot. That's what good coaches do.
"It's great for our families to be playing in Chicago again because it's so close," he said. "And it's just nice to hear your name called. Doesn't matter who you play."
Which, of course, is not true (but also something good head coaches say). At first, many of the players and their starving families thought they had somehow drawn Texas A&M -- the Texas A&M from the Big 12, not Texas A&M-Corpus Christi from the Southland Conference. If Wisconsin had drawn the Aggies, it definitely would have mattered which team it played. Alando Tucker laughed when asked about it, saying, "I heard them say Texas A&M and went, what? And then they kept going."
The immediate dilemma was whether anybody had any tape of the Islanders, who will be making their first appearance in the NCAA tournament. Heck, Texas A&M Corpus Christi didn't even have a team until 1999.
"We may already have them on tape," Ryan said. "We'll scramble like everybody else does, make some calls."
That was exactly what Wisconsin's video coordinator was doing while Ryan made the rounds with the media and thought about ways to help his team regroup and recharge. Everyone was exhausted from three tough games in three days ending in bitter disappointment. Nobody took it tougher than Tucker, the Big Ten Player of the Year. But he said all the right things, he was happy the Badgers had another game to play, and was happier still that they'd have Monday off and four days to prepare.
And then the Badgers boarded the bus for the two-hour trip back to Madison, Wis. They'll watch tape of the Ohio State loss on Monday, and then tape of the Islanders -- if they can find some.
SportsCenter correspondent
Shelley Smith joined ESPN in January 1997 after working part-time as a reporter for the network since 1993. She has covered Super Bowls, the NBA Finals, the BCS championship game, the Stanley Cup playoffs, golf and tennis championships and more.
SPONSORED HEADLINES
MORE MEN'S COLLEGE BASKETBALL HEADLINES
MOST SENT STORIES ON ESPN.COM
Jansport Women's Wisconsin Badgers Final Four Bound Basketball Black T-shirt Shop »