Commentary
Committee gets it right as four No. 1s head to San Antonio
Originally Published:
March 30, 2008
By
Andy Katz
| ESPN.com
Davidson's Jason Richards had a shot at history, make or miss Sunday afternoon.
[+] Enlarge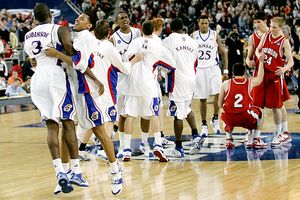 Chris Chambers/Getty ImagesOnce Jason Richards (No. 2) missed a game-winning 3, Kansas became the fourth No. 1 in the Final Four.
Make the 3-pointer to beat Kansas while Russell Robinson, Brandon Rush and Sherron Collins all took a turn for less than a second each defending him, and the Wildcats would become the first No. 10 seed in the Final Four -- a first appearance for the new chic school in suburban Charlotte as well as for the Southern Conference.
Miss, and the top-seeded Jayhawks advance and make this year's Final Four the first all-No.-1-seed event.
He missed. And, for the first time, you can say without reservation that the NCAA tournament selection committee had it all right at the top.
The bracket is built to protect the four best teams in the country, as deemed by the committee. The committee members can't predict. They can only project.
When asked late Saturday night in Charlotte what it would mean if Kansas and Memphis followed Saturday's top-seed winners UCLA and North Carolina by winning Sunday's Elite Eight games, Tar Heels coach Roy Williams said:
"It would definitely substantiate that those four teams are the best four teams in the country," Williams said. "It's validation for the committee, and I do believe that each one of those teams would have a great deal of pride that they did that. But at the end, the cruel thing about this tournament is that only one team will be standing at the end."
The harshest part of Williams' statement is that there is so much at stake for all four programs entering Saturday's national semifinals in San Antonio.
Let's forget for a moment the overriding emotional story line that Williams will be coaching against the program he led for 15 years, a departure that literally made his eyes well a bit Friday when discussing his gut-wrenching decisions in 2000 to stay at Kansas and in 2003 to depart for his alma mater. The drama of that game alone will fill newspaper pages and Internet sites and occupy plenty of talk time for the full week as Williams and Bill Self coach against each other.
How the Final Four was molded

For North Carolina, just getting to the Final Four was an accomplishment for the top-seeded Tar Heels. Junior All-American and ESPN.com Player of the Year
Tyler Hansbrough
isn't coming to the Alamodome for a sightseeing visit. He desperately wants to get a national title. It has occupied his mind since he stepped foot on campus three years ago.
Hansbrough was decidedly muted in his celebration Saturday night. He said there was more work to do. The Tar Heels -- like the rest of the Final Four teams -- aren't dominated by seniors but rather by juniors on down. The window for UNC could close, though, if Hansbrough, Ty Lawson and Wayne Ellington all decide to test the NBA draft process. The legacy, notably for Hansbrough, is at stake if he wants to get a title before he leaves. The reality is that Carolina is capable of winning the title April 7 in San Antonio and if that occurs and the team has a bit of Florida in it, the players all could return and go for two in a row and easily be considered the favorite.
No team was more dominant in its run up to the Final Four the past four games than UNC. The Heels' first two games were laughers against Mount St. Mary's and Arkansas. The Sweet 16 game against Washington State was close for 10 minutes, but, as we all know, the game is played for 40. Louisville was the only team that had Carolina in a vise -- for a few minutes -- when the score was tied at 59-59. But leave it to Hansbrough to bust it open and take over the game with seven straight points.
So, the Tar Heels have had at least one pressure moment, and it's hard to pick apart faults at this point. As for Williams' legacy, winning a second national title in four years would elevate him in the record books, although it's hard to argue that he's not on a par with his fellow active Hall of Fame coaches who have multiple titles: Connecticut's Jim Calhoun and Duke's Mike Krzyzewski.

For Kansas, there was a visible sense of relief as the last No. 1 team to join the field. Self is extremely self-assured and was confident that he would get to a Final Four at some point. But he knew this team had a legitimate chance to get to the Final Four and win the title. He knew that the moment that Rush returned healthy from tearing his ACL last spring. When talking to Self throughout the season, it was clear he knew that the window for this group wouldn't be open for long. There are a few potential early entrants on this squad, led by Rush and Darrell Arthur. The senior leadership of Robinson isn't easy to duplicate.
Drawing the David(son) in a tournament that thrives on Goliath getting knocked off seemed to amp up the pressure on Kansas even more. The Jayhawks lost in the Elite Eight last season to UCLA in San Jose. There is no shame in that, and taking KU to an Elite Eight in 2004 in his first season was quite a way to make a first impression. But losing in the first round in 2005 and '06 to Bucknell and Bradley, respectively, is never going to go over smoothly in Jayhawk Nation.
Look, the sky wouldn't have fallen had KU not landed in the Final Four, but the spring and summer likely would have felt unbearable for the staff as the sport wrapped itself around the lovable Wildcats. If you don't believe this, ask Connecticut what it felt like in the offseason after being an overwhelming favorite only to lose to the fan favorite in the building: George Mason. The roster was gutted by the NBA draft, and the Huskies are still recovering two seasons later.
Self has plenty of time to build a legacy, but getting to the Final Four with such an experienced lot can only help ease any anxious nights.

UCLA and Memphis share similar stress. This is the Bruins' third straight Final Four. They lacked a true low-post threat in losing to Florida in consecutive appearances. They recruited one by nabbing the top freshman center to play a full season in quite some time (remember Greg Oden of Ohio State was hurt for the first part of last season). Kevin Love transformed the Bruins from a predictable offensive team into one that could rely on an anchor in the post. Love also gave UCLA the most talented big-man passer in the post, from midcourt and from an inbounds underneath the opponent's basket.
UCLA coach Ben Howland has been very locked in about getting to the Final Four and winning the title while he has Love on the roster. Everyone associated with the Bruins' staff, from coaches to administrators, has noticed how focused Howland has become about the chase for the title as the season has progressed.
Howland can be controlling, even cueing up the band to play the UCLA fight song as he trimmed the last strand of the net when the Bruins won the Pac-10 tournament title in Los Angeles two weeks ago. His authoritative nature has kept the Bruins believing that they won't lose. The staff has said on a number of occasions that Howland won't ever let the Bruins believe they will lose. That clearly has paid off in close games at the end of the regular season against Stanford and Cal; in the Pac-10 tourney against USC and Stanford; and certainly in the NCAA tournament in games against Texas A&M, Western Kentucky and early on against Xavier.
The window for Howland with this group is certainly small, considering that Love is likely gone to the draft and could easily be followed by point guard Darren Collison, backup Russell Westbrook and even forward Luc Richard Mbah a Moute.

That same window is about to close for Memphis if the Tigers don't win the title. Like UCLA, Memphis went to two straight Elite Eight appearances, but the Tigers failed to reach the Final Four, losing to UCLA two years ago in Oakland and to Ohio State last season in San Antonio.
Memphis coach John Calipari has been playing the "No one believes in the Tigers" card all season despite his team's never dropping out of the top five, losing just one game and earning a No. 1 seed. The close second-round win over Mississippi State was the only drama for the Tigers. They crushed Michigan State and Texas in Houston, making it hard not to look at Memphis as a favorite to win the title.
Like UCLA, Calipari nabbed a missing piece from the stellar freshman class to get in this position, getting point guard Derrick Rose to be a difference-maker. He has been throughout the season, giving the Tigers a prolific passer, game-changer and scorer to complement All-American wing Chris Douglas-Roberts.
The Tigers have matured on the court, become much more disciplined with their shot selection and seem to be just as driven as Calipari to win the title. Case in point: the Feb. 23 loss to Tennessee at home. It was the only loss of the season, and the postgame locker room was reminiscent of that of a team that had just lost the national title. The Tigers were devastated and truly believed they couldn't lose. When they did, they were in shock, sitting in the locker room with their heads low, shirts covering their faces in the case of CDR and, for a bit, Joey Dorsey.
Calipari's window for getting a title with this group is likely one and done now with Rose likely gone as one of the top two selections in the draft, CDR expected to declare and Dorsey, the anchor inside, a senior.
Howland and Calipari already have achieved something quite special in coaching their respective teams to three straight Elite Eights (three straight Final Fours for Howland) and at least 30 wins in the past three seasons. They are truly responsible for resurrecting once-proud programs that met for the 1973 national title in St. Louis.
One of them will get a shot at the championship Monday against another tradition-rich school.
The drama Davidson provided was grand. Sophomore guard Stephen Curry arguably should earn a spot on the All-NCAA Tournament team even without reaching the Final Four. But the drama isn't over with David(son) out. There is still much to unfold for four programs, for four coaches, who have been driven to get this particular championship since Florida got its second straight a year ago.
Andy Katz is a senior writer at ESPN.com.
SPONSORED HEADLINES
MORE MEN'S COLLEGE BASKETBALL HEADLINES
MOST SENT STORIES ON ESPN.COM
NCAA Tournament 2008

Get caught up with all the news, notes, insights and analysis from the 2008 NCAA tournament.
Tournament Index

Bracket
•
Updated Bracket
Analysis
•
ATR: Memphis makes freebies, four No. 1 seeds
•
Katz: Four unique stories shape Final Four
•
Forde: Kansas ends Davidson's feel-good story
•
Griffin: Memphis' athletes overwhelm Texas
•
ATR: L'ville's missed chances; how to stop Curry
•
Katz: Hansbrough carries UNC to Final Four
•
Gene Woj: Bruins have their flaws
•
O'Neil: Love is the difference for the Bruins
•
Whelliston: Curry deflects the Madness' glory
•
Griffin: Rose, Augustin battle for spot in Final Four
•
Forde: Pressure all on Kansas, Self vs. Davidson
•
ATR: Texas clamps down on Stanford
•
Griffin: Memphis dishes out big 'I told you so'
•
Forde: Witness the brilliance of Curry, Davidson
•
Katz: Roy, Rick CEOS of their powerhouses
•
O'Neil: UCLA OK with all the drama
•
ATR: Western Kentucky's Cinderella run ends
•
Gene Woj: Enjoy Kevin Love while you can
•
Low: Cards beat Vols at their own game
•
O'Neil: Xavier's "Fresh Prince" leads way
•
Katz: UNC one step closer to Final Four
•
Griffin: The free-throw woes of Memphis, Texas
•
Forde: CDR has an effective, old-man game
•
Forde: Life is beautiful for Davidson, McKillop
•
Experts: Sixteen questions for the Sweet 16
•
Katz: Washington State's unlikely duo
•
Katz: Padgett becomes unlikely vocal leader
•
O'Neil: Xavier determined to keep it Miller time
•
Gene Woj: UCLA's Howland among the best
•
Griffin: Ryan keeps on winning at Wisconsin
•
Glockner: What's in store for the Sweet 16?
•
Forde: Texas' All-American
•
O'Neil: WVU's Alexander learns post-up game
•
The Mag: Green overcomes family adversity
•
Bilas: First weekend was a thriller

•
Dinich: Thomas gives UNC another point
•
Katz: Sneak peek at Sweet 16
Video
•
Vitale: Breaking down Hansbrough's game

•
Analysis: Knight and Vitale on UNC's win

•
Analysis: Knight and Vitale on Xavier's win

•
Johnny Gilbert's Perfect Sweet 16

•
Lunardi breaks down Sweet 16

•
Bob Knight's impressions of Sweet 16

Audio
•
Podcast: Bilas breaks down Sweet 16 action

•
Knight: Sweet 16 preparation thoughts


•
Podcast: Bilas previews Thursday games

•
Podcast: Valvano on Louisville's chances

•
Podcast: Who has helped their draft stock?

•
Podcast: Katz predicts a big upset

•
Podcast: Gottlieb on first two rounds

Photos
•
Elite Eight Day 2 photo gallery
•
Elight Eight Day 1 photo gallery
•
Sweet 16 Day 2 photo gallery
•
Sweet 16 Day 1 photo gallery
•
Day 4 photo gallery
•
Day 3 photo gallery
•
Day 2 photo gallery
•
Day 1 photo gallery
More
•
Tournament Challenge
|
Bracket Master
•
Insider tourney guide

|
BracketCaster