Commentary
Top two South seeds come in as hot as anyone
Updated:
March 17, 2008, 7:40 PM ET
By
Andy Katz
| ESPN.com
Andy Katz breaks down the four regionals. Check out his East, Midwest and West breakdowns.
South Regional
WHO'S HOT
[+] Enlarge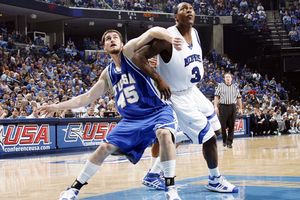 Joe Murphy/Getty ImagesMemphis rolled through Conference USA. Can the Tigers keep it up in the Dance?
•
No. 1 Memphis:
It's hard to say this team isn't scorching since it just ran through Conference USA unblemished. The only loss of the season came at home to in-state rival Tennessee. We can pick apart their warts at the free-throw line and perimeter shooting all we want, but the facts are that the Tigers still lost only one game.
• No. 12 Temple: The Owls came out of nowhere to finish second in the Atlantic 10 regular season, ahead of supposedly more tournament-ready teams like UMass, Saint Joe's, Dayton, Rhode Island and Charlotte. Fran Dunphy, who was used to winning titles at Penn in the Ivy, then coached the Owls to the A-10 tourney title over rival Saint Joe's. The transition from John Chaney to Dunphy couldn't have gone smoother in Year 2.
• No. 4 Pitt: As much as Georgia deserves credit for winning four games in four days, so too the Panthers should be given props for their run. Pitt got through a tougher conference in the same amount of time (minus a tornado and two games in one day). The Panthers beat league champ Georgetown in the final and are back to playing like they were earlier in the season.
• No. 14 Cornell: The Big Red didn't lose a game in the Ivy League. Granted, the NCAAs aren't filled with Dartmouths and Harvards, but this team hasn't lost in quite some time.
• No. 2 Texas: The Longhorns did lose to Kansas in the Big 12 title game. But they still have won 12 of their past 14 games, with the only slipups being an 83-80 loss at Texas Tech and the title-game loss to the Jayhawks.
WHO'S NOT • No. 7 Miami: The Hurricanes are coming off a loss to Virginia Tech in the ACC tournament; before that, they lost in overtime at Florida State to close the regular season. Sure, there was a win in between against NC State, but the Canes haven't closed out games in the past week.
• No. 5 Michigan State: The Spartans couldn't finish out Wisconsin in the Big Ten tournament. The previous week, they dropped a game at Ohio State. Michigan State has been inconsistent this season, to say the least.
• No. 9 Oregon: The Ducks did close the regular season with three straight wins, although one came at Oregon State. But in games away from Eugene, against real teams, the Ducks have lost three straight -- at USC, at UCLA and to Washington State in the Pac-10 quarterfinals.
BEST PLAYER
• It might be Brook Lopez of Stanford. The sophomore center has become one of the country's most proficient post scorers in the past two months.
But Robin Lopez of Stanford might be the best player not being discussed. Brook's twin is developing into quite an offensive threat. He was a bit more aggressive in the Pac-10 tournament than he has been in the past, and if that continues the Cardinal will be tough.
HIGHEST SAT/ACT SCORES
• It has to be Stanford versus Cornell. Maybe after the game the players should quiz each other.
WHAT TO WATCH FOR
• How Kentucky plays: The Wildcats are limping into the field minus Patrick Patterson. Jodie Meeks hasn't played in a while, either, so the depleted Cats will rely heavily on Joe Crawford and Ramel Bradley to carry them on the perimeter against Marquette, a perimeter-oriented team.
• Dominic James: The Marquette point guard struggled against Pitt, going 3-for-16 in the Big East tournament semifinals. That can't happen if the Golden Eagles are going to advance.
• Jarvis Varnado's shot blocking: The Mississippi State sophomore center feasts on errant shots, swatting away 148 this season (4.6 per game). If he can be a dominant presence on the back line, the Bulldogs could be trouble.
• Memphis' free-throw shooting: As a team, the Tigers shoot 59.6 percent. No one on the team is shooting 70 percent, and big man Joey Dorsey is clanking them at 39.3 percent.
CINDERELLA:
It's probably Saint Mary's. The Gaels were ranked this season, but Saint Mary's is still a tiny school in Moraga, Calif., that few outside the Bay Area know about, with an Australian point guard named Patty Mills. But the Gaels could be a spoiler.
CHALK:
• No. 1 Memphis versus No. 2 Texas in Houston would be great theater. Hearing Tigers coach John Calipari talk about the home-court advantage of the Longhorns would be good fun. So, too, would be watching Memphis guards Chris Douglas-Roberts and Derrick Rose match up against Texas' D.J. Augustin and A.J. Abrams.
Andy Katz is a senior writer at ESPN.com.
SPONSORED HEADLINES
MORE MEN'S COLLEGE BASKETBALL HEADLINES
MOST SENT STORIES ON ESPN.COM
NCAA Tournament 2008

Get caught up with all the news, notes, insights and analysis from the 2008 NCAA tournament.
Tournament Index
Brackets: PDF | GIF
Analysis
•
Katz: Sneak peek at Sweet 16
•
Forde: Dorsey a confusing, entertaining enigma
•
Low: Vols figuring out unsteady point-guard play
•
Schlabach: Horn, Lee break through at WKU
•
Dinich: Davidson proves it is no one-man show
•
ATR: UCLA wins, Day 3 recaps
•
Katz: Neitzel shoots Spartans into Sweet 16
•
Gene Woj: Trent Johnson nearly costs his team
•
Miller: Tough to stop Cardinal's Twin Towers
•
Griffin: Wisconsin gives vintage performance
•
O'Neil: WVU players embrace Huggs' toughness
•
ATR: The end to IU's tumultuous season
•
Katz: What's on tap for the weekend?
•
Forde: Tampa was awesome ... wish I was there
•
Schlabach: Still can't believe the 'Tampa Turmoil'
•
Schlabach: Siena joins upset party in Tampa
•
Schlabach: USD's Grier no long in the shadows
•
Schlabach: WKU's Rogers hits 'dream' shot
•
Dinich: Curry puts on a show against Gonzaga
•
ATR: Arizona's questions, Pitt and MSU roll
•
O'Neil: Belmont lets Duke upset slip away
•
Griffin: Beasley, Walker team up to down USC
•
Gene Woj: Kentucky's roller coaster ends
•
O'Neil: Xavier survives Dawgs' upset bid
•
Forde: Best case/Worst case scenarios
•
Lunardi: Ranking the teams 64-1
•
Experts: "Best of" lists for tourney
•
Whelliston: Mount St. Mary's honors friend
•
Forde: Bruce Pearl's purgatory
•
Katz: Officiating has had a rough season
•
Gottlieb: Scrutiny on officials higher than ever

•
Katz: Mayo, Love exceed freshman expectations
•
Rittenberg: Baby Boilers lead Purdue to Dance
•
Wojciechowski: Liking Psycho T isn't about race
•
Bilas: Grading the committee and talking snubs

• Regions:
East
|
South
|
West
|
Midwest
•
Forde: Super-sized edition of Forde Minutes
•
O'Neil: Serendipitous storylines fill bracket
•
Katz: Committee chair talks hot topics
•
Wojciechowski: 15 suggestions to improve Dance
•
Dinich: UNC's Tobacco Road to San Antonio
News
•
Curry says he's returning to Davidson next year
•
Ford Field, Reliant raise NCAA tourney to new level
•
UCLA's Mbah a Moute to have MRI
•
Nova's Drummond done for season
•
Vols' Pearl explains decision to start Prince
•
Stanford's Johnson not changing after ejection
•
UConn: Price tore ACL, likely to miss six months
•
Love, Mbah a Moute on mend for UCLA
•
Arkansas' Weems hurts knee, expected to play
Video
•
Vitale: Rounds 1 & 2 MVP

•
Vitale: Round 1 prime-time players

•
Gottlieb: Mid-majors make their mark

•
Lunardi: Video previews for all 65

•
Breaking down the East region

•
Breaking down the West Region

•
Breaking down the Midwest region

•
Breaking down the South region

•
ESPN experts fill out their brackets

Audio
•
Podcast: Bilas looks at Thursday's games

•
Podcast: Gottlieb makes bracket predictions

Strategies
•
Tiernan: "Low-risk" bracket strategy

•
Tiernan: "Medium" bracket advice

•
Tiernan: "High-risk" bracket strategy

•
Tiernan: "Dangerous" bracket advice

Photos
•
Day 4 photo gallery
•
Day 3 photo gallery
•
Day 2 photo gallery
•
Day 1 photo gallery
More
•
Tournament Challenge
|
Bracket Master
•
Insider tourney guide

|
BracketCaster