Commentary
UNC has been waiting to atone for last year's Elite Eight loss
Originally Published:
March 27, 2008
By
Andy Katz
| ESPN.com
CHARLOTTE, N.C. -- Ty Lawson said a few of his North Carolina teammates had nightmares after the Elite Eight loss to Georgetown a year ago.
Tyler Hansbrough said the reason a few of the potentially NBA-draft-ready players returned to North Carolina was because of that loss.
Tar Heels coach Roy Williams said he's convinced the defeat by Georgetown in the Meadowlands was the main motivation for his team in the offseason.
First, the Heels had to get back to the Elite Eight in the tournament.
On Thursday, they did that by slugging it out with No. 4 seed Washington State for a 68-47 victory at Charlotte Bobcats Arena.
Now what?
Go win.
There's really nothing more for the Tar Heels to do but win Saturday. They can't reach the Final Four and chase the coveted national championship that Hansbrough said he so desperately wants unless they get past the Elite Eight.
That's it. They have thought about the chance to play in this game for a year now. Memphis and Kansas enter Friday's Sweet 16 games in the South and Midwest regionals, respectively, in similar situations. Both teams lost in the Elite Eight last year and, as with North Carolina, their teams returned mostly intact with a few players spurning the lure of the NBA draft for a chance at a Final Four.
[+] Enlarge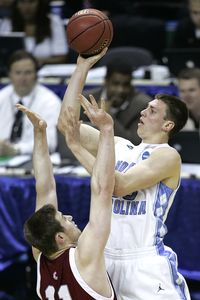 AP Photo/Nell RedmondESPN.com Player of the Year Tyler Hansbrough didn't have a field goal in the first half, but UNC showed its depth by pushing to a 14-point halftime lead.
"A lot of us were never satisfied with the full season last year," said Hansbrough, ESPN.com's Player of the Year. "We definitely had goals that weren't accomplished. We had unfinished business."
Williams said he can't think of another player who wants a chance at a title as much as Hansbrough does. It's hard to argue with that, considering how much passion and purpose Hansbrough has played with this season.
The top-seeded Tar Heels (who had the same No. 1 seed a year ago in the East) lost two games this season -- both at home. They had to play six games without Lawson because of a sprained ankle (they went 5-1 without their starting point guard). They had to find a way to win close games against Clemson (twice), at Duke, at Florida State and over Virginia Tech in the ACC tournament.
Quite frankly, they earned every bit of the home-state advantage in the NCAAs. Their first two tourney games were in Raleigh, and now they'll play for the Final Four here in Charlotte.
"It's been brought up a lot to get back here, especially early in the season," Wayne Ellington said of the 96-84 loss to the second-seeded Hoyas a year ago in the Elite Eight. "We've got to win, we've got to win and do what we've been doing all year."
One thing the Tar Heels haven't had is an issue with scoring. For the most part, save the first nine minutes, when they had only 10 points, that wasn't a major problem against the Cougars. But their much-maligned defense -- which worked so well in beating Duke and in late-game situations against Clemson -- was there again Thursday night.
Washington State coach Tony Bennett said after the game that he was happy with the Cougars' defense, which held the Tar Heels to 68 points, down from the 89.9 points a game they averaged during the season or the 100-plus they had put up in the two previous games.
[+] Enlarge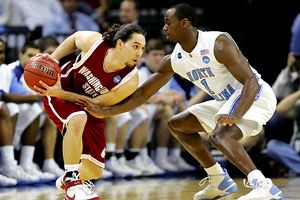 Streeter Lecka/Getty ImagesNorth Carolina's defense, which has been maligned at times this season, limited Wazzu to a season-low 47 points.
The Cougs couldn't make key shots, making just 2 of 16 3s and just 31.6 percent of their shots as they scored a season-low 47 points.
"We were in there for a long time and hung tough, but we made a lot of mistakes," WSU senior wing Kyle Weaver said. "We fought, and I'm happy about that. But we let them get some easy ones in the flow."
Thursday night, the Tar Heels showed why they might be better prepared to advance to the Final Four this season than last. Coming off the bench, Alex Stepheson blocked three shots, proving how formidable the defense can be for UNC. Hansbrough had no field goals in the first half, yet the perimeter shooting of Ellington, Danny Green and even Lawson (they combined to make all five 3s for the Tar Heels) to end the half was enough to push the Tar Heels to a 14-point lead.
"We're more focused this season, hungrier, and we're closing out games better than we did last year," Hansbrough said.
The numbers for this squad are staggering as the Heels approach the Elite Eight: They've won three NCAA games by margins of 39, 31 and 21 points; they've won 35 games so far and are 21-0 in games played away from the Smith Center (13-0 road, 8-0 neutral).
But none of that matters to the players -- at least not now -- if Carolina yet again can't get past the Elite Eight. There is no certainty that this squad, even though none of the major players is a senior, would return for yet another run.
"It's always on my mind," Hansbrough said of getting to a Final Four for the first time in his three years at Carolina. "It's one of those things that every college player wants to do and experience. It's certainly something I want to have."
Well, he and the Tar Heels have their chance -- again. That was the yearlong first step. Now, the second step is quite simple: Go win.
Andy Katz is a senior writer at ESPN.com.
NCAA Tournament 2008

Get caught up with all the news, notes, insights and analysis from the 2008 NCAA tournament.
Tournament Index

Bracket
•
Updated Bracket
Analysis
•
ATR: Memphis makes freebies, four No. 1 seeds
•
Katz: Four unique stories shape Final Four
•
Forde: Kansas ends Davidson's feel-good story
•
Griffin: Memphis' athletes overwhelm Texas
•
ATR: L'ville's missed chances; how to stop Curry
•
Katz: Hansbrough carries UNC to Final Four
•
Gene Woj: Bruins have their flaws
•
O'Neil: Love is the difference for the Bruins
•
Whelliston: Curry deflects the Madness' glory
•
Griffin: Rose, Augustin battle for spot in Final Four
•
Forde: Pressure all on Kansas, Self vs. Davidson
•
ATR: Texas clamps down on Stanford
•
Griffin: Memphis dishes out big 'I told you so'
•
Forde: Witness the brilliance of Curry, Davidson
•
Katz: Roy, Rick CEOS of their powerhouses
•
O'Neil: UCLA OK with all the drama
•
ATR: Western Kentucky's Cinderella run ends
•
Gene Woj: Enjoy Kevin Love while you can
•
Low: Cards beat Vols at their own game
•
O'Neil: Xavier's "Fresh Prince" leads way
•
Katz: UNC one step closer to Final Four
•
Griffin: The free-throw woes of Memphis, Texas
•
Forde: CDR has an effective, old-man game
•
Forde: Life is beautiful for Davidson, McKillop
•
Experts: Sixteen questions for the Sweet 16
•
Katz: Washington State's unlikely duo
•
Katz: Padgett becomes unlikely vocal leader
•
O'Neil: Xavier determined to keep it Miller time
•
Gene Woj: UCLA's Howland among the best
•
Griffin: Ryan keeps on winning at Wisconsin
•
Glockner: What's in store for the Sweet 16?
•
Forde: Texas' All-American
•
O'Neil: WVU's Alexander learns post-up game
•
The Mag: Green overcomes family adversity
•
Bilas: First weekend was a thriller

•
Dinich: Thomas gives UNC another point
•
Katz: Sneak peek at Sweet 16
Video
•
Vitale: Breaking down Hansbrough's game

•
Analysis: Knight and Vitale on UNC's win

•
Analysis: Knight and Vitale on Xavier's win

•
Johnny Gilbert's Perfect Sweet 16

•
Lunardi breaks down Sweet 16

•
Bob Knight's impressions of Sweet 16

Audio
•
Podcast: Bilas breaks down Sweet 16 action

•
Knight: Sweet 16 preparation thoughts


•
Podcast: Bilas previews Thursday games

•
Podcast: Valvano on Louisville's chances

•
Podcast: Who has helped their draft stock?

•
Podcast: Katz predicts a big upset

•
Podcast: Gottlieb on first two rounds

Photos
•
Elite Eight Day 2 photo gallery
•
Elight Eight Day 1 photo gallery
•
Sweet 16 Day 2 photo gallery
•
Sweet 16 Day 1 photo gallery
•
Day 4 photo gallery
•
Day 3 photo gallery
•
Day 2 photo gallery
•
Day 1 photo gallery
More
•
Tournament Challenge
|
Bracket Master
•
Insider tourney guide

|
BracketCaster

MOST SENT STORIES ON ESPN.COM