Commentary
Williams, Pitino have their powerhouse programs back on track
Originally Published:
March 28, 2008
By
Andy Katz
| ESPN.com
CHARLOTTE, N.C. -- The brand names of Louisville and North Carolina certainly carry plenty of weight in recruiting.
But the name on the front of the jersey, the tradition and the passionate fan base weren't enough to take the programs to a level they were accustomed to in their respective cities.
Both programs needed a CEO to lead them.
[+] Enlarge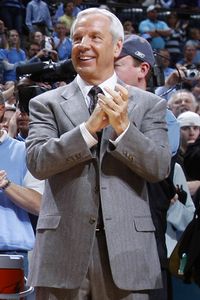 Bob Donnan-US PRESSWIRERoy Williams has the Tar Heels in their third Elite Eight in four years.
"Programs run through cycles, and the highest-level programs are the ones that receive the most limelight and attention off the court," said former Tar Heel turned UNC radio analyst Eric Montross. "There are certain personalities that can take care of everything off the court as well as everything on the court."
There are only a handful of coaches who fit that description in the game today.
Two of them are coaching in this game, running programs that desperately needed their leadership to continue thriving at or near the top of the sport.
And Louisville's Rick Pitino and UNC's Roy Williams will meet Saturday in an East Regional final (9:05 p.m. ET) at the Charlotte Bobcats Arena that will catapult one of them to yet another Final Four.
The two legendary coaching figures -- Williams a Hall of Fame member with Pitino a likely entrant in years to come -- came to each school at the perfect time.
Williams toyed with his alma mater in 2000 when Bill Guthridge left, but he stayed at Kansas. In 2003, when Williams was a bit miffed with KU's athletic director switch from Bob Frederick to Al Bohl, Williams left for UNC.
It was then the hardest decision of his life. He said that at the time; he still says that now.
At various points of his career, Williams has turned down the Lakers, the Celtics and the Heat, he said on Friday. But coming back to Carolina allowed him to spend time with his father and sister before each passed away recently.
"So for those family things it was really, really good for me, there's no question about that," Williams said.
But the question is why did it go so smoothly for Williams upon his arrival in Chapel Hill?
He took the players Matt Doherty had recruited, and in Williams' second season, he won the national title. A year later, then-freshman Tyler Hansbrough led a team gutted by the NBA draft to the NCAA tournament. Last season, the Tar Heels were back in the Elite Eight. They're back again Saturday.
"When he came in, he was able to harness the very good talent of that class," Montross said. "They needed someone to wrap their arms around them. They had the abilities and had good teaching, but the environment was ready for him to come in and line everything up. It's a high-level program, and it didn't skip a beat when he came from Kansas. And that's a credit to Roy."

It's not a surprise since we had high expectations being a top-10 pick. But he's doing a helluva job.
--Former player and assistant strength coach Ellis Myles
When told later of Montross' "smooth transition" comment, Williams laughed it off. The coach said that the good players he recruited, like the addition of freshman
Marvin Williams
to that Doherty-core group, helped win the title. And then he had a leader on board in David Noel to help foster the Hansbrough crew a year later.
Louisville had grown stagnant under former coach Denny Crum and missed the NCAAs in 2001 in Crum's last season. That's when Louisville athletic director Tom Jurich lured Pitino in a major coup, getting the former Kentucky coach to come back to the state.
The Cardinals were in Conference USA at the time and missed the Dance in his first year. But they have been dancing in five of the six seasons since then.
Pitino admitted that taking the job in Conference USA, the league the Cardinals were in when they went to the Final Four in 2005, made it easier to turn the program around sooner.
But when the program moved to the Big East for the 2005-06 season, it was a tough time for a Louisville team to be rebuilding after the Final Four run. Pitino said he never thought he would come to Louisville and coach in the Big East, a league he coached in 20 years prior at Providence.
But the fierce competition, the balance and the draining 18-game schedule have hardened this group and proved that Pitino can still deliver.
Pitino's arrival in the Elite Eight isn't unexpected, even though it appeared that way earlier in the season when the Cardinals were hit with injuries (to David Padgett) and immaturity.
[+] Enlarge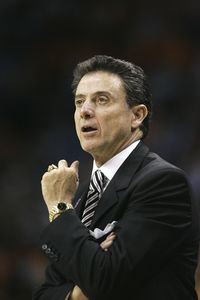 AP Photo/Gerry BroomeRick Pitino had to rebuild in the Big East, no easy task, but he's made the Cards into one of the elite programs in the super-sized league.
But by February, the Cardinals were one of the Big East's best. They played for the league's title in a showdown with Georgetown on the final day of the regular season.
"Once we got into February and were undefeated in the Big East, I knew we were a good basketball team," Pitino said.
Getting to the Elite Eight and sitting on the verge of yet another Final Four, possibly his second in his seven seasons at Louisville, would be "as good as it gets" for Pitino. The reason, he said, is because he saw this team mature.
"It's not a surprise since we had high expectations being a top-10 pick," said assistant strength coach Ellis Myles, a forward on the 2005 Final Four team. "But he's doing a helluva job."
This season's quick turnaround, which Pitino said happened upon Padgett's return from injury two months earlier than expected, is akin to how fast the program turned under Pitino.
"It's always been the same MO at every stop," Pitino said. "You need to get out there and recruit, beat the bushes and bring in players to create a style, to change an attitude."
Like Williams, Pitino has been burned by early entrants to the NBA. He had to deal with a few players who didn't even come to school after signing with Louisville (Sebastian Telfair and Amir Johnson).
Still, Pitino has pushed the Cards to be one of the class programs in the Big East (with a host of others notably Georgetown and Pitt). Carolina has the same distinction with Duke in the ACC, although it's easy to argue that the Tar Heels have raced past the Blue Devils in the past two seasons.
Their numbers are staggering.
Williams and Pitino are tied for sixth place in NCAA history with five Final Four appearances each. The winner will be tied with former Kentucky coach Adolph Rupp and former Louisville coach Crum for fourth place.
There's no denying how much both have meant to their powerhouse programs over the past few years.
Andy Katz is a senior writer at ESPN.com.
SPONSORED HEADLINES
MORE MEN'S COLLEGE BASKETBALL HEADLINES
MOST SENT STORIES ON ESPN.COM
NCAA Tournament 2008

Get caught up with all the news, notes, insights and analysis from the 2008 NCAA tournament.
Tournament Index

Bracket
•
Updated Bracket
Analysis
•
ATR: Memphis makes freebies, four No. 1 seeds
•
Katz: Four unique stories shape Final Four
•
Forde: Kansas ends Davidson's feel-good story
•
Griffin: Memphis' athletes overwhelm Texas
•
ATR: L'ville's missed chances; how to stop Curry
•
Katz: Hansbrough carries UNC to Final Four
•
Gene Woj: Bruins have their flaws
•
O'Neil: Love is the difference for the Bruins
•
Whelliston: Curry deflects the Madness' glory
•
Griffin: Rose, Augustin battle for spot in Final Four
•
Forde: Pressure all on Kansas, Self vs. Davidson
•
ATR: Texas clamps down on Stanford
•
Griffin: Memphis dishes out big 'I told you so'
•
Forde: Witness the brilliance of Curry, Davidson
•
Katz: Roy, Rick CEOS of their powerhouses
•
O'Neil: UCLA OK with all the drama
•
ATR: Western Kentucky's Cinderella run ends
•
Gene Woj: Enjoy Kevin Love while you can
•
Low: Cards beat Vols at their own game
•
O'Neil: Xavier's "Fresh Prince" leads way
•
Katz: UNC one step closer to Final Four
•
Griffin: The free-throw woes of Memphis, Texas
•
Forde: CDR has an effective, old-man game
•
Forde: Life is beautiful for Davidson, McKillop
•
Experts: Sixteen questions for the Sweet 16
•
Katz: Washington State's unlikely duo
•
Katz: Padgett becomes unlikely vocal leader
•
O'Neil: Xavier determined to keep it Miller time
•
Gene Woj: UCLA's Howland among the best
•
Griffin: Ryan keeps on winning at Wisconsin
•
Glockner: What's in store for the Sweet 16?
•
Forde: Texas' All-American
•
O'Neil: WVU's Alexander learns post-up game
•
The Mag: Green overcomes family adversity
•
Bilas: First weekend was a thriller

•
Dinich: Thomas gives UNC another point
•
Katz: Sneak peek at Sweet 16
Video
•
Vitale: Breaking down Hansbrough's game

•
Analysis: Knight and Vitale on UNC's win

•
Analysis: Knight and Vitale on Xavier's win

•
Johnny Gilbert's Perfect Sweet 16

•
Lunardi breaks down Sweet 16

•
Bob Knight's impressions of Sweet 16

Audio
•
Podcast: Bilas breaks down Sweet 16 action

•
Knight: Sweet 16 preparation thoughts


•
Podcast: Bilas previews Thursday games

•
Podcast: Valvano on Louisville's chances

•
Podcast: Who has helped their draft stock?

•
Podcast: Katz predicts a big upset

•
Podcast: Gottlieb on first two rounds

Photos
•
Elite Eight Day 2 photo gallery
•
Elight Eight Day 1 photo gallery
•
Sweet 16 Day 2 photo gallery
•
Sweet 16 Day 1 photo gallery
•
Day 4 photo gallery
•
Day 3 photo gallery
•
Day 2 photo gallery
•
Day 1 photo gallery
More
•
Tournament Challenge
|
Bracket Master
•
Insider tourney guide

|
BracketCaster