Commentary
Xavier feels the 3-seed pressure but finally ends Dawgs' Cinderella run
Originally Published:
March 20, 2008
By
Dana O'Neil
| ESPN.com
WASHINGTON -- Sitting on the bench in the first half of his game against Georgia, B.J. Raymond could almost feel the burden sitting on his wide-set shoulders.
The enormity of it all for Xavier, the heft of carrying the mantle for a league that spent the entire regular season taking swipes at the mid-major moniker, the pressure of living up to a No. 3 seed and perhaps heaviest of all, taking the court for a lunchtime date with a team that spent the weekend rewriting Cinderella's fairy tale.
"I personally feel for a 3-14 matchup, there was a lot of pressure in this game," Raymond said. "I think we were a little nervous. The first NCAA game, and they were like America's team. After what they did, winning three games in a row or whatever, everyone loved them."
For 20 minutes, the Musketeers appeared to fall under Cindy's spell. Georgia, a team that needed a tornado to blow it into the tournament, was poised to pull off the tourney's first upset, leading Xavier by nine at the break.
But the Bulldogs' pixie dust finally ran into a wind machine, blown away by Xavier's second-half defense. The Musketeers put a clamp down on a Georgia team already pushing E, limiting the Dawgs to 15 points in the final 12 minutes of the second half and rolling to a 73-61 win, a final that looks easy but wasn't.
[+] Enlarge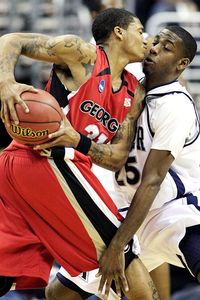 AP Photo/Pablo Martinez MonsivaisXavier clamped down defensively on Georgia in the second half to end the Dawgs' Cinderella run.
Xavier faces Purdue in the second round on Saturday.
"Coach was yelling, 'Where's your heart? It's your senior year, is this the way you want to go out?'" Stanley Burrell said of the halftime locker room, when the Musketeers trailed 35-26. "We were not playing like the 3-seed everyone knows."
The thing is, a lot of people wondered if they were a 3-seed. Pundits questioned the merit of the spot, after Xavier's conference tourney flameout to Saint Joseph's, following up a regular-season finale dusting by the Hawks as well.
"We didn't ask to be a 3-seed," Drew Lavender said. "No matter what we were given, we were going to go out and play hard."
But the league sort of did ask for the respect that Xavier received. Check that, the Atlantic 10 all but demanded it. Following the X-men's own lead -- the Musketeers said no thank you to a mid-major weekly award for Lavender -- the A-10 this season argued it should be considered among the power leagues and treated accordingly.
On Selection Sunday, it got what it hoped for. The conference put three teams in the tourney -- A-10 tournament champion Temple, Xavier and Saint Joe's -- and the Musketeers were put on the same line as the big boys, a 3-seed right alongside Louisville, Wisconsin and Stanford.
And then league commissioner Linda Bruno spent the early afternoon of the first day of the tournament thinking, "Careful what you wish for." Tournament champion Temple lost to Michigan State in Denver, and her conference's flagship program avoided an epic upset.
"We spend all this time arguing that we deserve two to four teams in and then we get that; then we say we deserve good seeds and we get that, but then you don't want it to just end," Bruno said. "If we all disappear early, people will start to say we didn't deserve to be in. The deeper you go, the more weight it carries."
The more weight it also puts on the program at the top of the pecking order. To be sure, if there is a mule for the A-10, it is Xavier. Making their seventh NCAA appearance in the past eight years, the Musketeers were a 3-seed in 2003 when national player of the year David West patrolled the paint. And a year later, they put together their own Georgia-esque run, stunning undefeated Saint Joe's in the A-10 tourney and riding that wave all the way to the Elite Eight.

The first game of the tournament is hard. Everybody knows that. But we can't come out scared. We've got to come out fighting.
--Stanley Burrell
But it should be noted that Xavier as a No. 3 seed lost in the second round to Maryland, and the Elite Eight team was a No. 7 seed.
Playing the favorite ain't all it's cracked up to be.
The trick for Xavier is to find a balance, to play with the authority and sense of entitlement of a favorite and the necessary chip of an underdog. The Georgia game just might have provided it.
No one was more disgusted with Xavier than Xavier after a first half in which Georgia scored 35 points. The Bulldogs shot 53 percent from the floor, stunning the Musketeers with easy baskets like the high-flying Terrance Woodbury to Albert Jackson fast-break alley-oop that was every bit as impressive as it was stunning against a team that boasts arguably the nation's best defender in Burrell and a team defense that allows just 62 points per game.
"If we don't defend the way we're capable of defending, we're going to get ourselves in the exact same hole again," said Burrell, who all but harassed Georgia point guard Sundiata Gaines, holding the Dawgs' high scorer to 13 points and five turnovers. "The first game of the tournament is hard. Everybody knows that. But we can't come out scared. We've got to come out fighting."
Dana O'Neil covers college basketball for ESPN.com and can be reached at espnoneil@live.com.
College Basketball
College basketball reporter.
Joined ESPN in 2007.
Graduate of Penn State University.
SPONSORED HEADLINES
MORE MEN'S COLLEGE BASKETBALL HEADLINES
MOST SENT STORIES ON ESPN.COM
NCAA Tournament 2008

Get caught up with all the news, notes, insights and analysis from the 2008 NCAA tournament.
Tournament Index
Brackets: PDF | GIF
Analysis
•
Katz: Sneak peek at Sweet 16
•
Forde: Dorsey a confusing, entertaining enigma
•
Low: Vols figuring out unsteady point-guard play
•
Schlabach: Horn, Lee break through at WKU
•
Dinich: Davidson proves it is no one-man show
•
ATR: UCLA wins, Day 3 recaps
•
Katz: Neitzel shoots Spartans into Sweet 16
•
Gene Woj: Trent Johnson nearly costs his team
•
Miller: Tough to stop Cardinal's Twin Towers
•
Griffin: Wisconsin gives vintage performance
•
O'Neil: WVU players embrace Huggs' toughness
•
ATR: The end to IU's tumultuous season
•
Katz: What's on tap for the weekend?
•
Forde: Tampa was awesome ... wish I was there
•
Schlabach: Still can't believe the 'Tampa Turmoil'
•
Schlabach: Siena joins upset party in Tampa
•
Schlabach: USD's Grier no long in the shadows
•
Schlabach: WKU's Rogers hits 'dream' shot
•
Dinich: Curry puts on a show against Gonzaga
•
ATR: Arizona's questions, Pitt and MSU roll
•
O'Neil: Belmont lets Duke upset slip away
•
Griffin: Beasley, Walker team up to down USC
•
Gene Woj: Kentucky's roller coaster ends
•
O'Neil: Xavier survives Dawgs' upset bid
•
Forde: Best case/Worst case scenarios
•
Lunardi: Ranking the teams 64-1
•
Experts: "Best of" lists for tourney
•
Whelliston: Mount St. Mary's honors friend
•
Forde: Bruce Pearl's purgatory
•
Katz: Officiating has had a rough season
•
Gottlieb: Scrutiny on officials higher than ever

•
Katz: Mayo, Love exceed freshman expectations
•
Rittenberg: Baby Boilers lead Purdue to Dance
•
Wojciechowski: Liking Psycho T isn't about race
•
Bilas: Grading the committee and talking snubs

• Regions:
East
|
South
|
West
|
Midwest
•
Forde: Super-sized edition of Forde Minutes
•
O'Neil: Serendipitous storylines fill bracket
•
Katz: Committee chair talks hot topics
•
Wojciechowski: 15 suggestions to improve Dance
•
Dinich: UNC's Tobacco Road to San Antonio
News
•
Curry says he's returning to Davidson next year
•
Ford Field, Reliant raise NCAA tourney to new level
•
UCLA's Mbah a Moute to have MRI
•
Nova's Drummond done for season
•
Vols' Pearl explains decision to start Prince
•
Stanford's Johnson not changing after ejection
•
UConn: Price tore ACL, likely to miss six months
•
Love, Mbah a Moute on mend for UCLA
•
Arkansas' Weems hurts knee, expected to play
Video
•
Vitale: Rounds 1 & 2 MVP

•
Vitale: Round 1 prime-time players

•
Gottlieb: Mid-majors make their mark

•
Lunardi: Video previews for all 65

•
Breaking down the East region

•
Breaking down the West Region

•
Breaking down the Midwest region

•
Breaking down the South region

•
ESPN experts fill out their brackets

Audio
•
Podcast: Bilas looks at Thursday's games

•
Podcast: Gottlieb makes bracket predictions

Strategies
•
Tiernan: "Low-risk" bracket strategy

•
Tiernan: "Medium" bracket advice

•
Tiernan: "High-risk" bracket strategy

•
Tiernan: "Dangerous" bracket advice

Photos
•
Day 4 photo gallery
•
Day 3 photo gallery
•
Day 2 photo gallery
•
Day 1 photo gallery
More
•
Tournament Challenge
|
Bracket Master
•
Insider tourney guide

|
BracketCaster