Commentary
Alexander's post-up game has taken him from doghouse to Sweet 16
Originally Published:
March 25, 2008
By
Dana O'Neil
| ESPN.com
WASHINGTON -- Trapped on the block by two Duke defenders, Joe Alexander took a dribble, ball faked one way, turned the other and shot over the Blue Devils tandem.
Bank shot, score the bucket.
To his credit, Billy Hahn didn't double over in laughter.
[+] Enlarge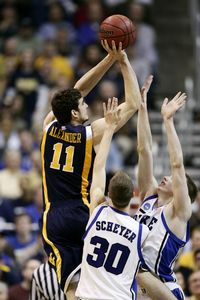 James Lang-US PRESSWIREJoe Alexander has learned quickly how to work in the post. He's now facing double teams but still finds a way to score.
The West Virginia assistant coach remembers the bleak days, long before Alexander took March by storm and asserted himself as one of the best players in the game and his team as one of the last 16 standing. He lived the agonizingly frustrating first days when Bob Huggins came to Morgantown, ran down his roster, failed to spy a post player and decided that the 6-foot-8 Alexander would be the solution, ignoring the fact that the kid had never so much as posted up a doorjamb.
"It was kindergarten post-up," Hahn said. "He had no idea what he was doing, no idea. We had to teach him everything. Ev-er-y thing."
Play word association with the name Bob Huggins and you are sure to get references to his troubled past, his stare down with Cincinnati president Nancy Zimpher that ended with Huggins out of a job and out of coaching for a year, his revival at Kansas State and his quick adios when his alma mater came a-calling.
All are legit reactions, but they gloss over a rather significant fact: Huggins can coach. He led Cincinnati to 14 consecutive NCAA tournament berths, including the 1992 Final Four. And this season, he twisted a finesse, zone-defense team into a scrappy, man-to-man squad, all the while counting on the transformation of a kid who dreamed of being a guard and his mastering of a position he'd never played before in his entire life.
The absurd part is, it worked. Since March 1, Alexander is averaging 24.7 points and 7.9 rebounds per game and, not coincidentally, West Virginia has stormed to a surprise berth in the Big East tournament semifinals, a first-round win over Arizona, an upset thumping of No. 2-seed Duke and now a Sweet 16 date with No. 3 seed Xavier on Thursday (7:10 p.m. ET).
"It's like when a baby learns to walk," Hahn said. "One day he can't do it and then all of a sudden, it clicks. Of course, we wished it had clicked a little earlier, but we'll take it."
This is nothing shy of a total buy in, a 100 percent conversion to the Church of Huggy Bear. Ask Alexander if he could be half the player he is without Huggins, and the exchange goes something like this:
"If Coach Huggins doesn't come this year, do you…"
"No, no way," Alexander interrupts. "Not even close. I always wanted to be a guard."
For two collegiate seasons, Alexander played like one. In John Beilein's 3-happy offense, Alexander launched 132 shots from beyond the arc during his freshman and sophomore seasons. That he made just 40 of them didn't stop him from taking them.
This season, he's put up only 40 treys.

The last part of February, early March he's become an elite player. And as a result, their team took another step up.
--Mike Krzyzewski
Huggins and Alexander intersected at the perfect time. Alexander always will be eternally grateful for Beilein, the lone coach who saw any Division I potential in him, but by the end of his sophomore season Alexander had lost his confidence as well as his coach's. Alexander chafed under Beilein's strict style rules, and the more he balked, the less he played, his minutes dwindling and his points plummeting in direct correlation. By season's end, his per-game scoring average fell from 13 to a little more than 10. In Alexander's final nine games, he averaged just 4.6 points.
In other words, he was ready for a change. You could say he got one.
Good thing Alexander is used to abrupt shifts.
From the time he was 2 until he was a junior in high school, Alexander lived in Taiwan and China while his parents worked for Nestle. He is fluent in Mandarin and will gladly jot down tips in Chinese on a notebook if you're looking for places to eat when you visit the country (as one reporter was postgame last week). Hahn calls him flaky -- "cerebral flaky," he clarified -- because Alexander is as likely to debate what's going on in the Chinese government as he is the best YouTube video.
A through-and-through American kid now, he suffered horrible culture shock as a re-transplanted American when his family settled in suburban Maryland.
March Masters
Just how well is Joe Alexander playing right now? Well, he leads the country with points scored in March.
• WVU's
Joe Alexander
197 points (24.6 ppg)
• Davidson's
Stephen Curry
173 points (28.8 ppg)
• UNC's Tyler Hansbrough 165 points (20.6 ppg)
• Virginia's
Sean Singletary
163 points (23.3 ppg)
"It's like America's youth has this great inside joke," Alexander said. "And if you don't grow up here, you don't get it."
So John Beilein to Bob Huggins? Please.
Alexander knew Huggins' reputation. Who didn't? But he also heard from former players who told him that if Huggins is yelling at you, he's trying to make you better. And if Alexander could withstand the withering criticism, he would be better for it.
"No one realizes he's a teacher first," Alexander said.
So the kid who grew up shooting hoops with a trapezoidal lane, who never played any version of team basketball until his junior year in high school, signed on for a complete cultural shift in his game. Forget Pete Newell's Big Man Camp. Alexander was introduced to Bob Huggins Big Man Boot Camp, with the entire coaching staff serving as 24-hour counselors.
The curriculum was simple: No break, no rest and little patience.
Huggins understood that Alexander wasn't going to master things immediately, but he also didn't exactly have a whole lot of time to spare. He knew that as Alexander's education went, so went the Mountaineers' success.
Consequently Alexander went from Beilein's whipping boy to Huggins', yanked in a game against Duquesne and chronically screeched and screamed at. He struggled with the footwork, realizing quickly "it's a lot harder than people think," playing more like an elbows-and-ankles awkward teenager than a shrewd veteran.
[+] Enlarge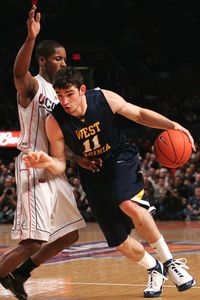 AP Photo/Frank Franklin IIJoe Alexander's play in late February and March has started whispers of will he or won't he musings with regard to the testing the early-entry NBA draft waters.
He was all over the map, sandwiching two 20-point games around a four-point night, four consecutive games in double figures with a three-game run where he managed only seven per game. Alexander was frustrated, Huggins exasperated, and the Mountaineers as unpredictable as their enigmatic star. West Virginia lost by one to Georgetown and got blown out by Cincinnati a game later (a loss made all the uglier for the mustard suit Huggins donned), smoked Rutgers and Seton Hall but got manhandled by Villanova.
And then it happened seemingly overnight. All the teaching, the yelling, the cajoling, the work made sense. Huggins said it was because Alexander slowed down, stopped trying to make 100 moves a nanosecond.
Whatever the root, the windfall was insanely immediate. Just as West Virginia was in danger of falling out of NCAA contention, Alexander went for 32 in back-to-back nights, one a respectable loss at Connecticut, the other a statement win against Pittsburgh.
The kid who had never scored more than 26 in his career and topped 20 only eight times in his previous 73 games, followed those two nights up with 29 against St. John's in the regular-season finale, 22 against Providence in the Big East tournament opening round and 34 against Connecticut in a quarterfinal win that permanently pushed the Mountaineers off the bubble.
"The last part of February, early March he's become an elite player," said Duke coach Mike Krzyzewski after Alexander went for 22 and 11 against the Blue Devils. "And as a result, their team took another step up."
Alexander was named to the All-Big East first team, and now his name is in the NBA conversation. There's no word on what he'll do, not while the Mountaineers are still playing, but he's an intriguing prospect given his combination of a solid midrange game with good hands, the ability to threaten on the 3-point line and a solid repertoire of low-post moves.
The very fact that a kid who nine months ago had no clue how to play in the low post is even mentioned as a possible early-entry commodity says everything about the ability of the teacher and the willingness of the student.
"Where is he now? There are still days we look out there and say, 'What is he doing?' So maybe [he's in] 'high school post-up' [now]," Hahn said. "He hasn't even begun to hit the top of the curve."
Hahn paused.
"Scary, huh?" he said.
Dana O'Neil covers college basketball for ESPN.com and can be reached at espnoneil@live.com.
College Basketball
College basketball reporter.
Joined ESPN in 2007.
Graduate of Penn State University.
SPONSORED HEADLINES
MORE MEN'S COLLEGE BASKETBALL HEADLINES
MOST SENT STORIES ON ESPN.COM
NCAA Tournament 2008

Get caught up with all the news, notes, insights and analysis from the 2008 NCAA tournament.
Tournament Index

Bracket
•
Updated Bracket
Analysis
•
ATR: Memphis makes freebies, four No. 1 seeds
•
Katz: Four unique stories shape Final Four
•
Forde: Kansas ends Davidson's feel-good story
•
Griffin: Memphis' athletes overwhelm Texas
•
ATR: L'ville's missed chances; how to stop Curry
•
Katz: Hansbrough carries UNC to Final Four
•
Gene Woj: Bruins have their flaws
•
O'Neil: Love is the difference for the Bruins
•
Whelliston: Curry deflects the Madness' glory
•
Griffin: Rose, Augustin battle for spot in Final Four
•
Forde: Pressure all on Kansas, Self vs. Davidson
•
ATR: Texas clamps down on Stanford
•
Griffin: Memphis dishes out big 'I told you so'
•
Forde: Witness the brilliance of Curry, Davidson
•
Katz: Roy, Rick CEOS of their powerhouses
•
O'Neil: UCLA OK with all the drama
•
ATR: Western Kentucky's Cinderella run ends
•
Gene Woj: Enjoy Kevin Love while you can
•
Low: Cards beat Vols at their own game
•
O'Neil: Xavier's "Fresh Prince" leads way
•
Katz: UNC one step closer to Final Four
•
Griffin: The free-throw woes of Memphis, Texas
•
Forde: CDR has an effective, old-man game
•
Forde: Life is beautiful for Davidson, McKillop
•
Experts: Sixteen questions for the Sweet 16
•
Katz: Washington State's unlikely duo
•
Katz: Padgett becomes unlikely vocal leader
•
O'Neil: Xavier determined to keep it Miller time
•
Gene Woj: UCLA's Howland among the best
•
Griffin: Ryan keeps on winning at Wisconsin
•
Glockner: What's in store for the Sweet 16?
•
Forde: Texas' All-American
•
O'Neil: WVU's Alexander learns post-up game
•
The Mag: Green overcomes family adversity
•
Bilas: First weekend was a thriller

•
Dinich: Thomas gives UNC another point
•
Katz: Sneak peek at Sweet 16
Video
•
Vitale: Breaking down Hansbrough's game

•
Analysis: Knight and Vitale on UNC's win

•
Analysis: Knight and Vitale on Xavier's win

•
Johnny Gilbert's Perfect Sweet 16

•
Lunardi breaks down Sweet 16

•
Bob Knight's impressions of Sweet 16

Audio
•
Podcast: Bilas breaks down Sweet 16 action

•
Knight: Sweet 16 preparation thoughts


•
Podcast: Bilas previews Thursday games

•
Podcast: Valvano on Louisville's chances

•
Podcast: Who has helped their draft stock?

•
Podcast: Katz predicts a big upset

•
Podcast: Gottlieb on first two rounds

Photos
•
Elite Eight Day 2 photo gallery
•
Elight Eight Day 1 photo gallery
•
Sweet 16 Day 2 photo gallery
•
Sweet 16 Day 1 photo gallery
•
Day 4 photo gallery
•
Day 3 photo gallery
•
Day 2 photo gallery
•
Day 1 photo gallery
More
•
Tournament Challenge
|
Bracket Master
•
Insider tourney guide

|
BracketCaster