Commentary
'Fresh Prince of Xavier' leads way for Musketeers
Originally Published:
March 27, 2008
By
Dana O'Neil
| ESPN.com
PHOENIX -- Right before they left their hotel room, B.J. Raymond and Josh Duncan flicked around the television dial and found an old episode of "The Fresh Prince of Bel-Air."
If a television show can serve as an omen, this qualifies.
Not only is Fresh Prince Duncan's favorite show and Will Smith Duncan's favorite actor -- people even say Duncan looks like Smith, and with the ears and the eyes, you can see it -- but the show very well could be the story of Duncan's life.
The Fresh Prince, for those not well-versed in 1990s sitcoms, was about a kid, "In West Philadelphia born and raised," who was booted out of the city by his mother and into the lap of luxury at his uncle's posh palace in Beverly Hills, the classic fish out of water story.
Duncan, the quintessential humble son of a preacher man, couldn't be any more of a college basketball misfit if he tried. In the world of "SportsCenter" posturing, stat stuffing and general showboating, Duncan would rather gouge his eyes out with a spoon than take credit.
Returning to the locker room after carrying four fouls for 17:31 and scoring a career-high 26 points to lift Xavier over West Virginia, 79-75 in overtime, and send the Musketeers back to the Elite Eight for the second time since 2004, Duncan looked nothing less than pained to be talking about himself.

I have to be careful how I say this because I love all of my players, but I don't think I've ever been around a better kid than Josh Duncan. He's a kid of such high character. But I think people are also starting to see him for his talent. I don't know of a forward in the game playing like him.
--Sean Miller
"I just tried to play aggressive," he said. "You know, take what the defense gave me."
His teammates will tell you Duncan is a phony, that the quiet, almost shy kid who stares wide-eyed at the television cameras is nothing like the guy they see in the locker room. Stanley Burrell said Duncan is a cutup, a guy who can do a mean imitation of coach Sean Miller and has a dry wit that will bust up a room.
And Raymond is almost giddy when he gets to come clean about the collection of Fresh Prince DVDs Duncan lugs around with him.
Asked about his love affair with Will Smith, Duncan all but guffawed.
"Man, they're telling all my secrets," he said, laughing. "The students had a sign at school, my head on Will Smith's body, and it said, 'The Fresh Prince of Xavier.' I've always liked him, even before people said I looked like him."
But the funny man never crosses the line. He doesn't curse -- "We try to get him, 'Josh, what did you say?' But nah, he never cusses," Raymond said -- and never rocks the boat, even when most people might be inclined to poke a hole and sink the whole damn thing.
During a horrific December swing, Duncan missed 21 of 29 field goals in four games, then told Miller he could play with a gimpy knee and instead didn't take a shot in a loss to Arizona State.
Miller yanked Duncan out of the starting lineup, not so much as punishment but in an attempt to resurrect a decent starting lineup for his team. Miller didn't tell Duncan of his plan ahead of time, just did it, and Duncan never complained -- not to his coach, not to his teammates, not even to Raymond on the road.
Xavier rains 3s
Xavier nearly blew a 14-point lead, but Drew Lavender's timely 3 and B.J. Raymond's two 3s -- one at the end of regulation and the other at the end of OT -- gave the Musketeers a 79-75 win. Instant Analysis
Told that most people wouldn't react with as much, um, grace, Duncan shrugged his shoulders.
"I guess I'm not like most people," he said.
Uh, no.
"I have to be careful how I say this because I love all of my players, but I don't think I've ever been around a better kid than Josh Duncan," Miller said. "He's a kid of such high character. But I think people are also starting to see him for his talent. I don't know of a forward in the game playing like him."
From those depths of December, Duncan has been riding a high since February. In back-to-back games that month, Duncan went 15-for-15 from the floor, missing out on perfection only because he hit 6 of 8 from the line against Charlotte.
Since his December swoon, he has failed to reach double figures only four times on a team that is almost maniacally balanced in its scoring.
And against West Virginia, Duncan beat Joe Alexander at his own game. Alexander was supposed to be the matchup nightmare, the low-post player who also could drain a 3-pointer. Except there was Duncan, all 6-foot-9 of him, sinking two 3-pointers in the first six minutes and posting up to draw a foul in between.
Whistled for his fourth foul as he battled Alexander for an offensive rebound with 12:31 left in the game, Duncan never fouled out. Alexander exited with his fifth foul 30 seconds into OT.
"That doesn't surprise me even a little bit," Burrell said. "That's Josh. He's a veteran. He doesn't make mistakes. I'm so happy for him to have a game like that in a game like this."
[+] Enlarge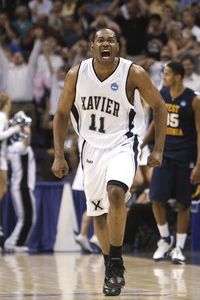 AP Photo/Chris CarlsonA couple of B.J. Raymond 3s in overtime made the difference for Xavier.
Duncan, true to form, didn't think his contribution was all that special. He was more impressed with his road roommate, Raymond. Scoreless and somewhere this side of awful for regulation, Raymond scored all eight of his points in overtime, zinging back-to-back 3-pointers to seal the victory.
On what would be the winning shot with 28 seconds left and two seconds on the shot clock, Burrell intended to toss a lob in to Duncan. But Duncan shook off the lob, recognizing immediately that he was drawing too much attention from West Virginia to get the pass cleanly. At the same time, Raymond heard the Mountaineers yelling, 'Lob, lob,' so he quickly popped out to the farside 3-point arc. Burrell, without a timeout and counting in his head -- worried that he was going to get tagged with a 5-second call -- heaved the ball across the court to Raymond, all alone.
Swish.
"It felt good when I shot it," Raymond said. "I know. I just know."
When they aren't watching Fresh Prince, Raymond and Duncan spend quiet times in their room talking. Rather than shy away from their own personal dreams and the expectations they know they're carrying on their shoulders, the two talk openly about not wanting the run to end.
"One time just last week, I caught him," Raymond said. " He said something like, 'I'm gonna miss this.' I said, 'Not yet.'"
No, not yet. Raymond and Duncan would like to watch three more Fresh Prince episodes together.
Dana O'Neil covers college basketball for ESPN.com and can be reached at espnoneil@live.com.
College Basketball
College basketball reporter.
Joined ESPN in 2007.
Graduate of Penn State University.
SPONSORED HEADLINES
MORE MEN'S COLLEGE BASKETBALL HEADLINES
MOST SENT STORIES ON ESPN.COM
NCAA Tournament 2008

Get caught up with all the news, notes, insights and analysis from the 2008 NCAA tournament.
Tournament Index

Bracket
•
Updated Bracket
Analysis
•
ATR: Memphis makes freebies, four No. 1 seeds
•
Katz: Four unique stories shape Final Four
•
Forde: Kansas ends Davidson's feel-good story
•
Griffin: Memphis' athletes overwhelm Texas
•
ATR: L'ville's missed chances; how to stop Curry
•
Katz: Hansbrough carries UNC to Final Four
•
Gene Woj: Bruins have their flaws
•
O'Neil: Love is the difference for the Bruins
•
Whelliston: Curry deflects the Madness' glory
•
Griffin: Rose, Augustin battle for spot in Final Four
•
Forde: Pressure all on Kansas, Self vs. Davidson
•
ATR: Texas clamps down on Stanford
•
Griffin: Memphis dishes out big 'I told you so'
•
Forde: Witness the brilliance of Curry, Davidson
•
Katz: Roy, Rick CEOS of their powerhouses
•
O'Neil: UCLA OK with all the drama
•
ATR: Western Kentucky's Cinderella run ends
•
Gene Woj: Enjoy Kevin Love while you can
•
Low: Cards beat Vols at their own game
•
O'Neil: Xavier's "Fresh Prince" leads way
•
Katz: UNC one step closer to Final Four
•
Griffin: The free-throw woes of Memphis, Texas
•
Forde: CDR has an effective, old-man game
•
Forde: Life is beautiful for Davidson, McKillop
•
Experts: Sixteen questions for the Sweet 16
•
Katz: Washington State's unlikely duo
•
Katz: Padgett becomes unlikely vocal leader
•
O'Neil: Xavier determined to keep it Miller time
•
Gene Woj: UCLA's Howland among the best
•
Griffin: Ryan keeps on winning at Wisconsin
•
Glockner: What's in store for the Sweet 16?
•
Forde: Texas' All-American
•
O'Neil: WVU's Alexander learns post-up game
•
The Mag: Green overcomes family adversity
•
Bilas: First weekend was a thriller

•
Dinich: Thomas gives UNC another point
•
Katz: Sneak peek at Sweet 16
Video
•
Vitale: Breaking down Hansbrough's game

•
Analysis: Knight and Vitale on UNC's win

•
Analysis: Knight and Vitale on Xavier's win

•
Johnny Gilbert's Perfect Sweet 16

•
Lunardi breaks down Sweet 16

•
Bob Knight's impressions of Sweet 16

Audio
•
Podcast: Bilas breaks down Sweet 16 action

•
Knight: Sweet 16 preparation thoughts


•
Podcast: Bilas previews Thursday games

•
Podcast: Valvano on Louisville's chances

•
Podcast: Who has helped their draft stock?

•
Podcast: Katz predicts a big upset

•
Podcast: Gottlieb on first two rounds

Photos
•
Elite Eight Day 2 photo gallery
•
Elight Eight Day 1 photo gallery
•
Sweet 16 Day 2 photo gallery
•
Sweet 16 Day 1 photo gallery
•
Day 4 photo gallery
•
Day 3 photo gallery
•
Day 2 photo gallery
•
Day 1 photo gallery
More
•
Tournament Challenge
|
Bracket Master
•
Insider tourney guide

|
BracketCaster