Commentary
Dramatic finishes not a problem for UCLA
Originally Published:
March 28, 2008
By
Dana O'Neil
| ESPN.com
PHOENIX -- Ben Howland is an avid movie buff, a guy who can wax poetic about just about any flick you offer.
[+] Enlarge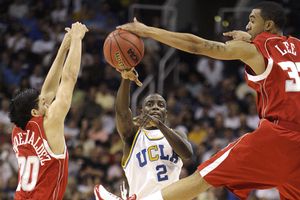 AP Photo/Chris CarlsonDarren Collison had a tough time against the Western Kentucky defense, committing four turnovers.
So the UCLA coach appreciates a good drama when he sees one.
That doesn't mean he necessarily wants to direct one.
"Well that was another exciting game for all the Bruin fans out there," Howland deadpanned after UCLA blew a 21-point lead and had to hang on against Western Kentucky in the Sweet 16 on Thursday night. "I want to keep you guys awake and on the edge of your seat, so you're welcome."
Over on the other coast, North Carolina advanced to the Elite Eight on the same night as the Bruins, but the Tar Heels haven't even had to launder their unis yet. Carolina has turned the NCAA tournament into a laugher, winning its first three games by -- are you ready for it? -- 30.3 points per game. Not since the 1999 Duke team rolled by its first three opponents by an average of 33 points has the tourney seen such domination.
Here in the desert, everyone is sweating the Bruins.
Toss out the 41-point annihilation of Mississippi Valley State, which was more like a game between the Celtics and your local CYO squad, and the Bruins are winning by six points a game. They had to rally from a 10-point second-half hole against Texas A&M in the second round and blew a 21-point lead against Western Kentucky, surviving a WKU comeback after A.J. Slaughter's wide-open 3-pointer rimmed out.
"That's fine, that's cool," UCLA point guard Darren Collison said of the comparison shopping between the Bruins and Heels. "People give their opinions about who should win, who's looking like they should win, but hey, we don't know who the winner is yet. We still have to come across those teams and they still have to come across us."
The Bruins, up against No. 3 seed Xavier in the Elite Eight, are the first to admit their last two wins over Texas A&M and Western Kentucky were more like finger-painted Elvis on velvet than works of art. Collison was particularly hard on himself after reviewing his 1-for-6, four-turnover performance against Western Kentucky, vowing it won't happen again.

We haven't played our best basketball but we're surviving. That's all that matters in this tournament, winning.
--UCLA's Josh Shipp
They also, however, will remind you -- repeatedly -- that they are winning and last they checked, the NCAA didn't award bonus points for aesthetics or scoring margins.
"We haven't played our best basketball but we're surviving," Josh Shipp said. "That's all that matters in this tournament, winning."
Valid point.
But as the field is whittled daily, there are two questions people want answered: Who can win it all and who looks vulnerable? Right now the Bruins are the right answer to the wrong question.
Roll in their herky-jerky run through the Pac-10 tournament and the much-discussed regular-season win over Cal and UCLA hasn't exactly been looking like a sure thing for a while.
And based on past history, that should at the very least make the Bruins uneasy.
UCLA is trying to make its third consecutive Final Four appearance, a run that at any other school would be cause for parades and celebration.
In Westwood? Eh.
[+] Enlarge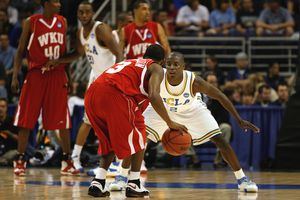 Frank Victores/US PresswireUCLA says it's fine without the blowouts, preferring to play hard-nosed defense.
Even the players on this team, the ones who don't have a national championship, aren't terribly impressed by three runs to the final weekend when there's nothing to show for it.
"We're not satisfied at all," Collison said.
The Bruins are following a scary script if they want to change Final Four appearances into national championship moments. Last year, UCLA blew out Weber State in the first round, but squeaked by both Indiana (by five) and Pittsburgh (by nine) in the next two rounds. That set up a 13-point loss to Florida in the national semifinal.
Two years ago, Belmont took it on the chin in the first round to the tune of 34 points, but the Bruins again had near escapes against Alabama (by three) and Gonzaga (by two). Florida dealt them a 16-point spanking in the title game.
To be fair, UCLA isn't necessarily built for the blowout, and wasn't the past two years either. Some of Carolina's best defensive plays are taking the ball out of the basket and going the other way. The Tar Heels are speed first, defend later.
The Bruins are straight out of Big East central casting, a grind-it-out team that wins by limiting possessions, not exploiting them.
The thing is, UCLA's Elite Eight foe is built the same way. Xavier takes this business of defense seriously, so the idea of a blowout from either side seems a bit far-fetched.
"Concerned? Not at all," Collison said. "This is what it's going to be. This is the tournament. It's what everybody came to see. Obviously we'd like to blow out teams, but we're ready for a fight. To tell you the truth, I like close games as much as a blowout. You're not running from anything. You're here to fight, to play game. Every team here is ready for a fight. We are too."
Dana O'Neil covers college basketball for ESPN.com and can be reached at espnoneil@live.com.
College Basketball
College basketball reporter.
Joined ESPN in 2007.
Graduate of Penn State University.
NCAA Tournament 2008

Get caught up with all the news, notes, insights and analysis from the 2008 NCAA tournament.
Tournament Index

Bracket
•
Updated Bracket
Analysis
•
ATR: Memphis makes freebies, four No. 1 seeds
•
Katz: Four unique stories shape Final Four
•
Forde: Kansas ends Davidson's feel-good story
•
Griffin: Memphis' athletes overwhelm Texas
•
ATR: L'ville's missed chances; how to stop Curry
•
Katz: Hansbrough carries UNC to Final Four
•
Gene Woj: Bruins have their flaws
•
O'Neil: Love is the difference for the Bruins
•
Whelliston: Curry deflects the Madness' glory
•
Griffin: Rose, Augustin battle for spot in Final Four
•
Forde: Pressure all on Kansas, Self vs. Davidson
•
ATR: Texas clamps down on Stanford
•
Griffin: Memphis dishes out big 'I told you so'
•
Forde: Witness the brilliance of Curry, Davidson
•
Katz: Roy, Rick CEOS of their powerhouses
•
O'Neil: UCLA OK with all the drama
•
ATR: Western Kentucky's Cinderella run ends
•
Gene Woj: Enjoy Kevin Love while you can
•
Low: Cards beat Vols at their own game
•
O'Neil: Xavier's "Fresh Prince" leads way
•
Katz: UNC one step closer to Final Four
•
Griffin: The free-throw woes of Memphis, Texas
•
Forde: CDR has an effective, old-man game
•
Forde: Life is beautiful for Davidson, McKillop
•
Experts: Sixteen questions for the Sweet 16
•
Katz: Washington State's unlikely duo
•
Katz: Padgett becomes unlikely vocal leader
•
O'Neil: Xavier determined to keep it Miller time
•
Gene Woj: UCLA's Howland among the best
•
Griffin: Ryan keeps on winning at Wisconsin
•
Glockner: What's in store for the Sweet 16?
•
Forde: Texas' All-American
•
O'Neil: WVU's Alexander learns post-up game
•
The Mag: Green overcomes family adversity
•
Bilas: First weekend was a thriller

•
Dinich: Thomas gives UNC another point
•
Katz: Sneak peek at Sweet 16
Video
•
Vitale: Breaking down Hansbrough's game

•
Analysis: Knight and Vitale on UNC's win

•
Analysis: Knight and Vitale on Xavier's win

•
Johnny Gilbert's Perfect Sweet 16

•
Lunardi breaks down Sweet 16

•
Bob Knight's impressions of Sweet 16

Audio
•
Podcast: Bilas breaks down Sweet 16 action

•
Knight: Sweet 16 preparation thoughts


•
Podcast: Bilas previews Thursday games

•
Podcast: Valvano on Louisville's chances

•
Podcast: Who has helped their draft stock?

•
Podcast: Katz predicts a big upset

•
Podcast: Gottlieb on first two rounds

Photos
•
Elite Eight Day 2 photo gallery
•
Elight Eight Day 1 photo gallery
•
Sweet 16 Day 2 photo gallery
•
Sweet 16 Day 1 photo gallery
•
Day 4 photo gallery
•
Day 3 photo gallery
•
Day 2 photo gallery
•
Day 1 photo gallery
More
•
Tournament Challenge
|
Bracket Master
•
Insider tourney guide

|
BracketCaster
MORE MEN'S COLLEGE BASKETBALL HEADLINES


MOST SENT STORIES ON ESPN.COM