Commentary
Will Love be the championship difference for UCLA?
Originally Published:
March 29, 2008
By
Dana O'Neil
| ESPN.com
PHOENIX -- As the rest of the team strolled around the court in celebration, Kevin Love turned his back to Darren Collison and offered the point guard a piggyback ride.
Nowhere was there a more fitting image for the UCLA season. Love, after all, has been carrying the Bruins on his broad back all season.
Now for the big question: Can he carry UCLA to the national championship?
The Bruins like to tell you that they don't hang Final Four banners in Pauley Pavilion, pooh-poohing the flags that tout a spot in the final weekend in favor of the ones that celebrate championships.
Appropriate braggadocio for a program that has 11 national titles and could practically wallpaper the arena with 18 Final Four banners. The trouble with aiming only for No. 1, of course, is that it's awful easy to come up short. And in UCLA's own parlance, the Bruins have been a bust for two years running: twice in the Final Four, twice leaving without any pieces of twine.
So now, courtesy of their 76-57 win over Xavier, the Bruins will make their third consecutive Final Four appearance, joining Duke, Kentucky and Michigan State as the only schools to go to three consecutive national semifinals since Houston did it from 1982-84.
The difference? The Blue Devils and Wildcats went 2-for-3, winning two national championships, and the Spartans scored a piece of hardware as well.
In the what-have-you-done-for-me lately world of sports, UCLA is quickly becoming the Buffalo Bills of college basketball.

He makes the game look easy. He has great hands, very efficient, smart, has no ability to get rattled, which for a freshman is amazing.
-- Xavier coach Sean Miller
"We're pushing it a little bit," Love admitted.
But as the Bruins pack their bags for San Antonio, they may have found the missing ingredient to bring along for the ride. It has the body of a lumberjack and the game of a dream, and it has changed UCLA from a good team to a great team as soon as it arrived in Westwood. Love is part of this season's much-ballyhooed rookie class, but as the season has wound on to its end, Love has distinguished himself as perhaps the best of the best.
Not in terms of pure talent. Michael Beasley is the product of some freakish experiment by the basketball gods.
But Love is talented plus blessedly fundamentally sound, the kind of player who makes older men wax nostalgic about the game before it became a break-your-man-off-the-dribble, clank-free-throws and forget-how-to-throw-a-chest-pass disaster.
Against Xavier, his full arsenal was on display. He threw outlet passes with the touch of Peyton Manning, picked and popped for two 3-pointers, drew double teams and then sent effortless bounce passes to his teammates for open looks, and rebounded like a hungry dog denied his supper.
Love finished with 19 points, 10 rebounds, four assists, two blocks and one Most Outstanding Player of the regional award.
"When you played games in college many years ago, you would play against Athletes in Action, they made the game look so easy, like they had been playing for 25 years," Xavier coach Sean Miller said. "He makes the game look easy. He has great hands, very efficient, smart, has no ability to get rattled, which for a freshman is amazing.
"Getting to the Final Four with a go-to player -- maybe more so than UCLA has had in the past -- could allow them to win the national championship."
[+] Enlarge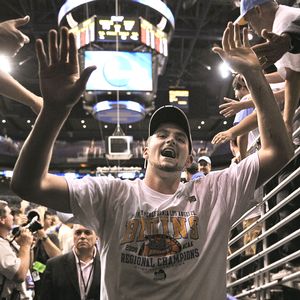 AP Photo/ Mark J. TerrilKevin Love celebrated his first Final Four. Will he be cutting down the nets in San Antonio?
Love is maybe the only person who doesn't see it that way. Fans chanted, "One more year," as the Bruins donned the requisite ready-made Final Four caps and T-shirts. Asked about the fans' plea, Love brushed it off. "They could have been mentioning it to all these guys up here," he said, and discounted the thought he could be the difference-maker. Love reminded the media amassed around his locker that in the past two years, UCLA lost to a little team by the name of Florida, a team that sent practically its entire roster to the NBA last year.
He argued that this team was more ready to play in the Final Four because so many players had been in them before, that their experience would be more of a factor than his presence.
That's all well and good, but the Bruins could have all the experience in the world. Without Love, they aren't playing next weekend. No way.
Love is 37-for-37, never once failing to score in double figures this season. He's the guy who gets the offense going with transition passes that are jaw-droppingly perfect and he plays in-your-face defense, yet rarely gets in foul trouble. He hasn't fouled out all season.
Xavier threw three guys at him: Jason Love, Derrick Brown and Josh Duncan. They fronted Kevin Love, bumped him, prodded him, and Duncan once literally pushed Love to his derriere. He still shot 7-of-11 from the floor.
"He's a great player, obviously," said Duncan, frustrated into a 4-of-11, three-turnover night by Love. "He can do a little bit of everything."
The kid's poise is almost as good as his game. Like the rest of his top rookie brethren, Love has been looked at as the messiah at UCLA, the man-child who would return the Bruins to the top instead of merely a runner-up.
The thing is, he's close to delivering. How often do players actually live up to the hype and incredible expectations? O.J. Mayo and Eric Gordon were both sent packing in the first round of the NCAA tournament. Beasley took a flier in Round 2. Only Love and Derrick Rose are left standing, and Rose still has one more step to take with Memphis.
There's no manual to this week, though. No way to explain how scorching the spotlight will be on UCLA and Love, how tedious it will be to answer countless questions (all variations on the same themes: Can the Bruins win it this time?).
"I think in however many games they've played so far, he's been dealing with pressure," said Kevin's father, Stan, who celebrated with fist pumps and hugs all around in the stands when the game was over. "He's been pretty well-equipped all year to handle it, so I think he'll handle this week very well."
Only once on Saturday did Love look like a freshman. During the postgame fun on the court, he was much giddier than his teammates, explaining later, "Hey, this is the first time I've been to the Final Four."
And when it came to be his turn to climb the ladder to take a piece of the net, Love looked almost tentative. Before he mounted the first rung, teammate Josh Shipp pointed at something on the rim, offering what looked like a little bit of instruction to the net-cutting newbie.
"I cut nets down in high school before, but back then I took the whole thing," Love said. "This was a little different. I had to figure out how to cut it down. By next Monday, I hope to have it down."
Dana O'Neil covers college basketball for ESPN.com and can be reached at espnoneil@live.com.
College Basketball
College basketball reporter.
Joined ESPN in 2007.
Graduate of Penn State University.
SPONSORED HEADLINES
MORE MEN'S COLLEGE BASKETBALL HEADLINES
MOST SENT STORIES ON ESPN.COM
NCAA Tournament 2008

Get caught up with all the news, notes, insights and analysis from the 2008 NCAA tournament.
Tournament Index

Bracket
•
Updated Bracket
Analysis
•
ATR: Memphis makes freebies, four No. 1 seeds
•
Katz: Four unique stories shape Final Four
•
Forde: Kansas ends Davidson's feel-good story
•
Griffin: Memphis' athletes overwhelm Texas
•
ATR: L'ville's missed chances; how to stop Curry
•
Katz: Hansbrough carries UNC to Final Four
•
Gene Woj: Bruins have their flaws
•
O'Neil: Love is the difference for the Bruins
•
Whelliston: Curry deflects the Madness' glory
•
Griffin: Rose, Augustin battle for spot in Final Four
•
Forde: Pressure all on Kansas, Self vs. Davidson
•
ATR: Texas clamps down on Stanford
•
Griffin: Memphis dishes out big 'I told you so'
•
Forde: Witness the brilliance of Curry, Davidson
•
Katz: Roy, Rick CEOS of their powerhouses
•
O'Neil: UCLA OK with all the drama
•
ATR: Western Kentucky's Cinderella run ends
•
Gene Woj: Enjoy Kevin Love while you can
•
Low: Cards beat Vols at their own game
•
O'Neil: Xavier's "Fresh Prince" leads way
•
Katz: UNC one step closer to Final Four
•
Griffin: The free-throw woes of Memphis, Texas
•
Forde: CDR has an effective, old-man game
•
Forde: Life is beautiful for Davidson, McKillop
•
Experts: Sixteen questions for the Sweet 16
•
Katz: Washington State's unlikely duo
•
Katz: Padgett becomes unlikely vocal leader
•
O'Neil: Xavier determined to keep it Miller time
•
Gene Woj: UCLA's Howland among the best
•
Griffin: Ryan keeps on winning at Wisconsin
•
Glockner: What's in store for the Sweet 16?
•
Forde: Texas' All-American
•
O'Neil: WVU's Alexander learns post-up game
•
The Mag: Green overcomes family adversity
•
Bilas: First weekend was a thriller

•
Dinich: Thomas gives UNC another point
•
Katz: Sneak peek at Sweet 16
Video
•
Vitale: Breaking down Hansbrough's game

•
Analysis: Knight and Vitale on UNC's win

•
Analysis: Knight and Vitale on Xavier's win

•
Johnny Gilbert's Perfect Sweet 16

•
Lunardi breaks down Sweet 16

•
Bob Knight's impressions of Sweet 16

Audio
•
Podcast: Bilas breaks down Sweet 16 action

•
Knight: Sweet 16 preparation thoughts


•
Podcast: Bilas previews Thursday games

•
Podcast: Valvano on Louisville's chances

•
Podcast: Who has helped their draft stock?

•
Podcast: Katz predicts a big upset

•
Podcast: Gottlieb on first two rounds

Photos
•
Elite Eight Day 2 photo gallery
•
Elight Eight Day 1 photo gallery
•
Sweet 16 Day 2 photo gallery
•
Sweet 16 Day 1 photo gallery
•
Day 4 photo gallery
•
Day 3 photo gallery
•
Day 2 photo gallery
•
Day 1 photo gallery
More
•
Tournament Challenge
|
Bracket Master
•
Insider tourney guide

|
BracketCaster