Commentary
Collison turns UCLA games into own track meet
Originally Published:
April 2, 2008
By
Dana O'Neil
| ESPN.com
PHOENIX -- Given her druthers, June Collison would just as soon be mistaken for June Cleaver. She refers to herself as "just a mommy,'' happily ignoring the fact that she was an Olympic sprinter.
The trouble, most mommies will tell you, comes when the nest empties, leaving the parental frittering for a bird that pops in only every now and again. Since Darren Collison enrolled at UCLA three years ago, June still does her son's laundry, still sorts his closet by colors ("whites with the whites; makes it easier to find things"), still cooks for him when he comes home.
[+] Enlarge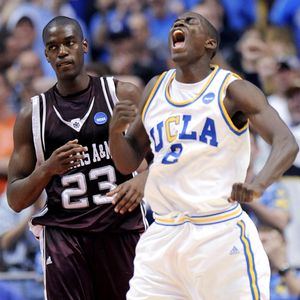 AP Photo/Kevork DjansezianWhen Darren Collison is good, like he was against Texas A&M (21 points), UCLA is tough to beat.
Darren's on-campus digs are off limits, more by June's choosing than her son's. She knows the inevitable mess would send her into a tizzy, so June has limited her mommy duties to the family's home in nearby Rancho Cucamonga, Calif.
However, that wasn't enough, not with Darren's college years speeding by like a bullet train, a change to the NBA express likely coming down the tracks. So this year, June quit her job as a hospital CEO and became a consultant in the same field. Setting her hours to tailor her own needs rather than her company's, she orchestrated her day planner around a more important master schedule -- the one belonging to the UCLA Bruins.
UCLA has played 38 games this season. June has been at 37, missing only one game at Arizona because a commitment in Los Angeles kept her away.
"This is such a special time in his life, so I decided I didn't want to miss it. Now he's my only job,'' June said. "Before you know it, it's over. I wanted to be part of it with him.''
Those in Westwood, Calif., reaching for the smelling salts and nitroglycerin pills -- exhale. June insists there's nothing to read in the tea leaves of that statement, at least not yet.
"We haven't discussed next year at all,'' June said. "He hasn't even sat us down, and we haven't talked to him about it. There's no need. There's time for all that. Right now, we want him to be focused on one thing, and that's playing this weekend.''
Bruins fans would concur.
Hidden Truth: UCLA
Is UCLA's defense as good as everyone thinks it is? And just how inefficient is the Bruins' offense? Andy Glockner
Kevin Love looms large as the difference-maker between this UCLA team and the most recent two that played on the final weekend of the college season, but the play of their mercurial point guard also could help determine whether the Bruins get off their 0-for-2 Final Four schneid.
Consider that in UCLA's three losses this season, Collison had 12 turnovers to 13 assists and shot 9-of-33 (27.2 percent) from the floor. When Western Kentucky made its stunning comeback from 21 points down in the regional semifinal, Collison watched much of it from the bench, saddled with foul trouble. He played only 28 minutes, shooting 1-of-6 with four turnovers and fouling out for the first time in his collective college and high school careers as the Bruins barely squeaked out of the Sweet 16.
That was against Tyrone Brazelton, a previously unheard of point guard who schooled Collison for 31 points.
On Saturday, Collison will go toe-to-toe with a guy by the name of Rose, a studly rookie who blasted onto the college scene when his coach thumbed his nose at NCAA rules and slyly stuck a photo of a red rose on billboards touting preseason No. 1 Memphis. Derrick Rose just dropped 21 points and nine assists on D.J. Augustin while holding the Texas All-American to 4-of-18 shooting.
There's no need to tell Collison how important he'll be. He is critically aware, calling his position the most difficult and most vital on the floor.
"I have to play at a top level at all times,'' he said.
Not settling for mediocrity is just one of the lessons from June and Dennis Collison that have taken deep root in their son. He listens, not only because he's an obedient child, but because his parents have a little athletic clout to back up their teachings. June ran the 400 meters for Guyana in the 1984 Olympic Games. Dennis ran the 200 meters, also for Guyana, at the Pan Am Games. Naturally, the couple hoped Darren would follow in their footsteps and blaze a trail to the finish line, and they dragged him to track practice with hope and excitement.

He needs to be able to deal with adversity in life, so it all will make him stronger. We told him that all the time. It maybe wasn't what he wanted to hear all the time, but it's the truth.
--June Collison
He balled his eyes out.
"I was upset I was missing my TV show, 'Teenage Mutant Ninja Turtles,'" Darren Collison said. "I remember crying and crying about it, and finally they said, 'Maybe track isn't for you.'"
Determined that their son would play something, they pushed him into a neighborhood basketball league. Collison found his niche. This was running, yes, but running with a purpose. It was a constant event, not a quick-hit race that lasted seconds.
Slightly disappointed -- "We had these visions of him doing what we did,'' June said -- Collison's parents nonetheless counseled him in a game they didn't necessarily understand. They talked to him about eating well and sleeping well, and he lapped it all up.
But this season, a season turned herky-jerky by injuries and illness, Collison's parents have played an even more vital role. They at once have offered the solace of welcoming parental arms as well as the understanding and feistiness of high-caliber athletes.
A year after toying with going pro as a sophomore, Collison returned to a knee injury that kept him out of UCLA's first six games, a case of severe food poisoning that landed him in the hospital and a painful hip pointer that nagged at him in January.
"Someone said to me, 'Have you ever thought he could be in the NBA right now instead of dealing with all of this?'" June said. "Everything has a purpose in life. He never had any kind of injury to deal with. He needs to be able to deal with adversity in life, so it all will make him stronger. We told him that all the time. It maybe wasn't what he wanted to hear all the time, but it's the truth.''
[+] Enlarge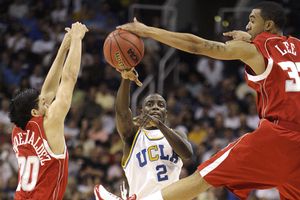 AP Photo/Chris CarlsonDarren Collison's struggles against Western Kentucky contributed to the Hilltoppers' near comeback from a 21-point deficit.
Here's Collison's current truth: He can't afford a bad game, not with Rose on Saturday and either Kansas' Mario Chalmers or UNC's Ty Lawson in a possible national championship game.
He vows not to have one. In between his disastrous game against Western Kentucky and the Bruins' next game, an Elite Eight matchup against Xavier, Collison fell on his sword so much he could have been a shredded paper doll.
He also promised not to give a repeat performance, turning a withering stare to a questioner who asked how he might rebound from his lousy evening.
"Good players normally bounce back,'' he said simply but forcefully.
Against Xavier, Collison had 19 points in 37 minutes, shooting 7-of-12 from the floor, and the normally fearless, boastful Stanley Burrell found himself red-eyed in the locker room afterward.
"He's a very good guard, very good,'' Burrell said, fighting back tears. "He plays at a great pace, runs the team well."
Burrell took a deep breath, wiped his eyes with a white towel, then spoke earnestly and sincerely.
"I have a lot of respect for him,'' he said.
That is music to any mommy's ears.
Dana O'Neil covers college basketball for ESPN.com and can be reached at espnoneil@live.com.
College Basketball
College basketball reporter.
Joined ESPN in 2007.
Graduate of Penn State University.
NCAA Tournament 2008

Get caught up with all the news, notes, insights and analysis from the 2008 NCAA tournament.
Tournament Index

Bracket
•
Updated Bracket
|
Tourney Challenge
Championship Analysis
•
Forde: Chalmers fulfills promise
•
Wojciechowski: Self's big-bucks decision on OSU
•
Katz: Memphis pays for free throws
•
O'Neil: Collins makes heroics possible
•
ATR: Quite a collection of talent in title game
Final Four Analysis
•
Experts: Who has the edge in the title game?

•
Forde: Self on a wild ride, and it's just starting
•
Wojciechowski: A quieter Joey Dorsey reflects
•
Griffin: Rush thrives after knee injury
•
O'Neil: CDR, Rose fuel Tigers' machine
•
Katz: Calipari has chance for vindication
•
Wojciechowski: Final Four duds
•
ATR: End of the road for Love, Hansbrough?
•
Forde: Good Kansas throttles UNC
•
Katz: Williams takes blame for stunning UNC loss
•
O'Neil: Rose leads Memphis to title game
•
Wojciechowski: Power-packed Final Four
•
Forde: One-and-dones hardly an academic issue
•
O'Neil: Not Memphis vs. the world? Yeah, right
•
Katz: KU ready for Arthur's breakout game
•
Low: Don't forget about UNC's "other" guys
•
Griffin: UCLA needs Shipp to shoot straight
•
Forde: Williams torn between KU and UNC
•
Expert picks: Who wins it all?
•
Gottlieb: Rose vs. Collison matchup pivotal

•
Fraschilla: Breaking down Kansas-UNC

•
Glockner: Which Kansas team shows up?
•
Griffin: Calipari battles for repsect
•
Glockner: Memphis can win slowdown games, too
•
Schlabach: Recent Final Four flameouts
•
O'Neil: Collison a key point for the Bruins
•
Glockner: Can UCLA's offense be more efficient?
•
Katz: Lawson's injury may have helped UNC
•
Glockner: Can UNC's defense hold up?
•
Forde: Power prevails as Elite becomes Four
•
Bilas: Tourney has "Wowed" so far

•
Katz: Four unique stories shape Final Four
Video
•
Bill Self among KU coaching greats

•
Kansas on being national champions

•
Calipari: Costly mistakes down the stretch

•
Chris Douglas-Roberts on Memphis' loss

•
Bob Knight on Memphis' loss to KU

•
Memphis gearing up to face Kansas

•
Memphis, KU to meet for title

•
Analysis: Kansas' win over North Carolina

•
Analysis: Memphis' win over UCLA

•
All the coaches talk Final Four

•
Davidson's McKillop previews Final Four

•
Who Are These Guys: Memphis

•
Final Four Sitdown: Roy Williams

•
Final Four Sitdown: Bill Self

•
Final Four Sitdown: John Calipari


•
Final Four Sitdown: Ben Howland

•
Katz: Small window for UCLA, Memphis

•
Vitale: Previews Final Four matchups

•
Bilas: Likes the look of the Final Four

•
Gottlieb: All No. 1 seeds reach Final Four

Audio
•
Bill Self on the title and Oklahoma State


•
Podcast: Gottlieb on Kansas' national title

•
Podcast: Gottlieb on title game X factors

•
Roy Williams on Final Four return


•
Podcast: Katz on Final Four coaches

•
Bill Self talks Davidson game, Final Four


•
Podcast: Gottlieb talks Final Four, Davidson

Photos
•
Championship game photo gallery
•
Final Four photo gallery
•
Elite Eight Day 2 photo gallery
•
Elite Eight Day 1 photo gallery
•
Sweet 16 Day 2 photo gallery
•
Sweet 16 Day 1 photo gallery
•
Day 4 photo gallery
•
Day 3 photo gallery
•
Day 2 photo gallery
•
Day 1 photo gallery
NC State's 25th anniversary
•
Dinich: From star to one minute in title game
•
Dinich: Kay Yow still fighting Valvano's fight
•
Bob Valvano remembers brother's team


More
•
Rank the last 10 national champions
•
Rank Chalmers' 3 vs. other big-time shots
•
Vote: Memphis vs. Kansas for the title
•
Vote: Which team will win it all?
•
Vote: Test your Final Four team knowledge
•
Tournament Challenge
|
Bracket Master
•
Insider tourney guide

|
BracketCaster
MORE MEN'S COLLEGE BASKETBALL HEADLINES


MOST SENT STORIES ON ESPN.COM