Commentary
Without Collins, there are no Chalmers heroics
Originally Published:
April 8, 2008
By
Dana O'Neil
| ESPN.com
SAN ANTONIO -- Sherr'Mari Collins blew out the candles on his first birthday cake on Sunday. His daddy missed the party. He was busy working.
[+] Enlarge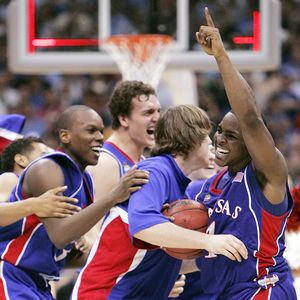 AP Photo/Mark HumphreySherron Collins picked up quite a birthday present for his son on Monday night.
He got his son a heckuva gift, a tiny piece of twine he collected in the wee hours of Tuesday morning. Wasn't easy to get, harder than finding whatever the hottest kiddie gift of the moment is. Daddy had to fight off the bad guys, overcome defeat and then finally climb a ladder, scissors in hand, to snip down Sherr'Mari's gift. You won't hear him complain anytime soon.
"Other than the day my son was born, this is the happiest day of my life,"
Sherron Collins
said. The shining moment of Kansas' 75-68 epic national championship win over Memphis belongs to
Mario Chalmers
and his instant classic of a 3-pointer. But without Collins, Chalmers' shot never happens and the national champion comes from an upstart newbie on the basketball scene, not the game's most storied program. It was Collins who pushed the ball downcourt, going just fast enough so that the Tigers couldn't foul him to negate an attempt at a 3-pointer and basically end the game. It was Collins who ditched the ball to Chalmers for the buzzer-beater to force overtime, and it was Collins who stole an inbounds play two minutes earlier and then hit a 3 to turn a daunting seven-point lead into a gettable four-point deficit. "Sherron is a clutch player," Kansas coach Bill Self said. Kansas' epic comeback -- or Memphis' epic disaster, depending on your address -- gave Self, a man who was chided two weeks ago for his inability to make the Final Four, his first championship. Kansas has its first title since 1988 and the Big 12 its first crown in conference history. "They said we couldn't play with North Carolina. They said, how were we going to beat Memphis?" Collins said. "Well, now what? Nobody ever asked how they were going to stop us." One piece of twine dangling from the back of his brand-new national championship cap and another in his hand, an emotional Collins searched the stands as he was leaving the court. His mother, Stacey Harris, had made her way down to the railing, and before Collins left to celebrate with his teammates, he grabbed his mother in a bear hug. Harris, her voice all but gone from the screaming, watched him in wonder.

Other than the day my son was born, this is the happiest day of my life.
--Sherron Collins
This hasn't been an easy year for Collins. He's been away from Sherr'Mari, who lives in Chicago with Collins' girlfriend, Re'Quiya Aguirre. He sees him when he can, but getting from Lawrence to Chicago isn't exactly easy for a basketball player whose schedule has about 10 free minutes a week.
And just two games into the season, Collins suffered a stress fracture in his foot. The injury was significant enough that Collins immediately underwent surgery. He missed only six games, but if you ask him, he'll tell you he has yet to feel like himself this season. Averaging 16 points per game before the injury, Collins struggled to even reach double digits when he returned in January, his numbers dwindling to 8.9 points per game. But in the only game that mattered this year, Collins played 34 minutes on a foot that still aches pretty regularly. "I'm just in awe of him, in awe," Harris said of her son. "He's a great man." Great enough that Self trusted Collins to log the brunt of the point guard duties while also guarding
Derrick Rose
. Aside from maybe a Wal-Mart greeter, there aren't any more thankless jobs. No matter how well you do -- and for 27 minutes Collins did darn well -- it never ends up looking like you did much all day. Collins knows that. Back in high school, his Crane High School faced Rose's Simeon Career Academy four times. Rose and Simeon won three out of four. So when Self decided to stick with Collins because he seemed more productive offensively than
Russell Robinson
, Collins knew what he was in for on the opposite end. Rose had just three points for the first 27:50 of the game. And then he finished with 18, plus eight assists and six rebounds. "I just tried to stay in front of him," Collins said. "I remembered from high school that Derrick has another gear, so you really have to stay up on him."
[+] Enlarge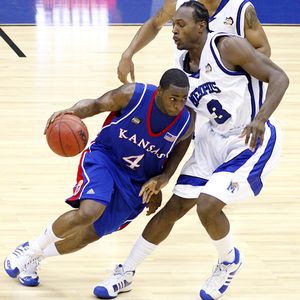 Bob Donnan/US PresswireCollins ended up playing 34 minutes on Monday, making a couple of key plays late in the game.
In June, Rose most likely will have the ultimate bragging rights when some NBA team turns him into an instant multimillionaire. For now, though, Collins is the toast of Chicago.
"He did what he was supposed to do as a point guard: control the team, push the ball up the court and make tough plays at the end," Rose said. "He just controlled the game." Collins wasn't perfect. He coughed up four turnovers and his decision to try to take on three defenders on a full-court push with under 30 seconds to play and Kansas down two ended up in a blocked shot and what may have been disaster if the Tigers had held the ball or if
Chris Douglas-Roberts
hadn't missed his free throws. No one will remember that today. They'll remember the moment when the Jayhawks were down seven with under two minutes to play and the Memphis fans were just starting to get into a groove of a celebration -- and Collins picked off an inbounds pass right under Kansas' basket. Falling out of bounds to make the save, Collins got the ball to Chalmers and then hopped back into the play, spotting up behind the 3-point line. Chalmers flipped the ball back to Collins and the sophomore swished his only trey of the game. The bucket twisted the tourniquet around the Tigers' neck, leading to their full-blown gag at the free-throw line and the inevitable overtime stomping by Kansas (the Jayhawks outscored Memphis 12-5 in OT). "Coach told us at the timeout to go and get a trap and then go for a steal," Collins said. "They didn't cover me well enough, so I was able to get to the ball. That was it, the momentum swung after that play. It changed the whole game." Ninety seconds later, Rose missed Memphis' fourth consecutive free throw, a little Achilles' heel that turned out to be more important than advertised. After Rose made his second free throw for a 63-60 lead, Collins pushed the ball downcourt as John Calipari screamed "foul" from the bench. The Tigers did swarm Collins as he tried to make the pass to Chalmers, but there was no whistle. "I thought maybe they fouled me," Collins said with a smirk. "I'm glad they didn't call it." Instead, Collins made the pass to Chalmers, who swished the 3 to earn little Sherr'Mari Collins a birthday present. "He can have whatever he wants," Collins smiled. "He'll probably like the basket."
Dana O'Neil covers college basketball for ESPN.com and can be reached at espnoneil@live.com.
College Basketball
College basketball reporter.
Joined ESPN in 2007.
Graduate of Penn State University.
NCAA Tournament 2008

Get caught up with all the news, notes, insights and analysis from the 2008 NCAA tournament.
Tournament Index

Bracket
•
Updated Bracket
|
Tourney Challenge
Championship Analysis
•
Forde: Chalmers fulfills promise
•
Wojciechowski: Self's big-bucks decision on OSU
•
Katz: Memphis pays for free throws
•
O'Neil: Collins makes heroics possible
•
ATR: Quite a collection of talent in title game
Final Four Analysis
•
Experts: Who has the edge in the title game?

•
Forde: Self on a wild ride, and it's just starting
•
Wojciechowski: A quieter Joey Dorsey reflects
•
Griffin: Rush thrives after knee injury
•
O'Neil: CDR, Rose fuel Tigers' machine
•
Katz: Calipari has chance for vindication
•
Wojciechowski: Final Four duds
•
ATR: End of the road for Love, Hansbrough?
•
Forde: Good Kansas throttles UNC
•
Katz: Williams takes blame for stunning UNC loss
•
O'Neil: Rose leads Memphis to title game
•
Wojciechowski: Power-packed Final Four
•
Forde: One-and-dones hardly an academic issue
•
O'Neil: Not Memphis vs. the world? Yeah, right
•
Katz: KU ready for Arthur's breakout game
•
Low: Don't forget about UNC's "other" guys
•
Griffin: UCLA needs Shipp to shoot straight
•
Forde: Williams torn between KU and UNC
•
Expert picks: Who wins it all?
•
Gottlieb: Rose vs. Collison matchup pivotal

•
Fraschilla: Breaking down Kansas-UNC

•
Glockner: Which Kansas team shows up?
•
Griffin: Calipari battles for repsect
•
Glockner: Memphis can win slowdown games, too
•
Schlabach: Recent Final Four flameouts
•
O'Neil: Collison a key point for the Bruins
•
Glockner: Can UCLA's offense be more efficient?
•
Katz: Lawson's injury may have helped UNC
•
Glockner: Can UNC's defense hold up?
•
Forde: Power prevails as Elite becomes Four
•
Bilas: Tourney has "Wowed" so far

•
Katz: Four unique stories shape Final Four
Video
•
Bill Self among KU coaching greats

•
Kansas on being national champions

•
Calipari: Costly mistakes down the stretch

•
Chris Douglas-Roberts on Memphis' loss

•
Bob Knight on Memphis' loss to KU

•
Memphis gearing up to face Kansas

•
Memphis, KU to meet for title

•
Analysis: Kansas' win over North Carolina

•
Analysis: Memphis' win over UCLA

•
All the coaches talk Final Four

•
Davidson's McKillop previews Final Four

•
Who Are These Guys: Memphis

•
Final Four Sitdown: Roy Williams

•
Final Four Sitdown: Bill Self

•
Final Four Sitdown: John Calipari


•
Final Four Sitdown: Ben Howland

•
Katz: Small window for UCLA, Memphis

•
Vitale: Previews Final Four matchups

•
Bilas: Likes the look of the Final Four

•
Gottlieb: All No. 1 seeds reach Final Four

Audio
•
Bill Self on the title and Oklahoma State


•
Podcast: Gottlieb on Kansas' national title

•
Podcast: Gottlieb on title game X factors

•
Roy Williams on Final Four return


•
Podcast: Katz on Final Four coaches

•
Bill Self talks Davidson game, Final Four


•
Podcast: Gottlieb talks Final Four, Davidson

Photos
•
Championship game photo gallery
•
Final Four photo gallery
•
Elite Eight Day 2 photo gallery
•
Elite Eight Day 1 photo gallery
•
Sweet 16 Day 2 photo gallery
•
Sweet 16 Day 1 photo gallery
•
Day 4 photo gallery
•
Day 3 photo gallery
•
Day 2 photo gallery
•
Day 1 photo gallery
NC State's 25th anniversary
•
Dinich: From star to one minute in title game
•
Dinich: Kay Yow still fighting Valvano's fight
•
Bob Valvano remembers brother's team


More
•
Rank the last 10 national champions
•
Rank Chalmers' 3 vs. other big-time shots
•
Vote: Memphis vs. Kansas for the title
•
Vote: Which team will win it all?
•
Vote: Test your Final Four team knowledge
•
Tournament Challenge
|
Bracket Master
•
Insider tourney guide

|
BracketCaster
MORE MEN'S COLLEGE BASKETBALL HEADLINES

MOST SENT STORIES ON ESPN.COM