Commentary
Longtime assistant Grier in forefront with San Diego's win
TAMPA, Fla. -- Bill Grier could have stayed at Gonzaga for the rest of his career.
An assistant coach at Gonzaga for 16 seasons, Grier watched the program become the poster child for mid-major teams in the NCAA tournament, first under former coach Dan Monson and then under Mark Few.
Grier started working at Gonzaga in 1992, spending his first six seasons as a restricted-earnings coach under Dan Fitzgerald. When Monson took over in 1997-98, Grier was elevated to full-time assistant. Grier enjoyed working at Gonzaga so much, he stayed there when Monson left for Minnesota in 1999.
"I was so happy there," Grier said. "I was working with my closest friends and had great job security."
So much so that in Few's second season as Gonzaga's coach in 2000-01, Grier signed a contract that designated him as the program's next coach if Few ever left.
But Grier was convinced Few would never leave the tiny Jesuit school in Spokane, Wash.
"I could have stayed there forever and been an assistant, and I would have been happy," Grier said. "But Mark's in such a good situation. In my heart of hearts, I never saw him leaving. It came to point if I was going to [leave], I had to do it."
[+] Enlarge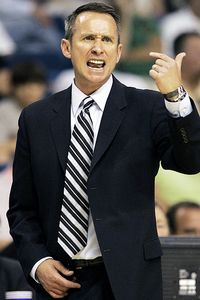 AP Photo/John RaouxBill Grier was an assistant for 16 seasons at Gonzaga before becoming the head man at San Diego.
If Grier had never left Gonzaga for San Diego before this season, he never would have felt the elation of leading the Toreros to their first NCAA tournament victory. San Diego upset No. 4 seed Connecticut 70-69 in overtime in Friday's first round of the West Regional at St. Pete Times Forum.
The No. 13 seed Toreros advance to play No. 12 seed Western Kentucky in the most unlikely of matchups in Sunday's second round.
"Coach talked to us about believing," guard Brandon Johnson said. "You've just got to believe."
Few San Diego fans could have imagined the Toreros would have so much success in Grier's first season. Gonzaga and Saint Mary's were considered the favorites in the West Coast Conference. San Diego had an 18-14 record in 2006-07 and hadn't won 20 games in a season since 1999-2000.
Grier inherited a team with two returning starters -- forward Gyno Pomare and point guard Johnson. De'Jon Jackson took over at shooting guard, and freshmen Trumaine Johnson and Rob Jones joined the starting unit.
"I was fortunate," Grier said. "[Former San Diego coach] Brad Holland did such a great job in his 13 years. To have a good point guard and good big man, what a way to start out."
But the Toreros had neither Brandon Johnson nor Pomare in the final seconds of overtime against Connecticut. Pomare, who scored 22 points on 10-for-12 shooting, fouled out with 2:24 to go in overtime. Johnson, who scored 18 points with four assists and three steals, picked up his fifth foul with nine seconds to go.
Connecticut's Jerome Dyson put the Huskies ahead 69-68 with two foul shots after Johnson went to the bench. The Toreros quickly dribbled to midcourt and called timeout.
Grier knew he wanted Jackson to take the last shot, even though the sophomore from Fresno, Calif., had missed seven of his first eight shots in the game.
[+] Enlarge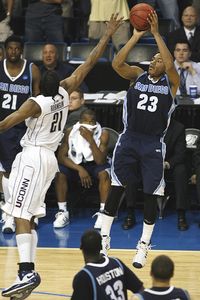 AP Photo/Mike CarlsonDe'Jon Jackson was the hero Friday, hitting the game-winning jumper.
Jackson took the inbounds pass and dribbled to the right side. When the Huskies didn't collapse, Jackson hit a fade-away jumper from about 16 feet to put the Toreros ahead, 70-69, with 1.2 seconds to go.
"I wanted it in De'Jon's hands," Grier said. "It was kind of a set that we do run. Essentially, it's a clear-out with our two bigs getting opposite and a guy in the corner. I was hoping he could get it to the rim and maybe both their bigs would be concerned about the guy coming off the double. But they were just sitting in the paint, and I'm pretty sure that's what he saw, and that's why he went to the step-back."
Brandon Johnson was so stunned he wasn't even sure San Diego had taken the lead.
"Actually, I thought the game was tied when he hit the shot," he said. "I didn't even get off the bench when he hit it. A lot went through my mind."
Grier said it was fitting Jackson made the shot that helped the Toreros win.
"He's like the guy who works in the mill," Grier said. "He goes in and punches his time card, goes to work and then punches out. He does it again the next day. He's kind of in the background."
Kind of like Grier was until this season.
Mark Schlabach covers college football and men's college basketball for ESPN.com. You can contact him at schlabachma@yahoo.com.
College Football and Basketball
College football/basketball writer for ESPN.com
Author of seven books on college football
Formerly at the Washington Post and the Atlanta Journal-Constitution
SPONSORED HEADLINES
MORE MEN'S COLLEGE BASKETBALL HEADLINES
MOST SENT STORIES ON ESPN.COM
NCAA Tournament 2008

Get caught up with all the news, notes, insights and analysis from the 2008 NCAA tournament.
Tournament Index
Brackets: PDF | GIF
Analysis
•
Katz: Sneak peek at Sweet 16
•
Forde: Dorsey a confusing, entertaining enigma
•
Low: Vols figuring out unsteady point-guard play
•
Schlabach: Horn, Lee break through at WKU
•
Dinich: Davidson proves it is no one-man show
•
ATR: UCLA wins, Day 3 recaps
•
Katz: Neitzel shoots Spartans into Sweet 16
•
Gene Woj: Trent Johnson nearly costs his team
•
Miller: Tough to stop Cardinal's Twin Towers
•
Griffin: Wisconsin gives vintage performance
•
O'Neil: WVU players embrace Huggs' toughness
•
ATR: The end to IU's tumultuous season
•
Katz: What's on tap for the weekend?
•
Forde: Tampa was awesome ... wish I was there
•
Schlabach: Still can't believe the 'Tampa Turmoil'
•
Schlabach: Siena joins upset party in Tampa
•
Schlabach: USD's Grier no long in the shadows
•
Schlabach: WKU's Rogers hits 'dream' shot
•
Dinich: Curry puts on a show against Gonzaga
•
ATR: Arizona's questions, Pitt and MSU roll
•
O'Neil: Belmont lets Duke upset slip away
•
Griffin: Beasley, Walker team up to down USC
•
Gene Woj: Kentucky's roller coaster ends
•
O'Neil: Xavier survives Dawgs' upset bid
•
Forde: Best case/Worst case scenarios
•
Lunardi: Ranking the teams 64-1
•
Experts: "Best of" lists for tourney
•
Whelliston: Mount St. Mary's honors friend
•
Forde: Bruce Pearl's purgatory
•
Katz: Officiating has had a rough season
•
Gottlieb: Scrutiny on officials higher than ever

•
Katz: Mayo, Love exceed freshman expectations
•
Rittenberg: Baby Boilers lead Purdue to Dance
•
Wojciechowski: Liking Psycho T isn't about race
•
Bilas: Grading the committee and talking snubs

• Regions:
East
|
South
|
West
|
Midwest
•
Forde: Super-sized edition of Forde Minutes
•
O'Neil: Serendipitous storylines fill bracket
•
Katz: Committee chair talks hot topics
•
Wojciechowski: 15 suggestions to improve Dance
•
Dinich: UNC's Tobacco Road to San Antonio
News
•
Curry says he's returning to Davidson next year
•
Ford Field, Reliant raise NCAA tourney to new level
•
UCLA's Mbah a Moute to have MRI
•
Nova's Drummond done for season
•
Vols' Pearl explains decision to start Prince
•
Stanford's Johnson not changing after ejection
•
UConn: Price tore ACL, likely to miss six months
•
Love, Mbah a Moute on mend for UCLA
•
Arkansas' Weems hurts knee, expected to play
Video
•
Vitale: Rounds 1 & 2 MVP

•
Vitale: Round 1 prime-time players

•
Gottlieb: Mid-majors make their mark

•
Lunardi: Video previews for all 65

•
Breaking down the East region

•
Breaking down the West Region

•
Breaking down the Midwest region

•
Breaking down the South region

•
ESPN experts fill out their brackets

Audio
•
Podcast: Bilas looks at Thursday's games

•
Podcast: Gottlieb makes bracket predictions

Strategies
•
Tiernan: "Low-risk" bracket strategy

•
Tiernan: "Medium" bracket advice

•
Tiernan: "High-risk" bracket strategy

•
Tiernan: "Dangerous" bracket advice

Photos
•
Day 4 photo gallery
•
Day 3 photo gallery
•
Day 2 photo gallery
•
Day 1 photo gallery
More
•
Tournament Challenge
|
Bracket Master
•
Insider tourney guide

|
BracketCaster