Commentary
Horn, Lee lead WKU to stunning Sweet 16 berth
TAMPA, Fla. -- Entering his fifth season as Western Kentucky's coach, Darrin Horn's teams had won twice as many games as they had lost.
Under Horn's watch, the Hilltoppers had won 68 percent of their games against Sun Belt Conference foes and twice played in the NIT.
But even at a school like Western Kentucky, which dived into the pressure-packed business of Division I football only two years ago, many fans wondered if Horn had done enough.
[+] Enlarge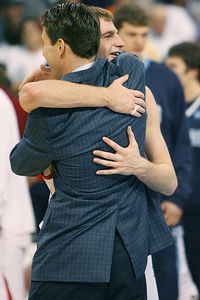 Doug Benc/Getty ImagesPressure on WKU alum Darrin Horn was building because he had yet to take the Hilltoppers to the NCAA tournament. How does a Sweet 16 sound?
"Everybody wants to get to the NCAA tournament," Horn said. "Even more so at our place, even though it might not be realistic."
Horn, a star guard on the last Western Kentucky team to reach the Sweet 16 of the NCAA tournament, was trying to build a program that was capable of achieving even more.
"Western Kentucky had basically played three games in the NCAA tournament since I was a player," Horn said. "And none of them were really games. Our whole goal was when we got here, we wanted to be good enough to win games."
Mission accomplished.
The No. 12 seed Hilltoppers beat No. 13 seed San Diego 72-63 at St. Pete Times Forum on Sunday, two days after upsetting No. 5 seed Drake 101-99 in overtime on senior Ty Rogers' 3-pointer at the buzzer. Western Kentucky advanced to meet top seed UCLA in Phoenix on Thursday night.
"I think there are expectations everywhere," Horn said. "I think our program has a proud tradition. Everybody is judged on the NCAA tournament now. I think what's being realized now is that I wanted to build a program that would give us an opportunity to do what we did today, and then maintain it so we'd have additional opportunities like this in the future."
Horn, 35, became coach of his alma mater when Dennis Felton left for Georgia after the 2002-03 season. The Hilltoppers played in the NCAA tournament in each of Felton's final three seasons, losing in the first round to Florida by 14 points in 2001, Stanford by 16 in 2002 and Illinois by five in 2003.
Western Kentucky went 15-13 in Horn's first season in 2003-04, then won 20 games in each of the next three seasons. Each season, though, the Hilltoppers failed to win the Sun Belt Conference tournament and the automatic bid into the NCAAs.
"We have a great tradition, and a lot of people put pressure on him to do bigger things," senior point guard Tyrone Brazelton said. "Finally, we got here, so I'm sure that pressure will be off."
Horn spent the past four years building to this moment, even though everyone around him might not have realized it at the time. The Hilltoppers are led by three senior starters: Brazelton, Rogers and Sun Belt Conference Player of the Year Courtney Lee.
Lee, from Pike High School in Indianapolis, nearly left Western Kentucky before he even stepped on the court. He finished second in voting for Indiana's Mr. Basketball as a senior but wasn't offered a scholarship by Indiana or Purdue. Former Indiana forward Robert Vaden, who followed coach Mike Davis to UAB, was a high school teammate. When the Hoosiers also signed guards A.J. Ratliff and James Hardy during Lee's senior season at Pike High, he figured Indiana didn't have room.
"That was a sign I needed to go to Western Kentucky and make the best of it," Lee said.
But Lee was so homesick during his freshman season in 2004 that he nearly left school during his first week on campus. Horn and Lee's mother persuaded him to stick it out.
"I didn't talk to him," Horn said. "I locked him in his room. We weren't going to let him leave."
Lee soon befriended Danny Rumph, a junior on the basketball team, who became Lee's closest friend and confidant. Rumph told Lee he had been homesick after moving from Philadelphia to Bowling Green, Ky., but battled through it and stayed at the school of about 19,200 students. Rumph told Lee he wasn't going to let the freshman leave, either.
"He was a person I could really rely on," Lee said. "He was like a brother. He was a special person."
Lee was named the Sun Belt Conference Freshman of the Year in 2004-05, averaging 14.9 points on a team that finished 22-9 and lost to Wichita State 84-81 in the second round of the NIT. Lee was flourishing off the court as well.
But on May 9, 2005, as Lee was preparing for a summer trip to Europe with Western Kentucky's basketball team, he received a telephone call from a friend. Lee was told Rumph had died while playing in a pickup game in Philadelphia.
"I remember the day like it was yesterday," Lee said. "I didn't believe it for a day and a half. It finally sunk in when coaches started calling me, telling me we had to book a flight for the funeral."
Lee flew to Philadelphia a week later and buried his friend. An autopsy revealed Rumph had had an enlarged heart.
Lee said he battled depression for months after Rumph's death. Later, he had Rumph's name tattooed on his right arm and dedicated the rest of his career to his friend. Lee still remains close to Rumph's family. Before the Hilltoppers played San Diego on Sunday, Lee received a text message from Rumph's uncle.
Rumph's memory remains fresh with any of the Hilltoppers who knew him. When Horn was asked about his former player outside Western Kentucky's locker room on Sunday, the coach had to wipe tears from his eyes.
"Everyone that played with Danny or had the opportunity to coach him has thought a lot about him the last couple of weeks," Horn said. "He would have loved this."
Lee said Rumph's memory is what drives him, even as the Hilltoppers prepare to face a challenge as daunting as playing the Bruins.
Lee, who is considered a potential NBA first-round draft choice this summer, scored 29 points on 9-for-15 shooting against the Toreros. He also had seven rebounds and three steals.
When San Diego stormed back from a 15-point deficit to cut the Hilltoppers' lead to 55-54 with 6:37 to play, Lee made a 3-pointer to keep his team on top. He scored Western Kentucky's last six points to help them pull away in the final minute.
"I dedicated everything to [Rumph]," Lee said. "If it wasn't for him, I wouldn't be here."
And Western Kentucky wouldn't still be here without Lee and Horn.
Mark Schlabach covers college football and men's college basketball for ESPN.com. You can contact him at schlabachma@yahoo.com.
College Football and Basketball
College football writer for ESPN.com
Author of seven books on college football
Formerly at the Washington Post and the Atlanta Journal-Constitution
SPONSORED HEADLINES
MORE MEN'S COLLEGE BASKETBALL HEADLINES
MOST SENT STORIES ON ESPN.COM
NCAA Tournament 2008

Get caught up with all the news, notes, insights and analysis from the 2008 NCAA tournament.
Tournament Index
Brackets: PDF | GIF
Analysis
•
Katz: Sneak peek at Sweet 16
•
Forde: Dorsey a confusing, entertaining enigma
•
Low: Vols figuring out unsteady point-guard play
•
Schlabach: Horn, Lee break through at WKU
•
Dinich: Davidson proves it is no one-man show
•
ATR: UCLA wins, Day 3 recaps
•
Katz: Neitzel shoots Spartans into Sweet 16
•
Gene Woj: Trent Johnson nearly costs his team
•
Miller: Tough to stop Cardinal's Twin Towers
•
Griffin: Wisconsin gives vintage performance
•
O'Neil: WVU players embrace Huggs' toughness
•
ATR: The end to IU's tumultuous season
•
Katz: What's on tap for the weekend?
•
Forde: Tampa was awesome ... wish I was there
•
Schlabach: Still can't believe the 'Tampa Turmoil'
•
Schlabach: Siena joins upset party in Tampa
•
Schlabach: USD's Grier no long in the shadows
•
Schlabach: WKU's Rogers hits 'dream' shot
•
Dinich: Curry puts on a show against Gonzaga
•
ATR: Arizona's questions, Pitt and MSU roll
•
O'Neil: Belmont lets Duke upset slip away
•
Griffin: Beasley, Walker team up to down USC
•
Gene Woj: Kentucky's roller coaster ends
•
O'Neil: Xavier survives Dawgs' upset bid
•
Forde: Best case/Worst case scenarios
•
Lunardi: Ranking the teams 64-1
•
Experts: "Best of" lists for tourney
•
Whelliston: Mount St. Mary's honors friend
•
Forde: Bruce Pearl's purgatory
•
Katz: Officiating has had a rough season
•
Gottlieb: Scrutiny on officials higher than ever

•
Katz: Mayo, Love exceed freshman expectations
•
Rittenberg: Baby Boilers lead Purdue to Dance
•
Wojciechowski: Liking Psycho T isn't about race
•
Bilas: Grading the committee and talking snubs

• Regions:
East
|
South
|
West
|
Midwest
•
Forde: Super-sized edition of Forde Minutes
•
O'Neil: Serendipitous storylines fill bracket
•
Katz: Committee chair talks hot topics
•
Wojciechowski: 15 suggestions to improve Dance
•
Dinich: UNC's Tobacco Road to San Antonio
News
•
Curry says he's returning to Davidson next year
•
Ford Field, Reliant raise NCAA tourney to new level
•
UCLA's Mbah a Moute to have MRI
•
Nova's Drummond done for season
•
Vols' Pearl explains decision to start Prince
•
Stanford's Johnson not changing after ejection
•
UConn: Price tore ACL, likely to miss six months
•
Love, Mbah a Moute on mend for UCLA
•
Arkansas' Weems hurts knee, expected to play
Video
•
Vitale: Rounds 1 & 2 MVP

•
Vitale: Round 1 prime-time players

•
Gottlieb: Mid-majors make their mark

•
Lunardi: Video previews for all 65

•
Breaking down the East region

•
Breaking down the West Region

•
Breaking down the Midwest region

•
Breaking down the South region

•
ESPN experts fill out their brackets

Audio
•
Podcast: Bilas looks at Thursday's games

•
Podcast: Gottlieb makes bracket predictions

Strategies
•
Tiernan: "Low-risk" bracket strategy

•
Tiernan: "Medium" bracket advice

•
Tiernan: "High-risk" bracket strategy

•
Tiernan: "Dangerous" bracket advice

Photos
•
Day 4 photo gallery
•
Day 3 photo gallery
•
Day 2 photo gallery
•
Day 1 photo gallery
More
•
Tournament Challenge
|
Bracket Master
•
Insider tourney guide

|
BracketCaster