Commentary
Curry shrugs off the glory in Davidson's Elite run
Originally Published:
March 29, 2008
By
Kyle Whelliston
| Special to ESPN.com
DETROIT -- "I can do all things."
If you write that in black ink on your red Nike sneakers and step out onto the floor at the NCAA tournament, you'd better be able to back up words like that.

I can do all things through Him who strengthens me.
-- Philippians 4:13, Bible verse on Curry's shoes
And so far,
Stephen Curry
has done just that. Davidson's sophomore guard is the unquestioned star of March Madness 2008, leading the Cinderella Wildcats out of a No. 10 seed to within a win of the Final Four with a trip of stirring upset victories over Gonzaga, Georgetown and Wisconsin. He has put up gigantic numbers in the process, averaging a tournament-leading 34.3 points per game on 50.8 percent shooting. In the second half of Friday night's Sweet 16 contest against the Badgers, he personally outscored the Big Ten champions, 22-20.
But for a player who's been putting up stats like a one-man team, Curry has been exhibiting the kind of perfect humility that's perfectly at odds with his shoe statement.
"It's nothing special that I do," remarked a shrugging Curry on Saturday, a practice day before the Wildcats' Elite Eight matchup with Kansas. "I just get screens from Andrew [Lovedale] and Thomas [Sander] and other big guys down low. … When I'm open, I get the ball, and I have a lot of confidence to shoot it. Nothing special that I'm doing."
The NCAA's twin tomes of history and records strongly disagree. Curry's 19 3s so far in the postseason have brought him up to 158 for the year, pulling him into a tie for the 21-year-old Division I record for triples in a single season with Butler's Darrin Fitzgerald. No player has had a higher tourney scoring average in nearly as long, not since Bo Kimble scored 35.8 in Loyola Marymount's 1990 Elite Eight run.
[+] Enlarge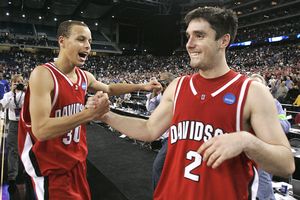 AP Photo/Michael ConroyIt would be easy for Stephen Curry to get caught up in the hoopla around his stellar tournament. But he's been quick to deflect all the glory.
"It's easy to give a lot of glory to yourself when you have a lot of success," Curry said. "And I could get into the mind-set that everything I'm doing is because of me. But I just can't think like that."
Davidson coach Bob McKillop saw a glimmer of that unselfishness when he first encountered Curry as a scrawny, 5-foot-7, 120-pound prep schooler. McKillop noted that Curry bore adversity then with the same level-headedness as the sophomore -- currently listed at 6-3 and 185 pounds -- has handled his current success.
"He had about nine or 11 turnovers in the first game I saw," McKillop said. "But I watched the way he responded to the turnovers. … He didn't try to come down the court and take a crazy shot hoping it would go in and that people would forget the turnover. He went to the bench and never hung his head. He patted his teammates on the back. I saw a lot of the ingredients there that you see today. … He's a great talent, but also a great young man."
He's also the young man who most basketball fans would now pick to shoot a 3 if their lives depended on one heave. Curry has been in "the zone" that many shooters talk about for the past few weeks.
"I don't really hear much," he said, describing the feeling of being in that zone. "No matter how many people are in the stands, it's the same exact feeling as if I was in the gym by myself. I just get into a groove that's just my own, you know? That's what it's like."
[+] Enlarge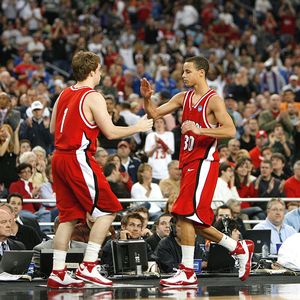 Gregory Shamus/Getty ImagesStephen Curry has scored 103 points in three upset wins in this year's NCAA tournament.
But as for the writing on his shoes, it's certainly not the product of a me-first mentality or an overblown ego lurking beneath a shell of false modesty. There just wasn't enough room on the sole to finish the quote.
"Oh, that," Curry said. "It's Philippians 4:13. 'I can do all things through Him who strengthens me.' It's always been one of my favorite Bible verses. … I realize that what I do on the floor isn't a measure of my own strength. Having that there keeps me focused on the game, a constant reminder of who I'm playing for."
And as the modest star's accomplishments grow, so too does his status as a basketball-playing role model. If Friday night's enormous crowd at Ford Field was any indication, there are already young children out there who aspire to be the next Steph Curry, kids who already own his No. 30 jersey.
"Don't play for anybody other than your family, or God, or whatever you believe in," Curry said when asked if he had any advice to offer. "It's easy to get caught up in playing for the crowd, trying to play a game you're not capable of. I found myself doing that a little bit in high school and early in my college career. I try harder not to do things that are over my head, not do anything too special. I'm more of a blue-collar guy."
But then the NCAA's brightest shooting star broke out into the grin that's been lighting up TV screens for the past two weeks.
"Well, I try to be."
Kyle Whelliston is the national mid-major reporter for Basketball Times and a regular contributor to ESPN.com.
Senior Writer, ESPN.com
Kyle Whelliston has contributed to ESPN.com's college basketball coverage since 2005. He covers mid-major programs for Basketball Times magazine, and will have a basketball travelogue of the 2008-09 season published next summer. Whelliston also founded
midmajority.com
and statistical database site Basketball State (
bbstate.com
).
NCAA Tournament 2008

Get caught up with all the news, notes, insights and analysis from the 2008 NCAA tournament.
Tournament Index

Bracket
•
Updated Bracket
Analysis
•
ATR: Memphis makes freebies, four No. 1 seeds
•
Katz: Four unique stories shape Final Four
•
Forde: Kansas ends Davidson's feel-good story
•
Griffin: Memphis' athletes overwhelm Texas
•
ATR: L'ville's missed chances; how to stop Curry
•
Katz: Hansbrough carries UNC to Final Four
•
Gene Woj: Bruins have their flaws
•
O'Neil: Love is the difference for the Bruins
•
Whelliston: Curry deflects the Madness' glory
•
Griffin: Rose, Augustin battle for spot in Final Four
•
Forde: Pressure all on Kansas, Self vs. Davidson
•
ATR: Texas clamps down on Stanford
•
Griffin: Memphis dishes out big 'I told you so'
•
Forde: Witness the brilliance of Curry, Davidson
•
Katz: Roy, Rick CEOS of their powerhouses
•
O'Neil: UCLA OK with all the drama
•
ATR: Western Kentucky's Cinderella run ends
•
Gene Woj: Enjoy Kevin Love while you can
•
Low: Cards beat Vols at their own game
•
O'Neil: Xavier's "Fresh Prince" leads way
•
Katz: UNC one step closer to Final Four
•
Griffin: The free-throw woes of Memphis, Texas
•
Forde: CDR has an effective, old-man game
•
Forde: Life is beautiful for Davidson, McKillop
•
Experts: Sixteen questions for the Sweet 16
•
Katz: Washington State's unlikely duo
•
Katz: Padgett becomes unlikely vocal leader
•
O'Neil: Xavier determined to keep it Miller time
•
Gene Woj: UCLA's Howland among the best
•
Griffin: Ryan keeps on winning at Wisconsin
•
Glockner: What's in store for the Sweet 16?
•
Forde: Texas' All-American
•
O'Neil: WVU's Alexander learns post-up game
•
The Mag: Green overcomes family adversity
•
Bilas: First weekend was a thriller

•
Dinich: Thomas gives UNC another point
•
Katz: Sneak peek at Sweet 16
Video
•
Vitale: Breaking down Hansbrough's game

•
Analysis: Knight and Vitale on UNC's win

•
Analysis: Knight and Vitale on Xavier's win

•
Johnny Gilbert's Perfect Sweet 16

•
Lunardi breaks down Sweet 16

•
Bob Knight's impressions of Sweet 16

Audio
•
Podcast: Bilas breaks down Sweet 16 action

•
Knight: Sweet 16 preparation thoughts


•
Podcast: Bilas previews Thursday games

•
Podcast: Valvano on Louisville's chances

•
Podcast: Who has helped their draft stock?

•
Podcast: Katz predicts a big upset

•
Podcast: Gottlieb on first two rounds

Photos
•
Elite Eight Day 2 photo gallery
•
Elight Eight Day 1 photo gallery
•
Sweet 16 Day 2 photo gallery
•
Sweet 16 Day 1 photo gallery
•
Day 4 photo gallery
•
Day 3 photo gallery
•
Day 2 photo gallery
•
Day 1 photo gallery
More
•
Tournament Challenge
|
Bracket Master
•
Insider tourney guide

|
BracketCaster
MORE MEN'S COLLEGE BASKETBALL HEADLINES


MOST SENT STORIES ON ESPN.COM