Commentary
Tobacco Road paves way for North Carolina's championship bid
CHARLOTTE, N.C. -- Following his team's 86-81 win over Clemson in the ACC championship game, North Carolina coach Roy Williams wasted no time packing his team up and heading "down the road" to watch the Selection Sunday show in either Greensboro or Burlington -- halfway points between Charlotte and Chapel Hill.
Really, it was little more than a pit stop and a chance to get reacquainted with the bus. It's going to get some use next week.
[+] Enlarge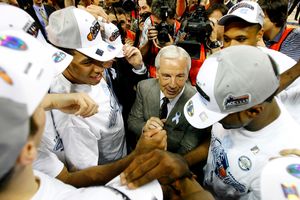 Kevin C. Cox/Getty ImagesRoy Williams' Tar Heels are undefeated in Charlotte this season.
Let's face it: The road to the Final Four might as well be renamed Tobacco Road.
With the No. 1 seed in the East Region locked up after winning the ACC tournament and regular season titles, No. 1-ranked North Carolina (32-2) is assured a home court advantage as it "travels" roughly 30 miles to Raleigh before possibly returning to Charlotte for a third time this season. (The Tar Heels played here in their season opener against Davidson.)
"I think it's definitely going to make a big difference next week in tournament play when we have the upper hand against other opponents because the atmosphere, the crowd is what can intimidate an opponent," said Danny Green. "That's the difference between your run being a six-point run or a 15-point run. It can rattle some teams. Once it rattles a team and the crowd is standing up, it gives us more energy and it could turn into a blowout."
North Carolina didn't exactly manhandle Virginia Tech and Clemson this weekend, but the Tar Heels certainly were the crowd favorites en route to their league-leading 17th ACC title. Roughly three-quarters of the packed Charlotte Bobcats Arena crowd was Carolina-clad fans wearing their baby blues. Clemson represented well, but make no mistake, this was a home game, and that's exactly how Ty Lawson expects it to stay.
"It's a big advantage," said Lawson. "We don't have to travel as much. I mean, Raleigh is 30 minutes from us. Charlotte is two hours from us. We don't get jet lag or anything like that and also the fans -- they're great. We played against Florida State and Va. Tech, they helped us through tough times, giving us energy and screaming, things like that."
For the past month, Williams has been reminded by the media how this postseason scenario could possibly play out, but he said earlier this week that until recently, he didn't know which Carolina cities were actually hosting. (He said he'd never play golf again if he was lying about that.)
"I'm being honest; I don't look down the line," he said. "In 1994-95 everybody said the same thing all you guys are doing right now, that if you could just win the first two games you'll get back to Kansas City -- and we had a pretty doggone good basketball team. So we won the first two games and got back to Kansas City and got our butts kicked. So since that time, I've never been concerned about where we play."
Remember the last time the Tar Heels went through Charlotte in the NCAA tournament? They won it. And Clemson coach Oliver Purnell, who coached against Williams' 2005 national championship team, said UNC can do it again.
[+] Enlarge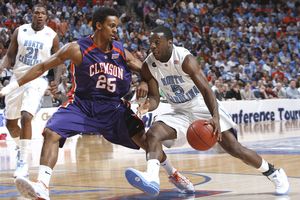 Bob Donnan/US PresswireTy Lawson knows staying close to home can be an advantage in the NCAA tournament.
"They're built for a title run," Purnell said. "I don't think there's any doubt about that."
Williams downplayed any advantage of staying in-state for the NCAA tournament, promptly pointing out that a crowd has never won a game.
"We lost two games this year," he said. "We were in the Smith Center. If the crowd was the factor, we wouldn't have lost any."
They haven't lost in Charlotte and they've played four games here already.
"We know the court, we know the rims," Lawson said. "We've played here before, so we have an advantage over other teams."
Senior guard Quentin Thomas and Williams are the lone leftovers from that 2005 national championship team. Thomas said winning the ACC title wasn't enough.
"We want to achieve one more goal," he said, "and that is a national championship."
In order to get there, stay straight on Tobacco Road.
Heather Dinich is a college football and basketball writer for ESPN.com. Send your questions and comments to Heather at espn.hd@hotmail.com.
College Football
ESPN.com reporter
Joined ESPN.com in 2007
Graduate of Indiana University
SPONSORED HEADLINES
MORE MEN'S COLLEGE BASKETBALL HEADLINES
MOST SENT STORIES ON ESPN.COM
NCAA Tournament 2008

Get caught up with all the news, notes, insights and analysis from the 2008 NCAA tournament.
Tournament Index
Brackets: PDF | GIF
Analysis
•
Katz: Sneak peek at Sweet 16
•
Forde: Dorsey a confusing, entertaining enigma
•
Low: Vols figuring out unsteady point-guard play
•
Schlabach: Horn, Lee break through at WKU
•
Dinich: Davidson proves it is no one-man show
•
ATR: UCLA wins, Day 3 recaps
•
Katz: Neitzel shoots Spartans into Sweet 16
•
Gene Woj: Trent Johnson nearly costs his team
•
Miller: Tough to stop Cardinal's Twin Towers
•
Griffin: Wisconsin gives vintage performance
•
O'Neil: WVU players embrace Huggs' toughness
•
ATR: The end to IU's tumultuous season
•
Katz: What's on tap for the weekend?
•
Forde: Tampa was awesome ... wish I was there
•
Schlabach: Still can't believe the 'Tampa Turmoil'
•
Schlabach: Siena joins upset party in Tampa
•
Schlabach: USD's Grier no long in the shadows
•
Schlabach: WKU's Rogers hits 'dream' shot
•
Dinich: Curry puts on a show against Gonzaga
•
ATR: Arizona's questions, Pitt and MSU roll
•
O'Neil: Belmont lets Duke upset slip away
•
Griffin: Beasley, Walker team up to down USC
•
Gene Woj: Kentucky's roller coaster ends
•
O'Neil: Xavier survives Dawgs' upset bid
•
Forde: Best case/Worst case scenarios
•
Lunardi: Ranking the teams 64-1
•
Experts: "Best of" lists for tourney
•
Whelliston: Mount St. Mary's honors friend
•
Forde: Bruce Pearl's purgatory
•
Katz: Officiating has had a rough season
•
Gottlieb: Scrutiny on officials higher than ever

•
Katz: Mayo, Love exceed freshman expectations
•
Rittenberg: Baby Boilers lead Purdue to Dance
•
Wojciechowski: Liking Psycho T isn't about race
•
Bilas: Grading the committee and talking snubs

• Regions:
East
|
South
|
West
|
Midwest
•
Forde: Super-sized edition of Forde Minutes
•
O'Neil: Serendipitous storylines fill bracket
•
Katz: Committee chair talks hot topics
•
Wojciechowski: 15 suggestions to improve Dance
•
Dinich: UNC's Tobacco Road to San Antonio
News
•
Curry says he's returning to Davidson next year
•
Ford Field, Reliant raise NCAA tourney to new level
•
UCLA's Mbah a Moute to have MRI
•
Nova's Drummond done for season
•
Vols' Pearl explains decision to start Prince
•
Stanford's Johnson not changing after ejection
•
UConn: Price tore ACL, likely to miss six months
•
Love, Mbah a Moute on mend for UCLA
•
Arkansas' Weems hurts knee, expected to play
Video
•
Vitale: Rounds 1 & 2 MVP

•
Vitale: Round 1 prime-time players

•
Gottlieb: Mid-majors make their mark

•
Lunardi: Video previews for all 65

•
Breaking down the East region

•
Breaking down the West Region

•
Breaking down the Midwest region

•
Breaking down the South region

•
ESPN experts fill out their brackets

Audio
•
Podcast: Bilas looks at Thursday's games

•
Podcast: Gottlieb makes bracket predictions

Strategies
•
Tiernan: "Low-risk" bracket strategy

•
Tiernan: "Medium" bracket advice

•
Tiernan: "High-risk" bracket strategy

•
Tiernan: "Dangerous" bracket advice

Photos
•
Day 4 photo gallery
•
Day 3 photo gallery
•
Day 2 photo gallery
•
Day 1 photo gallery
More
•
Tournament Challenge
|
Bracket Master
•
Insider tourney guide

|
BracketCaster