Commentary
Another workmanlike performance puts Wisconsin in Sweet 16
Originally Published:
March 22, 2008
By
Tim Griffin
| ESPN.com
OMAHA, Neb. -- Considering his team's purposeful approach throughout the game, it was a little curious for Wisconsin guard Michael Flowers to start singing briefly late in the game in an atypical show of emotion.
[+] Enlarge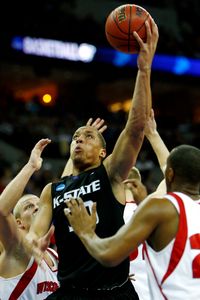 Photo by Jamie Squire/Getty ImagesMichael Beasley started strong but was held in check in the second half by the Wisconsin defense.
But understandable, considering his team's performance.
Flowers joined in when the Wisconsin pep band played its "Bud" song late in the Badgers' 72-55 second-round victory over Kansas State.
"When everything is clicking and you're countering everything your opponent is throwing at you, it's something special," Flowers said. "It was just an exciting game -- one that I'll probably never forget. I had fun and wanted to show it."
The Badgers' grinding man-to-man defensive performance -- as usual -- was a testament to skinned knees and squeaky sneakers. It so thoroughly flummoxed the Wildcats that there was beauty in the misery Wisconsin inflicted on KSU's sputtering offense.
The nation's leading defensive team limited the Cats to a season-low in points, including no fast-break points. The K-State perimeter game never showed up in a zero-for-13 clankfest behind the arc, representing the first time in 349 games that the Wildcats failed to produce at least one 3-point goal.
Although basketball pundits seldom describe the Badgers as a sexy pick to make it to San Antonio, they did wrap up their third Sweet 16 appearance in six seasons. And said pundits might better rethink their early predictions if the Badgers continue to make opponents struggle like the Wildcats did Saturday.
"People get away from the fact that defense wins championships," Wisconsin forward Marcus Landry said. "No one wants to say that anymore. Everybody talks about guys being athletic and getting dunks and all that. The way we play defense might not be pretty to watch, but we're going to win games and do what it takes to win them."
The Badgers' blue-collar approach mirrored much of the life in Brian Butch's hometown of Appleton, Wis. The major employers there include dirt-under-the-nails manufacturers of paper products and fire trucks.

People get away from the fact that defense wins championships. No one wants to say that anymore. Everybody talks about guys being athletic and getting dunks and all that. The way we play defense might not be pretty to watch, but we're going to win games and do what it takes to win them.
--Wisconsin's Marcus Landry
"We've played together as a team all year long, and different guys have stepped up at different times," Butch said. "That's why the state of Wisconsin loves us. We don't care how it gets done as long as it gets done. I think the state is a lot like that."
Against KSU, the Wisconsin starting backcourt provided the lift, outscoring the Cats' starters 40-4. Trevon Hughes matched his career high with 25 points, combining with Flowers to sink 13 of 20 shots, including seven 3-pointers. Backup center Greg Stiemsma provided a career-high 14 points and led the Badgers with seven rebounds.
The defense supplied the rest, limiting Michael Beasley to only six points in the second half after he had ripped them for 17 in the first half.
"There were two or three defenders around me every time I touched the ball," Beasley said. "I really can't play against the whole team by myself."
The Badgers' success was predicated on keeping the rest of the Wildcats from much effectiveness on offense. Other than Beasley and Bill Walker, the rest of the KSU team accounted for only 14 points.
Unlike in the first-round victory over Southern California, when freshman players scored 72 of K-State's 80 points, the rest of the lineup withered badly against Wisconsin's fierce defensive pressure.
"We knew we had to make perimeter shots to beat Wisconsin," Cats coach Frank Martin said. "And we go 0-for 13. That's not a team you want to play on a night when you don't make jump shots."
[+] Enlarge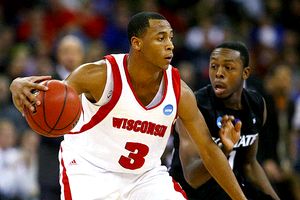 Jamie Squire/Getty ImagesTrevon Hughes was part of a Wisconsin backcourt that outscored its KSU counterparts 40-4.
Such offensive struggles don't bode well for next season, when Martin likely will face a huge rebuilding job if Beasley and Walker turn pro in what is expected to be a one-season-and-done brush with college basketball.
For his part, Beasley said after the game that he was unsure about his upcoming plans.
"I can't tell you yet. I haven't put any thought into it," he said. "I plan to think about it in the next couple of weeks. But as of now, it's still out there."
His basketball future appears bright with shoe contracts, commercials and posters once he makes the next step. While Beasley ponders his vocation, Wisconsin will be grinding away in the tournament.
And though some still might argue about the cosmetic nature of his team's way of winning, Wisconsin forward Joe Krabbenhoft said basketball purists could appreciate the Badgers' approach.
"I thought how we played was very pretty today," Krabbenhoft said. "If somebody says the way we play is ugly to watch, whoever's watching isn't a basketball fan. That was vintage Wisconsin basketball today."
Even if their point guard was a little off-key -- in terms of singing rather than court leadership.
Tim Griffin covers college football and basketball for ESPN.com. He can be reached at espntimgriff@yahoo.com.
NCAA Tournament 2008

Get caught up with all the news, notes, insights and analysis from the 2008 NCAA tournament.
Tournament Index
Brackets: PDF | GIF
Analysis
•
Katz: Sneak peek at Sweet 16
•
Forde: Dorsey a confusing, entertaining enigma
•
Low: Vols figuring out unsteady point-guard play
•
Schlabach: Horn, Lee break through at WKU
•
Dinich: Davidson proves it is no one-man show
•
ATR: UCLA wins, Day 3 recaps
•
Katz: Neitzel shoots Spartans into Sweet 16
•
Gene Woj: Trent Johnson nearly costs his team
•
Miller: Tough to stop Cardinal's Twin Towers
•
Griffin: Wisconsin gives vintage performance
•
O'Neil: WVU players embrace Huggs' toughness
•
ATR: The end to IU's tumultuous season
•
Katz: What's on tap for the weekend?
•
Forde: Tampa was awesome ... wish I was there
•
Schlabach: Still can't believe the 'Tampa Turmoil'
•
Schlabach: Siena joins upset party in Tampa
•
Schlabach: USD's Grier no long in the shadows
•
Schlabach: WKU's Rogers hits 'dream' shot
•
Dinich: Curry puts on a show against Gonzaga
•
ATR: Arizona's questions, Pitt and MSU roll
•
O'Neil: Belmont lets Duke upset slip away
•
Griffin: Beasley, Walker team up to down USC
•
Gene Woj: Kentucky's roller coaster ends
•
O'Neil: Xavier survives Dawgs' upset bid
•
Forde: Best case/Worst case scenarios
•
Lunardi: Ranking the teams 64-1
•
Experts: "Best of" lists for tourney
•
Whelliston: Mount St. Mary's honors friend
•
Forde: Bruce Pearl's purgatory
•
Katz: Officiating has had a rough season
•
Gottlieb: Scrutiny on officials higher than ever

•
Katz: Mayo, Love exceed freshman expectations
•
Rittenberg: Baby Boilers lead Purdue to Dance
•
Wojciechowski: Liking Psycho T isn't about race
•
Bilas: Grading the committee and talking snubs

• Regions:
East
|
South
|
West
|
Midwest
•
Forde: Super-sized edition of Forde Minutes
•
O'Neil: Serendipitous storylines fill bracket
•
Katz: Committee chair talks hot topics
•
Wojciechowski: 15 suggestions to improve Dance
•
Dinich: UNC's Tobacco Road to San Antonio
News
•
Curry says he's returning to Davidson next year
•
Ford Field, Reliant raise NCAA tourney to new level
•
UCLA's Mbah a Moute to have MRI
•
Nova's Drummond done for season
•
Vols' Pearl explains decision to start Prince
•
Stanford's Johnson not changing after ejection
•
UConn: Price tore ACL, likely to miss six months
•
Love, Mbah a Moute on mend for UCLA
•
Arkansas' Weems hurts knee, expected to play
Video
•
Vitale: Rounds 1 & 2 MVP

•
Vitale: Round 1 prime-time players

•
Gottlieb: Mid-majors make their mark

•
Lunardi: Video previews for all 65

•
Breaking down the East region

•
Breaking down the West Region

•
Breaking down the Midwest region

•
Breaking down the South region

•
ESPN experts fill out their brackets

Audio
•
Podcast: Bilas looks at Thursday's games

•
Podcast: Gottlieb makes bracket predictions

Strategies
•
Tiernan: "Low-risk" bracket strategy

•
Tiernan: "Medium" bracket advice

•
Tiernan: "High-risk" bracket strategy

•
Tiernan: "Dangerous" bracket advice

Photos
•
Day 4 photo gallery
•
Day 3 photo gallery
•
Day 2 photo gallery
•
Day 1 photo gallery
More
•
Tournament Challenge
|
Bracket Master
•
Insider tourney guide

|
BracketCaster
MORE MEN'S COLLEGE BASKETBALL HEADLINES


MOST SENT STORIES ON ESPN.COM