Commentary
Brook and Robin Lopez doom guard-heavy Marquette in OT
Originally Published:
March 22, 2008
By
Ted Miller
| ESPN.com
ANAHEIM, Calif. -- A Stanford teammate bumped the Marquette defender, and that gave Brook Lopez just a smidgen of leverage and position. It appeared, however, that guard Mitch Johnson's delicate dish came a little too deep toward the baseline and behind the backboard.
[+] Enlarge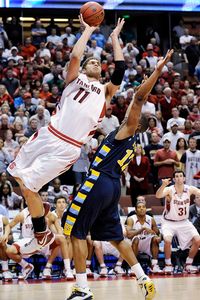 AP Photo/Kevork DjansezianBrook Lopez scored 26 points after halftime, so why wouldn't the winning basket be in the mix?
Lopez therefore needed every one of his 84 inches to extend his right hand just beyond the rim and flip the ball up. Then the most decorated Stanford tree fell -- timber! -- to the floor as the clock ticked inside two seconds.
"Man, I was on the ground looking at it roll around, hoping it would fall," Lopez said.
The ball spun in, giving Stanford a thrilling 82-81 overtime victory over scrappy Marquette in Anaheim on Saturday night. Lopez scored 28 of his 30 points after halftime as the Cardinal overcame the first-half ejection of coach Trent Johnson to advance to the Sweet 16 for the first time since 2001.
"That's kind of a typical, trick, Brook Lopez shot," forward Taj Finger said. "He does that all the time in practice. So I don't think anyone was really surprised to see him take it. Or that it went in."
Brook Lopez didn't have many tricks in the first half. But while he labored to find his rhythm, shaggy-haired twin brother Robin scored 10 of his 18 points. Robin also finished with a game-high nine rebounds.
The Lopez twins are 14 feet of game-changing impact. No team in the country can match them. At times, their basic, dribble-spin post moves appear unstoppable because their catcher's mitt hands always seem just out of reach of anyone else.
But that doesn't mean a team can't outflank them, which is exactly what Marquette did for significant stretches Saturday.
How can the Pac-10's best rebounding team get whipped on the boards 45-38? How can a team with that 14 feet of game-changing impact end up with a 22-9 deficit on second-chance points?
This one didn't go according to plan for either squad. Marquette wanted to run. It didn't. Stanford believed it could dominate in the half court. It didn't.
And in a gritty showdown, when the final gut-twisting moments required fortitude and toughness and a willingness to claw for every advantage, that's where many thought Marquette might have an edge.
[+] Enlarge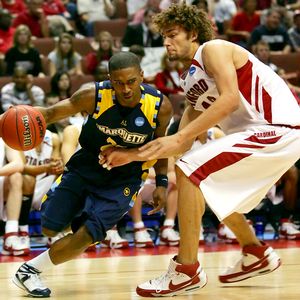 Lisa Blumenfeld/Getty ImagesJerel McNeal's career-high 30 points wasn't enough to topple Stanford's Twin Towers.
Not this night, though. Stanford, an academically elite school known to flame out come tourney time, showed plenty of grit.
"Yeah, I think everyone doubts that we have that," Finger said. "I heard tons of commentators say Stanford is going to lose this game because we don't have the toughness. They can say what they want. I know everyone on this team has enough toughness to keep winning."
The Cardinal players admitted that watching their coach get chased for yammering at the officials helped them play angry in the second half.
"I didn't want Coach Johnson to feel we lost because of his mistake," Robin Lopez said.
The emotion helped and hurt as things got fairly chatty in the paint. When Marquette forward Lawrence Blackledge got called for a foul while blocking Robin's dunk attempt, the pair started jawing, and both earned technicals.
"When I got fouled on the dunk, he actually told me, 'You ain't getting anything in here tonight.' And I said, 'Please, I've been getting everything in here tonight,'" Robin said.
Only problem was, that was Robin's third foul. Moments later, with 11:19 remaining, his brother picked up his third. Now the Twin Towers were strapped to the bench with three fouls apiece. Marquette used the next Lopez-less four minutes to rally from a six-point deficit to a 58-57 lead.
From then on, neither team built a lead bigger than five points, which Marquette reached with 3:23 left in regulation. The back-and-forth affair featured nine ties and 14 lead changes.
Faced with that five-point deficit, Brook Lopez scored six of the Cardinal's final seven points in regulation.
The seventh point came from -- who else? -- Robin. His free throw, after missing the front-end, created the eighth tie with nine seconds left. Marquette guard Jerel McNeal, who led the Eagles with a career-high 30 points, missed a pull-up 3-pointer with six seconds left that could have won the game in regulation.
No other Cardinal reached double digits -- unless you want to include Johnson's 16 assists, three of which were feeds to Brook in overtime.
Everyone knew where the ball was going in the extra frame. Brook Lopez took six of Stanford's eight shots and scored eight of its 11 points, dragging his team into the third round.
"You can't stop him," Finger said. "He's so long, and he's got great touch. There's really nothing you can do, and he's proven that all year."
Ted Miller covers college football and basketball for ESPN.com.
College Football
ESPN.com Pac-12 reporter
Covered college football since 1997
Graduate of the University of Richmond
SPONSORED HEADLINES
MORE MEN'S COLLEGE BASKETBALL HEADLINES
MOST SENT STORIES ON ESPN.COM
NCAA Tournament 2008

Get caught up with all the news, notes, insights and analysis from the 2008 NCAA tournament.
Tournament Index
Brackets: PDF | GIF
Analysis
•
Katz: Sneak peek at Sweet 16
•
Forde: Dorsey a confusing, entertaining enigma
•
Low: Vols figuring out unsteady point-guard play
•
Schlabach: Horn, Lee break through at WKU
•
Dinich: Davidson proves it is no one-man show
•
ATR: UCLA wins, Day 3 recaps
•
Katz: Neitzel shoots Spartans into Sweet 16
•
Gene Woj: Trent Johnson nearly costs his team
•
Miller: Tough to stop Cardinal's Twin Towers
•
Griffin: Wisconsin gives vintage performance
•
O'Neil: WVU players embrace Huggs' toughness
•
ATR: The end to IU's tumultuous season
•
Katz: What's on tap for the weekend?
•
Forde: Tampa was awesome ... wish I was there
•
Schlabach: Still can't believe the 'Tampa Turmoil'
•
Schlabach: Siena joins upset party in Tampa
•
Schlabach: USD's Grier no long in the shadows
•
Schlabach: WKU's Rogers hits 'dream' shot
•
Dinich: Curry puts on a show against Gonzaga
•
ATR: Arizona's questions, Pitt and MSU roll
•
O'Neil: Belmont lets Duke upset slip away
•
Griffin: Beasley, Walker team up to down USC
•
Gene Woj: Kentucky's roller coaster ends
•
O'Neil: Xavier survives Dawgs' upset bid
•
Forde: Best case/Worst case scenarios
•
Lunardi: Ranking the teams 64-1
•
Experts: "Best of" lists for tourney
•
Whelliston: Mount St. Mary's honors friend
•
Forde: Bruce Pearl's purgatory
•
Katz: Officiating has had a rough season
•
Gottlieb: Scrutiny on officials higher than ever

•
Katz: Mayo, Love exceed freshman expectations
•
Rittenberg: Baby Boilers lead Purdue to Dance
•
Wojciechowski: Liking Psycho T isn't about race
•
Bilas: Grading the committee and talking snubs

• Regions:
East
|
South
|
West
|
Midwest
•
Forde: Super-sized edition of Forde Minutes
•
O'Neil: Serendipitous storylines fill bracket
•
Katz: Committee chair talks hot topics
•
Wojciechowski: 15 suggestions to improve Dance
•
Dinich: UNC's Tobacco Road to San Antonio
News
•
Curry says he's returning to Davidson next year
•
Ford Field, Reliant raise NCAA tourney to new level
•
UCLA's Mbah a Moute to have MRI
•
Nova's Drummond done for season
•
Vols' Pearl explains decision to start Prince
•
Stanford's Johnson not changing after ejection
•
UConn: Price tore ACL, likely to miss six months
•
Love, Mbah a Moute on mend for UCLA
•
Arkansas' Weems hurts knee, expected to play
Video
•
Vitale: Rounds 1 & 2 MVP

•
Vitale: Round 1 prime-time players

•
Gottlieb: Mid-majors make their mark

•
Lunardi: Video previews for all 65

•
Breaking down the East region

•
Breaking down the West Region

•
Breaking down the Midwest region

•
Breaking down the South region

•
ESPN experts fill out their brackets

Audio
•
Podcast: Bilas looks at Thursday's games

•
Podcast: Gottlieb makes bracket predictions

Strategies
•
Tiernan: "Low-risk" bracket strategy

•
Tiernan: "Medium" bracket advice

•
Tiernan: "High-risk" bracket strategy

•
Tiernan: "Dangerous" bracket advice

Photos
•
Day 4 photo gallery
•
Day 3 photo gallery
•
Day 2 photo gallery
•
Day 1 photo gallery
More
•
Tournament Challenge
|
Bracket Master
•
Insider tourney guide

|
BracketCaster