Commentary
Quentin Thomas just needed the confidence to excel
RALEIGH, N.C. -- Before Quentin Thomas ever stepped one foot on the North Carolina campus, he had already had his first arthroscopic surgery on his right knee. Then he missed 12 games his sophomore and junior seasons because of a stress fracture in his left foot. This past summer, he had another arthroscopic surgery on his knee.
Not that anyone was paying much attention. With two other outstanding point guards in front of him, the odds of Thomas playing significant minutes were slim.

He's faced so much adversity with two surgeries, numerous injuries, tough deals. It had not been very easy for him. But I think the confidence factor is finally allowing him to believe he is good as he is and has been.
--Roy Williams
Until Bobby Frasor went down. And Ty Lawson went down.
Then the Tar Heels had no choice to turn to Thomas.
Thomas' biggest obstacle hasn't been talent, it was confidence.
But after starting nine games in place of Lawson, he finally has it. Clearly Lawson is one of the best point guards in the country when he's healthy, but in his absence, Thomas became a dependable starter.
Now, with Lawson almost fully recovered from his ankle injury and Thomas much improved, the Heels have two.
"Now there's no drop-off level," said freshman Will Graves. "I don't think there was a drop-off level before, but I think to him, in the back of his mind, he was thinking, 'I do mess up sometimes.' But like now he sees that he can play those minutes and he can produce and he can be a great player and when he comes in, his confidence level is there so he plays like it."
As the lone scholarship senior on the roster, Thomas is also the only player left with any ties to the 2005 national title. This year, though, he has actually played a role in putting his team in position to win another one.
"It's been an experience, from my freshman year until now, just going through so much adversity," said Thomas. "They say what doesn't kill you only makes you stronger. I think I definitely matured from it and persevered through everything and got through it. I'm happy that I did."
So are his teammates.
[+] Enlarge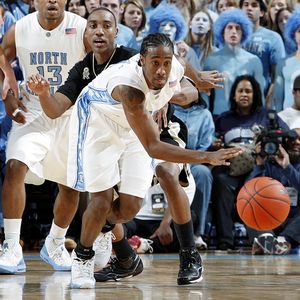 Bob Donnan/US PresswireNorth Carolina now has a dependable, experienced point guard in Quentin Thomas, who was thrust into duty after injuries to Ty Lawson and Bobby Frasor.
"I think Quentin has got tremendously better as the season has gone on this year, especially with Tywon's injury and him having to step up and play a lot more minutes than he's used to," Marcus Ginyard said. "… We always felt like Quentin was a capable player, and we always felt like his own confidence level was holding him back. I just felt like him getting comfortable and getting out there on the court and playing those minutes allowed him to become more confident in his own capabilities, his great decision-making and positive ability, and just being a senior leader out there. He's the only one that's been here and understood what it takes to get to those levels and get to the places where this team wants to get to."
Thomas, who was part of Roy Williams' first recruiting class at Carolina, said he hasn't said much to his teammates about the 2005 national championship. He was the backup to Raymond Felton, and he averaged 6.3 minutes that season.
"Freshman year, I was part of the team, but this year I can really say I helped the team a lot at certain times, and [am] just a big part of this team," he said. "I want these guys to experience it too."
Thomas started the last nine games of the regular season in place of Lawson -- eight of which were wins. His playing time increased dramatically, from 9.3 minutes a game in the first 19 games to 28.5 in the last 10 regular-season games. During that span, he also averaged 6.7 points and 5.5 assists.
"Defensively, he's far superior to where he was two months ago," Williams said. "His ability to take the ball to the basket with confidence is so much different than it was two months ago. His outside shot, he's making because he's so much more confident. I keep going back to that. I think he's finally … he's faced so much adversity with two surgeries, numerous injuries, tough deals. It had not been very easy for him. But I think the confidence factor is finally allowing him to believe he is good as he is and has been."
His last season, though, has been his best. Thomas has scored 114 points this year, compared with 107 in his first three seasons combined.
"I never doubted my talent," he said, "it was just situations dealing with injuries and adversity. Just dealing with that, my confidence wasn't always as high as I wanted it, but I know I can always play this game."
Heather Dinich is a college football and basketball writer for ESPN.com. Send your questions and comments to Heather at espn.hd@hotmail.com.
College Football
ESPN.com reporter
Joined ESPN.com in 2007
Graduate of Indiana University
NCAA Tournament 2008

Get caught up with all the news, notes, insights and analysis from the 2008 NCAA tournament.
Tournament Index

Bracket
•
Updated Bracket
Analysis
•
ATR: Memphis makes freebies, four No. 1 seeds
•
Katz: Four unique stories shape Final Four
•
Forde: Kansas ends Davidson's feel-good story
•
Griffin: Memphis' athletes overwhelm Texas
•
ATR: L'ville's missed chances; how to stop Curry
•
Katz: Hansbrough carries UNC to Final Four
•
Gene Woj: Bruins have their flaws
•
O'Neil: Love is the difference for the Bruins
•
Whelliston: Curry deflects the Madness' glory
•
Griffin: Rose, Augustin battle for spot in Final Four
•
Forde: Pressure all on Kansas, Self vs. Davidson
•
ATR: Texas clamps down on Stanford
•
Griffin: Memphis dishes out big 'I told you so'
•
Forde: Witness the brilliance of Curry, Davidson
•
Katz: Roy, Rick CEOS of their powerhouses
•
O'Neil: UCLA OK with all the drama
•
ATR: Western Kentucky's Cinderella run ends
•
Gene Woj: Enjoy Kevin Love while you can
•
Low: Cards beat Vols at their own game
•
O'Neil: Xavier's "Fresh Prince" leads way
•
Katz: UNC one step closer to Final Four
•
Griffin: The free-throw woes of Memphis, Texas
•
Forde: CDR has an effective, old-man game
•
Forde: Life is beautiful for Davidson, McKillop
•
Experts: Sixteen questions for the Sweet 16
•
Katz: Washington State's unlikely duo
•
Katz: Padgett becomes unlikely vocal leader
•
O'Neil: Xavier determined to keep it Miller time
•
Gene Woj: UCLA's Howland among the best
•
Griffin: Ryan keeps on winning at Wisconsin
•
Glockner: What's in store for the Sweet 16?
•
Forde: Texas' All-American
•
O'Neil: WVU's Alexander learns post-up game
•
The Mag: Green overcomes family adversity
•
Bilas: First weekend was a thriller

•
Dinich: Thomas gives UNC another point
•
Katz: Sneak peek at Sweet 16
Video
•
Vitale: Breaking down Hansbrough's game

•
Analysis: Knight and Vitale on UNC's win

•
Analysis: Knight and Vitale on Xavier's win

•
Johnny Gilbert's Perfect Sweet 16

•
Lunardi breaks down Sweet 16

•
Bob Knight's impressions of Sweet 16

Audio
•
Podcast: Bilas breaks down Sweet 16 action

•
Knight: Sweet 16 preparation thoughts


•
Podcast: Bilas previews Thursday games

•
Podcast: Valvano on Louisville's chances

•
Podcast: Who has helped their draft stock?

•
Podcast: Katz predicts a big upset

•
Podcast: Gottlieb on first two rounds

Photos
•
Elite Eight Day 2 photo gallery
•
Elight Eight Day 1 photo gallery
•
Sweet 16 Day 2 photo gallery
•
Sweet 16 Day 1 photo gallery
•
Day 4 photo gallery
•
Day 3 photo gallery
•
Day 2 photo gallery
•
Day 1 photo gallery
More
•
Tournament Challenge
|
Bracket Master
•
Insider tourney guide

|
BracketCaster
MORE MEN'S COLLEGE BASKETBALL HEADLINES


MOST SENT STORIES ON ESPN.COM