Commentary
Badgers play unaesthetic, successful basketball
Originally Published:
March 26, 2008
By
Tim Griffin
| ESPN.com
OMAHA, Neb. -- The indoctrination begins early for new Wisconsin players, usually only about five minutes into their first practice.
Shortly after the new players learn the names of their teammates and the way from the locker room to the practice floor, they comprehend how vitally important defense is to any team coached by Bo Ryan.
[+] Enlarge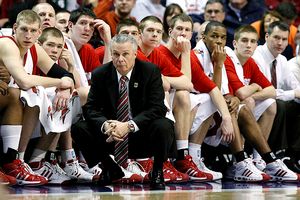 Jonathan Daniel/Getty ImagesBo Ryan may lack the flash (with the exception of the Hambone and Soulja Boy), but he's led the Badgers to back-to-back 30-win seasons.
"We started off with drills about protecting the rim in transition. It's probably the first drill I remember as a Badger," junior guard/forward Joe Krabbenhoft said. "Protect the rim first, hustle back and find shooters. It's a team effort and a collective rule that we all try to stick to."
Understand that "Ryan's Rules" have been his tenets since his earliest basketball days growing up in a hard-scrabble neighborhood in Chester, Pa.
"My job, 8 years old and on, was to make sure that nobody ever got a layup on our team -- Biddy League, high school, junior college and college," Ryan said.
So it's not as if the crusty Ryan's blue-collar approach is anything different with his current team. He practiced it as a player. And he now demands it, rather forcefully, as a coach.
The Badgers' grinding "swing offense" is predicated on withering ball screens, balanced scoring, crisp cuts and solid passing in search of open shots. And on the other end of the court, they force their opponents to take bad ones. It's not aesthetically pleasing -- except to basketball purists -- but it's been ruthlessly effective during a 31-4 season, which already has set a school record for wins.
"We're very disciplined both on offense and defense, and we play to the percentage," senior guard Michael Flowers said. "We look for good shots, even if it calls for us to run the shot clock down. If so, so be it. We try to make every possession count."
That formula will be tested in a classic "David versus Goliath" matchup Friday in Detroit when the No. 3 seed Badgers meet No. 10 seed Davidson in the Midwest Regional semifinal (7:10 p.m. ET).
Most of the country will be cheering for the Cinderella Wildcats, who rocketed into the national consciousness with stunning comeback victories over Gonzaga and Georgetown in the first two rounds of the tournament. But the Badgers' trek to the Sweet 16 has been almost as surprising.

We all try to do the little things, the intangibles. It might not always be the prettiest game, and we might not have the biggest numbers. But we've been winning with it, so we're going to stick with it.
--Greg Stiemsma
Ryan's program had a national breakthrough last season, earning the first No. 1 ranking in school history midway through the season. But the losses of NBA first-round draft pick Alando Tucker and Kammron Taylor dropped the Badgers back to the middle in most Big Ten preseason polls.
Heads didn't start turning until Wisconsin's 67-66 upset at then-No. 7 Texas on Dec. 29. The victory was even more remarkable because starting point guard Trevon Hughes was out with an ankle injury.
Confidence from that game mushroomed once the Badgers started conference play, where they won every game except two against Purdue. They followed that up by winning the Big Ten tournament.
"Not many people expected a lot out of us this year," senior center Brian Butch said. "It just goes back to team chemistry we have. After the Texas game, everyone sat in the locker room, started believing -- that got us going. And I think if you ask the guys in the Big Ten, it was pretty tough to stop us this year."
The Badgers' balance is best seen by looking at their first five games in Big Ten play. A different player scored at least 20 points in each of Wisconsin's first five conference games.
Consistent production throughout the lineup has continued in the NCAA tournament. In Wisconsin's opening-round victory over Cal State Fullerton, its three double-figure scorers were Krabbenhoft, sixth man Jason Bohannon and Butch. Against Kansas State, Wisconsin's double-figure scorers were Flowers, Hughes and backup center Greg Stiemsma.
The Badgers' best player down the Big Ten stretch was junior forward Marcus Landry, who led them in scoring in conference play and earned MVP honors at the conference tournament.
"Anybody who watched us numerous times realizes that we don't have one big star on this team," Butch said. "It's a bunch -- basically whoever is out there. All five guys can make plays.
"We're not going to have one guy take 20 shots. It's just not going to happen with this team. We've got too many good players, and that's how we've been successful. If we got away from that, I don't know if we'd be nearly as good as we are."
Wisconsin's unique chemistry is one reason many believe these Badgers are better than last year's team.
[+] Enlarge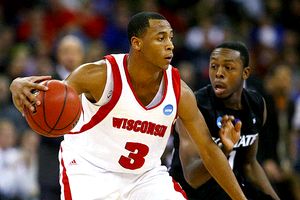 Jamie Squire/Getty ImagesTrevon Hughes is Wisconsin's second-leading scorer but averages only 11.6 points per game. In Madison, it's all about the team first.
And even if it hasn't made them a sexy pick to make it to San Antonio next week, history appears to be on their side. Only four other Big Ten teams have claimed the regular-season conference championship and tournament championship in the same season: Michigan State in 1999 and 2000, Illinois in 2005 and Ohio State last season. All of those teams made Final Four trips.
The gritty Badgers lead the nation in scoring defense (53.9 points per game) and rank third nationally in field goal percentage defense (.380). Each of Wisconsin's past nine opponents has shot 42 percent or less from the field.
"We've got some guys who are pretty tough and gritty, and it spreads," Ryan said. "And it's kind of something they've hung their hat on as the season went on."
That defensive prowess will be challenged by Davidson's talented backcourt of Stephen Curry and Jason Richards. Curry scored 70 points in Davidson's first two tournament games, and Richards leads the nation in assists with eight per game.
The Badgers have seen similar firepower before. They clamped down on Kansas State's Michael Beasley, allowing him only six points in the second half Saturday in their second-round victory over the Wildcats. Ryan was happy his team dictated the pace and allowed opponents less than a point per offensive possession in the first two tournament games.
For today's generation weaned on dunks and alley-oops, that strategy is an anathema. But there's a certain sense of beauty for basketball aficionados who are enthralled watching the burr-headed, burly Badgers milk the clock on offense and force opponents into a barrage of low-percentage shots.
Such strategy has been successful in the NBA in recent seasons. The San Antonio Spurs have similarly eschewed glitz and glamour and won four titles during the past nine seasons with a lunch-pail mentality predicated on defense.
"We all try to do the little things, the intangibles," Stiemsma said. "It might not always be the prettiest game, and we might not have the biggest numbers. But we've been winning with it, so we're going to stick with it."
Tim Griffin covers college football and basketball for ESPN.com. He can be reached at espntimgriff@yahoo.com.
SPONSORED HEADLINES
MORE MEN'S COLLEGE BASKETBALL HEADLINES
MOST SENT STORIES ON ESPN.COM
NCAA Tournament 2008

Get caught up with all the news, notes, insights and analysis from the 2008 NCAA tournament.
Tournament Index

Bracket
•
Updated Bracket
Analysis
•
ATR: Memphis makes freebies, four No. 1 seeds
•
Katz: Four unique stories shape Final Four
•
Forde: Kansas ends Davidson's feel-good story
•
Griffin: Memphis' athletes overwhelm Texas
•
ATR: L'ville's missed chances; how to stop Curry
•
Katz: Hansbrough carries UNC to Final Four
•
Gene Woj: Bruins have their flaws
•
O'Neil: Love is the difference for the Bruins
•
Whelliston: Curry deflects the Madness' glory
•
Griffin: Rose, Augustin battle for spot in Final Four
•
Forde: Pressure all on Kansas, Self vs. Davidson
•
ATR: Texas clamps down on Stanford
•
Griffin: Memphis dishes out big 'I told you so'
•
Forde: Witness the brilliance of Curry, Davidson
•
Katz: Roy, Rick CEOS of their powerhouses
•
O'Neil: UCLA OK with all the drama
•
ATR: Western Kentucky's Cinderella run ends
•
Gene Woj: Enjoy Kevin Love while you can
•
Low: Cards beat Vols at their own game
•
O'Neil: Xavier's "Fresh Prince" leads way
•
Katz: UNC one step closer to Final Four
•
Griffin: The free-throw woes of Memphis, Texas
•
Forde: CDR has an effective, old-man game
•
Forde: Life is beautiful for Davidson, McKillop
•
Experts: Sixteen questions for the Sweet 16
•
Katz: Washington State's unlikely duo
•
Katz: Padgett becomes unlikely vocal leader
•
O'Neil: Xavier determined to keep it Miller time
•
Gene Woj: UCLA's Howland among the best
•
Griffin: Ryan keeps on winning at Wisconsin
•
Glockner: What's in store for the Sweet 16?
•
Forde: Texas' All-American
•
O'Neil: WVU's Alexander learns post-up game
•
The Mag: Green overcomes family adversity
•
Bilas: First weekend was a thriller

•
Dinich: Thomas gives UNC another point
•
Katz: Sneak peek at Sweet 16
Video
•
Vitale: Breaking down Hansbrough's game

•
Analysis: Knight and Vitale on UNC's win

•
Analysis: Knight and Vitale on Xavier's win

•
Johnny Gilbert's Perfect Sweet 16

•
Lunardi breaks down Sweet 16

•
Bob Knight's impressions of Sweet 16

Audio
•
Podcast: Bilas breaks down Sweet 16 action

•
Knight: Sweet 16 preparation thoughts


•
Podcast: Bilas previews Thursday games

•
Podcast: Valvano on Louisville's chances

•
Podcast: Who has helped their draft stock?

•
Podcast: Katz predicts a big upset

•
Podcast: Gottlieb on first two rounds

Photos
•
Elite Eight Day 2 photo gallery
•
Elight Eight Day 1 photo gallery
•
Sweet 16 Day 2 photo gallery
•
Sweet 16 Day 1 photo gallery
•
Day 4 photo gallery
•
Day 3 photo gallery
•
Day 2 photo gallery
•
Day 1 photo gallery
More
•
Tournament Challenge
|
Bracket Master
•
Insider tourney guide

|
BracketCaster