Commentary
Cards' stifling defense and high energy sap the Vols
Originally Published:
March 28, 2008
By
Chris Low
| ESPN.com
CHARLOTTE, N.C. -- Steven Pearl, the son of Tennessee coach Bruce Pearl, stood up with just under nine minutes remaining Thursday night and the Vols still very much in the game and implored the rest of his teammates to find some energy.
As he glared down the bench, hardly anyone batted an eye.
Maybe that's because Louisville, and specifically 6-foot-9 sophomore forward Earl Clark, had already sapped every bit of energy out of Charlotte Bobcats Arena.
[+] Enlarge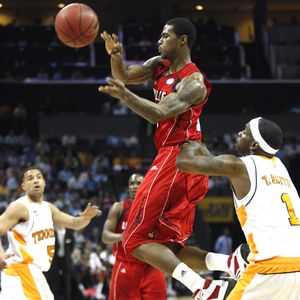 Bob Donnan/US PresswireEarl Clark's energy and defense off the Louisville bench sparked the Cards to a big win over Tennessee.
And definitely out of Tennessee.
In many ways, Louisville beat Tennessee at its own game in a 79-60 runaway in the East Regional semifinals that further solidified the Cardinals (27-8) as one of the hottest teams in the NCAA tournament.
They've won their first three games by an average margin of 22.3 points, and the closest anybody has come is 18 points. Nobody has scored more than 61 points against them in three tournament games, and they've held their last two opponents to less than 34 percent shooting from the field.
The only problem is that the one team any hotter, North Carolina, awaits the Cardinals in the East Regional championship game on Saturday (9:05 p.m. ET).
"The way we're playing now is the way Coach P [Rick Pitino] has been telling us we needed to play all year. It feels good to finally be clicking at just the right time," said Clark, who came off the bench to score 17 points, grab 12 rebounds and block four shots in 28 minutes.
"We know Carolina is the No. 1 team in the country, but nothing's going to change for us. We'll come out aggressive, play our game and play to win."
For Tennessee, it must have seemed like there were three or four Earl Clarks out there. Any time the Vols looked like they might be poised to make a run, he was there to block a shot, beat them back in transition or start a fast break with a rebound.
It was all Tennessee senior guard Chris Lofton could do just to get a glimpse at the basket. He closed out a fabulous career by going just 2-of-11 from 3-point range. Third all-time in Division I in 3-pointers made, Lofton had at least four of his shot attempts blocked or deflected, and Clark got two of those.
"We were going to take away the 3-point line from them, and that's what we did," Clark said. "Coach P had told us that Lofton's got to be guarded everywhere on the court and that they feed off him. We were going to make it hard for him to even get off a shot."
Lofton wasn't the only one affected. The Vols were 5-of-20 as a team from 3-point range, and they finished with their lowest point total in more than a month and a half.
[+] Enlarge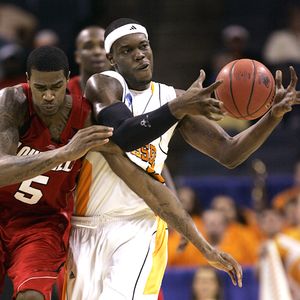 AP Photo/Gerry BroomeLouisville's defense harassed Tennessee into an awful shooting night and its lowest point total since early February.
Physically, Louisville simply overwhelmed Tennessee with its athleticism and muscle inside. The Cardinals also went straight at J.P. Prince, who was starting his second straight game at point guard after playing most of the season at the 3 position.
The Vols never looked completely comfortable in any half-court sets (and much of that was Louisville's stifling pressure), but Pearl's decision to overhaul his point-guard rotation heading into the NCAA tournament will leave many in orange scratching their heads all offseason. After all, the Vols did win 29 games with Ramar Smith and Jordan Howell splitting the minutes at the point. Howell never got off the bench Thursday and was a mere afterthought throughout the tournament.
Pearl, though, said Louisville was Tennessee's biggest problem -- and not necessarily the Vols' spotty point guard play.
"I've been coaching a long time, and never has tempo of the game been dictated so much by the opponent," he lamented.
Clark said he knew the Vols were in trouble late in the first half when Prince was trying to beat the Cardinals' pressure in the backcourt and had the ball taken away from him by Jerry Smith, who was fouled. As Prince walked toward the free-throw line, he looked hopelessly at Pearl on the Vols' sideline and motioned that he'd been hacked.
"We just wanted to turn it on that much harder," Clark said.
And when Clark turns it on, the Cardinals can be downright scary.
"When Earl plays like that, we're tough to beat, man," Smith said. "With his size and athleticism and the energy that he brings, when he's playing like he did today, we're a very tough team to beat."
Pitino said Clark has played tremendous basketball from Feb. 1 on, and it just so happens that the Cardinals are 12-2 during that stretch.
"Earl's problem is that he's young. He just turned 19," Pitino said. "New York City kids, greater metropolitan area kids, are the toughest kids in the world to coach. But once you get through to them and they start working hard, they're the best kids to coach."
Chris Low covers college football and college basketball for ESPN.com. He can be reached at espnclow@aol.com.
NCAA Tournament 2008

Get caught up with all the news, notes, insights and analysis from the 2008 NCAA tournament.
Tournament Index

Bracket
•
Updated Bracket
Analysis
•
ATR: Memphis makes freebies, four No. 1 seeds
•
Katz: Four unique stories shape Final Four
•
Forde: Kansas ends Davidson's feel-good story
•
Griffin: Memphis' athletes overwhelm Texas
•
ATR: L'ville's missed chances; how to stop Curry
•
Katz: Hansbrough carries UNC to Final Four
•
Gene Woj: Bruins have their flaws
•
O'Neil: Love is the difference for the Bruins
•
Whelliston: Curry deflects the Madness' glory
•
Griffin: Rose, Augustin battle for spot in Final Four
•
Forde: Pressure all on Kansas, Self vs. Davidson
•
ATR: Texas clamps down on Stanford
•
Griffin: Memphis dishes out big 'I told you so'
•
Forde: Witness the brilliance of Curry, Davidson
•
Katz: Roy, Rick CEOS of their powerhouses
•
O'Neil: UCLA OK with all the drama
•
ATR: Western Kentucky's Cinderella run ends
•
Gene Woj: Enjoy Kevin Love while you can
•
Low: Cards beat Vols at their own game
•
O'Neil: Xavier's "Fresh Prince" leads way
•
Katz: UNC one step closer to Final Four
•
Griffin: The free-throw woes of Memphis, Texas
•
Forde: CDR has an effective, old-man game
•
Forde: Life is beautiful for Davidson, McKillop
•
Experts: Sixteen questions for the Sweet 16
•
Katz: Washington State's unlikely duo
•
Katz: Padgett becomes unlikely vocal leader
•
O'Neil: Xavier determined to keep it Miller time
•
Gene Woj: UCLA's Howland among the best
•
Griffin: Ryan keeps on winning at Wisconsin
•
Glockner: What's in store for the Sweet 16?
•
Forde: Texas' All-American
•
O'Neil: WVU's Alexander learns post-up game
•
The Mag: Green overcomes family adversity
•
Bilas: First weekend was a thriller

•
Dinich: Thomas gives UNC another point
•
Katz: Sneak peek at Sweet 16
Video
•
Vitale: Breaking down Hansbrough's game

•
Analysis: Knight and Vitale on UNC's win

•
Analysis: Knight and Vitale on Xavier's win

•
Johnny Gilbert's Perfect Sweet 16

•
Lunardi breaks down Sweet 16

•
Bob Knight's impressions of Sweet 16

Audio
•
Podcast: Bilas breaks down Sweet 16 action

•
Knight: Sweet 16 preparation thoughts


•
Podcast: Bilas previews Thursday games

•
Podcast: Valvano on Louisville's chances

•
Podcast: Who has helped their draft stock?

•
Podcast: Katz predicts a big upset

•
Podcast: Gottlieb on first two rounds

Photos
•
Elite Eight Day 2 photo gallery
•
Elight Eight Day 1 photo gallery
•
Sweet 16 Day 2 photo gallery
•
Sweet 16 Day 1 photo gallery
•
Day 4 photo gallery
•
Day 3 photo gallery
•
Day 2 photo gallery
•
Day 1 photo gallery
More
•
Tournament Challenge
|
Bracket Master
•
Insider tourney guide

|
BracketCaster
MORE MEN'S COLLEGE BASKETBALL HEADLINES


MOST SENT STORIES ON ESPN.COM