Commentary
Memphis plays the disrepect card perfectly in rout of Michigan State
Originally Published:
March 28, 2008
By
Tim Griffin
| ESPN.com
HOUSTON -- Memphis coach John Calipari has tried to tell anybody who will listen that his team is the underdog nobody expects to still be playing after this weekend.
[+] Enlarge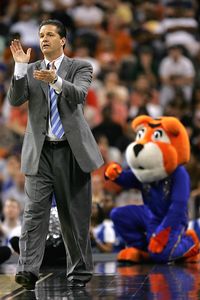 Ronald Martinez/Getty ImagesJohn Calipari pushed the right buttons in getting Memphis ready for Michigan State.
That statement, like all Calipari delivers this time of year, should be taken with a grain of salt.
Especially after Friday night, when the Tigers ran a first-half clinic en route to a 92-74 victory over Michigan State.
Calipari did try to back off his comments a little after his team's impressive triumph pushed it into the Elite Eight for the third straight season.
"It's not what I said. Everybody picked us to lose. We were the upset special; I mean that, that was us," he said. "You know, we were going to get out-played, out-coached, out-hustled, out-skilled, out-this and out-that."
The Spartans made the final score look more presentable by erupting for a 17-0 run early in the second half after scintillating Memphis freshman point guard Derrick Rose was temporarily sidelined with a cut over his right eye. But Calipari's claim still sounded shrill with the way his team played.
Rose returned with 8:45 left and immediately scored four points, the injury appearing to have little effect the rest of the game as he finished with a game-high 27 points.
Most scouts have him pegged as one of the top two or three picks if he declares for the NBA draft.
But he proved he is human in at least one way -- he doesn't like needles. Rose implored the Memphis trainers to glue his cut together rather than stitch him up.
"I am terrified of [needles]," Rose said. "I stormed out of here mad because I thought I had to get [stitches], but I didn't."
It did lead to more time than expected in the dressing room and a few anxious moments for Calipari as his standout guard didn't return as quickly as he would have liked.

That first half of basketball was one of the best I've been involved in. I loved our discipline and the execution of our offense. I loved how unselfish they were. And more importantly, I loved how they guarded. We played eight guys, and all eight guys helped their team. I was proud to be a part of it.
-- John Calipari, Memphis coach
The Tigers did everything well for most of the game. They even made their foul shots for a change, answering their critics with a 26-of-35 performance in an area that has dogged this team throughout the season.
Particularly impressive was the shooting of Memphis starting guards Rose, Chris Douglas-Roberts and Antonio Anderson, who combined to hit 20 of 22 foul shots.
"Going into the game, all everybody was saying was that we couldn't make them," said Douglas-Roberts, who converted 11 of 12 foul shots to match his single-game best. "But we are making them. I just want to know what the knock on us now is. We want to know. We wanted to prove we could shoot them, and we did."
Throughout the first half, the Tigers looked like the team that started the season with 28 straight victories, soaring to No. 1 in both the Associated Press and ESPN/USA Today polls in the process.
Memphis hit 62.5 percent from the field and limited Michigan State to 39.1 percent from the field. The Tigers also grabbed the game's first six rebounds and cruised to a 22-6 edge on the boards over a MSU team that ranked eighth nationally in rebounding margin.
In addition, the Tigers retained possession on eight of their first 10 missed shots. Even 310-pound wide-body Pierre Niles -- who looks more like the Charles Barkley of the T-Mobile commercials than Charles Barkley the mad dunker -- got in on the fun with a basket before the break.
Rose punctuated the first half with a double-pump reverse dunk that had the Reliant Stadium crowd cheering as loudly for the replay as for his original shot. Joey Dorsey looked like the second coming of Ben Wallace as he dominated the paint and threw down a couple of rim-bending dunks in the latter stages of the first half.
Those plays helped the Tigers push their lead to 30 points by halftime, as they finished the half on a 26-4 run. The game seemed more like one of the Tigers' cakewalks through Conference USA than an NCAA tournament appearance against an opponent from the Big Ten.
[+] Enlarge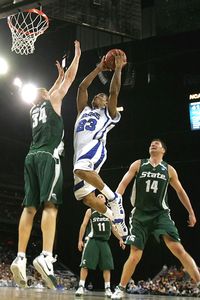 Ronald Martinez/Getty ImagesDerrick Rose scored a game-high 27 and controlled the game.
"That first half of basketball was one of the best I've been involved in," Calipari said. "I loved our discipline and the execution of our offense. I loved how unselfish they were. And more importantly, I loved how they guarded. We played eight guys, and all eight guys helped their team. I was proud to be a part of it."
And in the process, the Tigers answered some of their critics.
"We just played Memphis basketball," Douglas-Roberts said. "We're used to hearing [criticism]. But now, it's just getting old. We don't listen to what people are saying. We create our happiness. We don't listen to negativity. So we're just going to play now."
Calipari still has some things to teach this group. The Tigers went nine straight possessions in the second half without any points and appeared rudderless without Rose on the point.
But some of the coasting in the second half could almost be expected -- considering how well the Tigers played in the first half.
"We struggled a little bit staying sharp when we were up by 30 points, but we still played hard and won the game," Memphis forward Shawn Taggart said.
The Tigers also made a suffocating defensive effort against the Spartans' leading scorer, Drew Neitzel, who saw nothing but hands in his face when he got the ball.
His teammates weren't much more fortunate, finishing the first half on a run that saw them sink no field goals over the final 6 minutes and 40 seconds.
"They played well, and we played bad," MSU coach Tom Izzo said. "That's an ugly combination. We just weren't very sharp early."
Neitzel was shut out until he sank a 3-pointer with about 1:45 left in the game. He finished with six points.
Even Spartan legend Magic Johnson couldn't muster enough mojo to push his alma mater past the marauding Tigers.
Meanwhile, more games like Friday's might be enough to push the Tigers to their first Final Four since 1985.
"This was really a statement game for all of the critics who said we were going to lose before the Elite Eight," Taggart said. "Now that we're here, we're going to march to the Final Four."
Along the way, Calipari might still be spinning the lack of respect shown his team.
But anybody who watched that first half Friday night won't believe it.
Tim Griffin covers college football and basketball for ESPN.com. He can be reached at espntimgriff@yahoo.com.
NCAA Tournament 2008

Get caught up with all the news, notes, insights and analysis from the 2008 NCAA tournament.
Tournament Index

Bracket
•
Updated Bracket
Analysis
•
ATR: Memphis makes freebies, four No. 1 seeds
•
Katz: Four unique stories shape Final Four
•
Forde: Kansas ends Davidson's feel-good story
•
Griffin: Memphis' athletes overwhelm Texas
•
ATR: L'ville's missed chances; how to stop Curry
•
Katz: Hansbrough carries UNC to Final Four
•
Gene Woj: Bruins have their flaws
•
O'Neil: Love is the difference for the Bruins
•
Whelliston: Curry deflects the Madness' glory
•
Griffin: Rose, Augustin battle for spot in Final Four
•
Forde: Pressure all on Kansas, Self vs. Davidson
•
ATR: Texas clamps down on Stanford
•
Griffin: Memphis dishes out big 'I told you so'
•
Forde: Witness the brilliance of Curry, Davidson
•
Katz: Roy, Rick CEOS of their powerhouses
•
O'Neil: UCLA OK with all the drama
•
ATR: Western Kentucky's Cinderella run ends
•
Gene Woj: Enjoy Kevin Love while you can
•
Low: Cards beat Vols at their own game
•
O'Neil: Xavier's "Fresh Prince" leads way
•
Katz: UNC one step closer to Final Four
•
Griffin: The free-throw woes of Memphis, Texas
•
Forde: CDR has an effective, old-man game
•
Forde: Life is beautiful for Davidson, McKillop
•
Experts: Sixteen questions for the Sweet 16
•
Katz: Washington State's unlikely duo
•
Katz: Padgett becomes unlikely vocal leader
•
O'Neil: Xavier determined to keep it Miller time
•
Gene Woj: UCLA's Howland among the best
•
Griffin: Ryan keeps on winning at Wisconsin
•
Glockner: What's in store for the Sweet 16?
•
Forde: Texas' All-American
•
O'Neil: WVU's Alexander learns post-up game
•
The Mag: Green overcomes family adversity
•
Bilas: First weekend was a thriller

•
Dinich: Thomas gives UNC another point
•
Katz: Sneak peek at Sweet 16
Video
•
Vitale: Breaking down Hansbrough's game

•
Analysis: Knight and Vitale on UNC's win

•
Analysis: Knight and Vitale on Xavier's win

•
Johnny Gilbert's Perfect Sweet 16

•
Lunardi breaks down Sweet 16

•
Bob Knight's impressions of Sweet 16

Audio
•
Podcast: Bilas breaks down Sweet 16 action

•
Knight: Sweet 16 preparation thoughts


•
Podcast: Bilas previews Thursday games

•
Podcast: Valvano on Louisville's chances

•
Podcast: Who has helped their draft stock?

•
Podcast: Katz predicts a big upset

•
Podcast: Gottlieb on first two rounds

Photos
•
Elite Eight Day 2 photo gallery
•
Elight Eight Day 1 photo gallery
•
Sweet 16 Day 2 photo gallery
•
Sweet 16 Day 1 photo gallery
•
Day 4 photo gallery
•
Day 3 photo gallery
•
Day 2 photo gallery
•
Day 1 photo gallery
More
•
Tournament Challenge
|
Bracket Master
•
Insider tourney guide

|
BracketCaster