Tiger Beat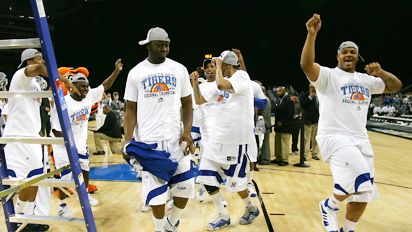 Ronald Martinez/Getty Images
After losing in the past two Elite Eights, Memphis broke through in 2008.
They had their doubters, but the Memphis Tigers delivered the knockout punch to Texas early in the regional final. And the Tigers earned their first Final Four berth since 1985.
Tim Griffin
Must Read

Carmelo Anthony, Dwyane Wade and Richard Hamilton are just some of the players who have helped their draft positions with a big March. Which prospects could do it this year?


Chad Ford: Five players from the South

More from ESPN.com
Team Breakdown

The Tigers are a bad possession or two away from being the first team since UNLV in 1991 to enter the NCAA tournament unbeaten. Their ...
Team coverage
South
Little Rock, AR
Denver, CO
Anaheim, CA
Little Rock, AR
Houston, TX