Commentary
Walker marches Huskies into Final Four
Originally Published:
March 28, 2009
By
Dana O'Neil
| ESPN.com
GLENDALE, Ariz. -- UConn academic adviser Jelani Townsell had never taken clippers to Kemba Walker's scalp before. A more superstitious person might not have chosen the eve of an Elite Eight game as the time to turn to a new barber.
[+] Enlarge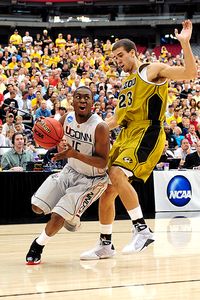 Mark J. Rebilas/US PresswireKemba Walker scored 23 points to lead UConn over Missouri in the Elite Eight.
Walker is plenty superstitious. He wears black and red Air Jordans while everyone else on his team wears team-issued blue or white Nikes.
But the Connecticut rookie is driven by something even more than a fear of bad omens -- "You gotta look good to play good," he said -- and so on Friday night he let Townsell give him a trim.
On Saturday the newly shorn Walker took his motto one better.
He looked good.
He played better.
The pint-sized guard beat Missouri at its own game, out-quicking the cat-quick Tigers to lift the Huskies to an 82-75 win and into the Final Four. Walker matched a career high with 23 points, adding five rebounds and five assists.
"He's a tough kid, a tough little kid," Jeff Adrien said of Walker. "He broke the press single-handedly and just took over the game. If we didn't have him today, I don't know what the final score would be."
Probably better off not thinking about that one.
Instead, Connecticut punched its third ticket to the NCAA tournament's final weekend, building on a program trend. Every five years the Huskies come to Phoenix and make it to the Final Four (1999, 2004 and 2009). The other two, of course, ended with national titles.
Whether that happens remains to be seen, but there is no question this was the rockiest path UConn has taken to the game's pinnacle weekend.
The Huskies have endured everything but a Biblical plague of locusts to get to Detroit, overcoming injuries, illnesses and now the stain of an NCAA investigation.
Of all the things that the Huskies have survived, maybe none was more jarring than the news they received on Feb. 12, the day after Jerome Dyson injured his knee in a game against Syracuse. At first Jim Calhoun and his staff were optimistic that the injury wasn't serious.
Instead, Dyson tore the lateral meniscus in his right knee and was shut down for the season.
At the time, the Huskies were soaring. They had won 12 games in a row, run Louisville out of its own gym by 17 and taken over the No. 1 ranking.
The loss of Dyson came like a punch to the gut. UConn did a little internal wound-licking and soul-searching without him, and waited.
They waited for Walker to stop being a freshman.
"I told him it was his time," Dyson said. "He had to grow up, not be passive and not take Coach's criticism to heart. I talked to him all the time."
Everyone did. Walker said his phone nearly exploded after Dyson's injury, with friends and family members sending him text messages telling him what he already knew -- it was his time.
"He knew what he had to do," said Walker's mother, Andrea, as she hung over the railing to the stands, trying to get her son's attention. "I knew he could do it. He just had to keep working and find his way."
Walker didn't find it right away. His season played like that of a typical freshman, with impressive highs followed by disappointing lows. He scored 13 against Pittsburgh and just four five nights later against South Florida. He dished out six assists against Notre Dame, yet coughed the ball up five times two games later against Syracuse.
Walker followed the same pattern through the NCAA tournament, scoring 10 against Chattanooga but disappearing with just five against Purdue.
But as he watched film of Missouri, Walker realized this could be his night. He had seen this game before, played it a million times on the Rucker League playground courts and in the Gauchos Gym in the Bronx.
It was New York City hoops, just on a grander court.
"He's a little guy with a big heart, a typical New York City point guard," said Connecticut assistant coach Andre LaFleur. "This is the kind of game he loves."
Missouri brought Nolan Richardson back to the tournament this year, reintroducing the game to the Arkansas coach's chaotic controlled frenzy. The Tigers love to dictate tempo, and the tempo they prefer is unmitigated insanity.
Before the game, Jim Calhoun gave Walker one simple message.
"Coach told me to stop enjoying the ride," Walker said.
So Walker drove the car.
[+] Enlarge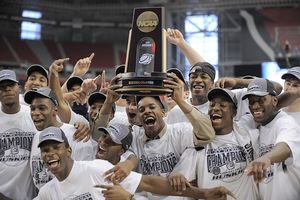 AP Photo/Mark J. TerrillUConn advanced to its third Final Four in 10 years with a win over Missouri.
It is nearly impossible not to get baited into Missouri's game, and the Huskies did fall into the Tigers' trap at times. They committed 17 turnovers, uncharacteristically sloppy for a team that averages just 12.
Still, thanks to blistering-hot first-half shooting (70 percent), UConn was able to build an 11-point lead early in the first half. But if there is one thing Missouri is, it is relentless. The Tigers don't stop coming and so it wasn't exactly a surprise when the Huskies found themselves clinging to a 68-65 lead with 2:47 to play.
The partisan Missouri crowd rocking, the Tigers looked poised to take over, particularly as Connecticut struggled to get a shot off.
And then with the shot clock counting down below five, Walker drove the lane and threw up an off-balance shot that banked hard off the glass and in.
"Jeff was there about to set a screen and I told him to get out of my way," Walker said. "I was turning and jumping and I had to get it up. I just threw it up. God help me, and it went in."
Connecticut, an average free-throw shooting team at best, went 8-for-8 in the final minute to end Mizzou's surprising run.
Picked to finish seventh in the league and coming off a 16-16 season, the Tigers won a school-record 31 games, won the Big 12 regular-season title and advanced within a hair's breadth of the Final Four.
"They went out the same way they came in to this season," coach Mike Anderson said. "They came in fighting, scratching and clawing and if you're going to go out, that's the way you want to go out -- fighting, scratching, clawing and giving yourself a chance."
When the game ended and Connecticut had posed for its picture on the makeshift stage at center court, Calhoun directed everyone to the locker room.
The Huskies walked right past the ladders set up by the baskets and left the nets hanging on the University of Phoenix rims.
The message was clear: These aren't the nets we want. We want the ones in Detroit.
So there was no ceremonial cutting, the scissors packed away.
Besides, Townsell gave the most critical cut the night before.
Dana O'Neil covers college basketball for ESPN.com and can be reached at espnoneil@live.com.
College Basketball
College basketball reporter.
Joined ESPN in 2007.
Graduate of Penn State University.
SPONSORED HEADLINES
MORE MEN'S COLLEGE BASKETBALL HEADLINES
MOST SENT STORIES ON ESPN.COM
NCAA TOURNAMENT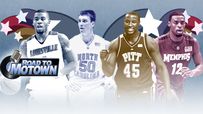 STORIES
INSIDER TOURNEY TIPS
VIDEOS
PODCASTS
TOURNEY TOOLS